The popularity of cheese soared over the past couple years as people turned to familiar favorites during uncertain times. Americans' cheese consumption grew 3% in 2021, and the top food-related search on Google last year was baked feta pasta, notes global market research firm Mintel in its "The Future of Cheese Market Report 2022" report.
Savencia Cheese USA embraced on-the-go snacking with the introduction of Alouette Gourmet Bites.
Now that life has returned to a new normal, consumers are returning to some pre-pandemic habits. Meanwhile, new eating trends have emerged out of the pandemic — as well as new ways such as TikTok to find recipes and home cooking tips.
"Brands have a unique opportunity to cash in on consumers' craving for cheese, turning pandemic-induced cooking and eating habits into new routines," says Caroline Roux, global food and drink analyst for Mintel. "Cheese brands should focus on building healthier food associations with cheese by highlighting the role of cheese in healthy snacking and building immunity."
A return to convenience
As life normalizes and people return to busy lifestyles, a trend from before the pandemic that has reemerged is that toward convenient, on-the-go products. According to Pauline Decroos, head of strategic insights, global markets for Chicago-based Bel Brands USA, Bel Brands' product lines of on-the-go cheese snacks and single-serve options are doing well so far in 2022. These include Bel Brands' Babybel and The Laughing Cow brands, which feature individually wrapped cheese snacks, as well as The Laughing Cow & Go portable snacking cups.
"This is driven by a greater consumer demand for nutrition and flexibility as our customers start returning to pre-pandemic habits," Decroos says.
Beyond on-the-go formats, another packaging trend is cheese packaged in exact weights in smaller portions.
For its part, New York-based Whisps Snacks recently unveiled two on-the-go snack mixes. The offerings, the company's first foray outside of cheese crisps, are Whisps Cheese Crumbs and Whisps Cheese Crisps & Nuts. Both products feature Parmesan and cheddar cheeses exclusively made for Whisps and are keto-friendly, low in carbs and high in protein.
And New Holland, Pa.-based Savencia Cheese USA embraced on-the-go snacking with the introduction of Alouette Gourmet Bites in September 2021. The offerings are small balls of Alouette's signature creamy cheese filled with flavor-packed centers, the company says.
According to Savencia, products meant for kids tend to dominate the cheese snack category. Alouette Gourmet Bites come in two gourmet flavors that offer an adult take on snacking — Garlic & Herb and Caramelized Onion. The small cheese morsels are fun and indulgent, yet contain fewer than 100 calories per serving. The two products are new to American shoppers, but were previously popular in Europe, Savencia says.
"We're thrilled to introduce our American audience to a new way of enjoying Alouette's flavorful spreadable cheeses," says Mikhail Chapnik, vice president of marketing at Savencia Cheese USA. "Gourmet Bites offer an elegant and elevated snacking option that's unique in the U.S. market."
Allison Schuman, chief business development officer of Schuman Cheese, joins us for Episode 13 of the "Let's Talk Dairy" podcast. She talks about both current and emerging trends within the continually growing cheese segment.
Beyond on-the-go formats, another packaging trend is cheese packaged in exact weights in smaller portions. This appeals to consumers who want to try different varieties without breaking the bank, notes Debbie Seife, director of marketing at FrieslandCampina, Amersfoort, Netherlands, with U.S. headquarters in Paramus, N.J.
"This has been shown to increase interest in exact-weight cheese versus random weight, which also is good for retailers as it eliminates store labor," Seife says. 
FrieslandCampina's newest brand, Royal Hollandia, offers a product that fits the bill here. Royal Hollandia entry packs come in six varieties of premium Dutch cheeses that are perfectly portioned in 3.5- to 4-ounce exact weight pieces — offering an entirely new size of cheese for the deli, FrieslandCampina says.
The cheeses included are Mild Gouda, Creamy Swiss, Smoke Flavored Gouda, Chili Pepper, Mediterranean Herb and Parrano Originale. All entry packs have clear descriptors with pairing suggestions and a flavor profile scale, allowing ease of purchase into the specialty cheese category or trial of a new cheese type.
Keep it functional 
Living through two years of the COVID-19 pandemic made some eaters more health-conscious, Decroos points out. Health and wellness were already important to some consumers, but more people began to worry about nutrition after over-indulging in comfort foods during the early months of stay-at-home orders. 
Babybel Plus+ Probiotic and Babybel Plus+ Vitamins are kid-friendly snacks with added benefits.
For example, Mintel's data shows that 55% of adults who purchase cheese snacks for their children prioritize health, Decroos notes. In response to this trend, Bel Brands launched Babybel Plus+ Probiotic and Babybel Plus+ Vitamins: functional, kid-friendly snacks.
Babybel Plus+ Probiotic contains billions of live and active cultures of the LGG probiotics strain, with evidence to suggest immune health benefits when consumed as a part of balanced diet and healthy lifestyle, Bel Brands notes. Babybel Plus+ Vitamins is a good source of vitamins A and B12, which are known to support eye health and metabolism, respectively.
"We're excited to plus up the goodness of Babybel with an extension that offers families an easy way to get the added nutrients they are looking for in the same playful format they love," says Melanie Nemoy, brand director for Babybel USA. 
In a quest to be healthier, consumers aren't just looking at their physical health anymore, says Kate Paine, director of marketing for Vermont Creamery. They are also considering the holistic picture, which includes mental wellness.  And goat cheese has developed a health halo.
"We see more interest in the health benefits of goat cheese, which is naturally lower in lactose, is more easily digested, and has a higher bioavailability of minerals," Paine notes.
Pack a flavorful punch
While there will always be consumers who return to tried-and-true cheeses such as cheddar or mozzarella, many are opting for products that offer something "interesting and bold," explains Paine.
Allison Schuman, chief business development officer at Schuman Cheese, Fairfield N.J., agrees, noting that "consumers are definitely gravitating towards bigger, bolder, more unique flavor varieties over your usual cheese options."
To that end, Vermont Creamery is adding interesting varieties to its goat cheese logs this year. These include a Strawberry Spritz flavor, introduced in May, that is part of Vermont Creamery's dessert-inspired line.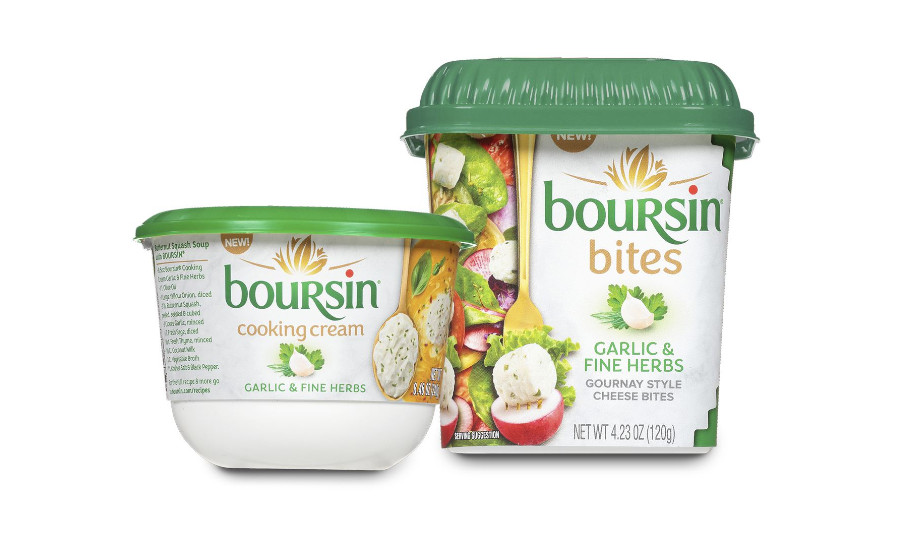 Bel Brands added two products to its Boursin brand that are meant to simplify home cooking.
"This flavor takes inspiration from a champagne and strawberries occasion, and is offering consumers an indulgent new way to enjoy goat cheese," Paine remarks.
Seife says she's seen cheeses with added flavors doing well. Popular flavor profiles include chili peppers, herbs and Mediterranean spices. 
"An increased demand for diverse, palate-pleasing flavored cheeses heightened in 2021 and is projected to continue to soar in 2022," says Schuman.
Schuman Cheese's two additions to its Schuman Cello Rubbed Fontal lines offer a flavorful bite. The company recently introduced Toasted Chili & Spice, which is cheese hand-rubbed with toasted chilies, Szechuan peppercorn and spices; and Sweet Garden Tomato, which is cheese hand-rubbed with sweet vine-ripened tomato and savory herbs.
"With the expansion of Cello's Rubbed Fontals, we are continuing to introduce unique, satisfying flavor varieties curated by expert cheese makers," Schuman notes.
Some consumers who are interested in trying new flavors find inspiration in international cuisine, Paine points out.
The Dutch cheese Gouda, for example, continues to grow in popularity in the United States, adds Seife. And Hispanic cheeses are another area of interest. FrieslandCampina combines the two trends in its Gayo Azul brand, which is a Caribbean brand with Dutch influences.
FrieslandCampina says it added the Hispanic staple Cotija cheese to its Gayo Azul portfolio this year. The offering is a firm, crumbly cheese with a slightly salty flavor. 
"The rich flavor of our new Gayo Azul Cotija cheese provides a deliciously salty, milky flavor that is sure to turn it into a staple in our fans' recipes," says Seife. "For decades, Gayo Azul has been a go-to choice for Hispanic dishes, and the expansion of our line will surely bring some added flavor and variety to any meal, Hispanic or otherwise."
Embrace shareability
Consumers looking for new food trends might turn to platforms such as TikTok for inspiration. But beyond discovering what's trending, many use these platforms to showcase their own recipes featuring a given brand's products — acting as marketers themselves. For example, Decroos says people are "showing an increased desire to share their Bel-inspired recipes across social media platforms like TikTok."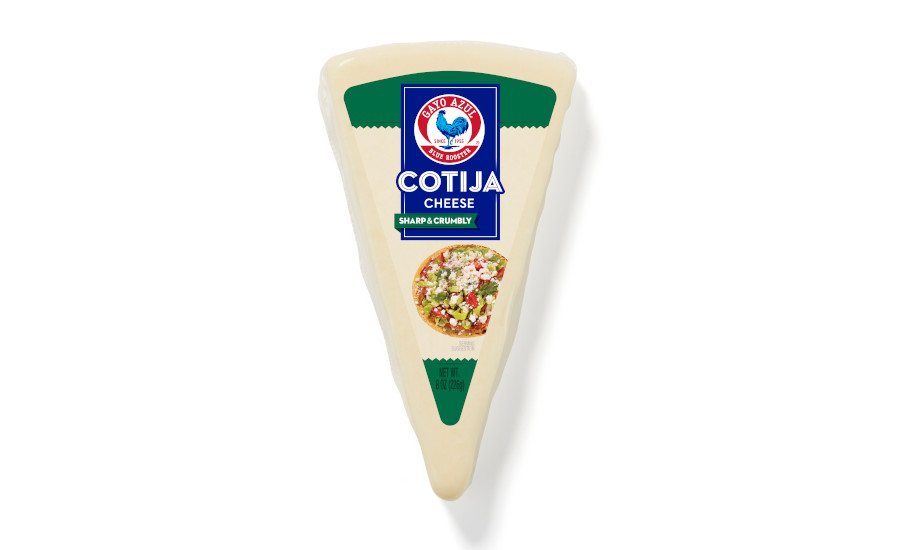 FrieslandCampina's Gayo Azul Cotija cheese is a crumbly, salty offering perfect for Hispanic dishes.
Paine agrees that TikTok trends are influencing home cooking — and the products that shoppers choose to buy. She says that in the beginning of the pandemic, people gravitated to challenging recipes that would allow them to learn new skills in the kitchen. Now, many consumers want to cook easy, approachable snacks that they're learning via simple TikTok videos. 
"People want to experiment, but also are also careful in experiments," she points out. "They're looking to new flavors, formats and new uses versus splurging on entirely unknown prospects."
To simplify home entertaining, Bel Brands launched Boursin Bites Garlic & Fine Herbs and Boursin cooking cream Garlic & Fine Herbs in February, Decroos notes.
Boursin Bites have the same flavor and creamy, crumbly texture as the traditional Boursin Garlic & Fine Herbs cheese, but in bite-size pieces perfect for adding a quick flavor burst to any dish, Bel Brands says. Boursin cooking cream also embodies the signature Garlic & Fine Herbs flavor but in an ultra-smooth cream form that seamlessly blends into recipes. The cream makes it even simpler for home chefs to add a burst of flavor and richness without the extra work.
Showcase sustainability
Consumers are no longer just looking for the best-tasting cheese products or the most affordable ones. Many now take into account companies' environmental footprint and the sustainable actions they take (or don't take) in producing food.
"People increasingly say they want to shop food brands that are aligned with their values," says Paine, "and are saying in higher numbers than ever before that they plan to purchase from brands that are clear about the values they stand for and that are willing to be part of the social conversation about these values."
Vermont Creamery's latest sustainability action is rethinking its cheese packaging. It is replacing its old materials with "plastic made with 75% post-consumer recycled materials, reducing our environmental impact and use of virgin plastic," Paine says.
Beyond on-the-go formats, another packaging trend is cheese packaged in exact weights in smaller portions.
According to Decroos, Bel Brands' work to reduce the environmental footprint at its production plants has been a priority for the company since 2003. But since the Intergovernmental Panel on Climate Change's recent report, the company has accelerated its sustainability efforts.
"Bel's commitment will involve a net 25% reduction in greenhouse gas emissions throughout our entire value chain by 2035, and the integration of carbon tracking as a tool to steer activities," she notes. "In the U.S., this means our plants will achieve carbon neutrality by 2025 while we continue to invest in regenerative agriculture pilot programs with the purpose of implementing and measuring sustainable farming practices."
It's not only the right thing to do for the world, it's also what consumers want to see.
"Over half (58%) of Americans expect companies to invest in sustainability, and 64% of Americans believe companies should be more efficient with the use of natural resources," Decroos points out.