✕
In 2020 — when sales accelerated across most dairy categories — cultured dairy found itself on a divided highway. Some categories struggled to find the on-ramp and realized sales losses, while others barely increased their speed limits to eke out modest sales gains.
It is a similar story this year. According to data from Chicago-based IRI, for the 52 weeks ending Sept. 5, 2021, yogurt — the largest category within cultured dairy — posted a 2.8% increase in dollar sales to reach $7,743.9 million. However, unit sales dropped 2.7% to 1,924.6 million.
Sour cream and cottage cheese lost steam in both dollar and unit sales. Dollar and unit sales for the former decreased 3.0% and 3.5%, respectively; dollar and unit sales for the latter fell 3.6% and 2.6%.
Cream cheese, on the other hand, continued to shine. The subcategory's dollar sales jumped 4.8%; unit sales rose 1.4%.
Some cultured dairy brands did hit the gas in 2021, however.
"The overall category [of yogurt] is up a few points vs 2020, but our three dairy ranges have seen 20% growth over last year, which is powerful when you consider the introduction and new interest in plant-based options," says John Heath, chief innovation officer for New York-based Icelandic Provisions.
And Elizabeth Conover, brand director for Londonderry, N.H.-based Stonyfield Organic, notes that organic yogurt is "booming."
"Stonyfield is reporting a 4.5% sales increase, outpacing conventional yogurt brands by over two times," she adds.
According to Peter McGuinness, president of and chief operating officer for Chobani LLC, New Berlin, N.Y., the cultured dairy category is benefitting from brand consolidation. Previously, too many options on shelf were causing consumer confusion.
"There's been SKU rationalization versus SKU duplication," he explains. "That's cleaned up the shelf so it's easier to navigate; it's easier to shop. And the better products are on the shelf — the ones that sell and that are productive."
Yoplait Power contains a unique combination of vitamins D, A, C, and E, as well as zinc, that may support the immune system.
Medicinal qualities show flashers
While most dairy products retain some sort of health halo, cultured dairy also profits from consumer awareness of the benefits of probiotics. These ingredients fit into recent interest in using food as a form of medicine.
McGuiness explains that gut health is extremely important to consumers, and gut health is linked to immune health and digestive health.  
"And yogurt delivers in spades on both of those, particularly Greek yogurt because it's going to give you that high protein," he adds. "And we have billions of probiotics in each cup [of yogurt]." 
Matt Okeson, head of growth for Dallas-based LALA U.S., says wellness-seeking shoppers also are interested in clean labels with natural ingredients.
"Consumers are turning to clean products to help boost their health and immunity," he notes. "Products containing probiotics and other ingredients inherently known for providing health benefits will likely continue their trend in popularity as consumers look for ways to stay healthy."
For its part, General Mills introduced Yoplait Power to appeal to wellness-minded consumers. The new line represents the first national brand yogurt with a unique combination of vitamins D, A, C and E, as well as zinc, that may support the immune system, the Minneapolis-based company says. Paired with a medley of fruits, a creamy yogurt blend and chia seeds, the yogurt is available in four flavors: Strawberry with Acai and Chia, Blueberry with Blackcurrant and Chia, Cherry with Pomegranate and Chia, and Mango with Orange and Chia.
And for parents looking for healthful options for their children, Clover Sonoma launched a yogurt smoothie brand — Clover the Rainbow — designed to teach kids about eating the rainbow of fruits and vegetables as part of a healthy diet. Each smoothie is a good source of protein and calcium, has billions of probiotics to help support gut health, is made with real fruit and veggies, and has no artificial flavors or sweeteners, Petaluma, Calif.-based Clover Sonoma says. 
Clover the Rainbow debuted with three organic yogurt smoothies: Strawberry Carrot, Blueberry Beet and Strawberry Banana Butternut.
 "As a superfood, Clover the Rainbow organic smoothies are a refreshing snack or recovery drink," says Sarah Koszyk, a registered dietitian. "The combination of drinkable yogurt with fruits and vegetables will give kids an extra kick of nutrients to get them energized, improve memory, build immunity and boost gut health."
Chobani Zero Sugar will revolutionize dairy, says Peter McGuinness, president of and chief operating officer.
Low-sugar offerings hit the accelerator
Also trending in the health and wellness category are low-sugar offerings.
"Consumers continue to be concerned about the sugar content of the products they buy and are often willing to pay more for something with high-quality, natural ingredients," explains Heath.
Icelandic Provisions' products meet low-sugar and clean-label needs because they contain less sugar than many other yogurt offerings and have no artificial sweeteners, flavors or preservatives, he says.
"We recently rebranded our packaging to highlight our low sugar content and premium, natural ingredients," he adds. "Our new branding stands out on shelves, but also really resonates with our consumers."
McGuinness points out that 13 years ago, "most of the yogurt on the market had 35 grams of sugar in it." This year, Chobani launched Chobani Zero Sugar yogurt to bring people into the category who previously thought yogurt options had too much sugar.
"Zero Sugar yogurt will revolutionize dairy, frankly, because there's sugar naturally found in the lactose," he adds. "So our plain yogurt has 4 grams of sugar in it, but we figured out how to take the sugar out of the lactose through fermentation and enzyme work. I think that for the dairy industry and manufacturers that use dairy, it's incumbent upon us to bring solutions to consumers."
To create the new line, Chobani starts with milk that's been filtered to reduce naturally occurring sugar. From there, the company says it uses cutting-edge natural fermentation methods that allow yogurt cultures to consume the remaining sugar. Chobani then adds natural non-GMO sweeteners such as monk fruit and allulose.
"Through innovation, we're solving problems and we're coming up with a solution to bring more people into the category," McGuinness emphasizes.
The Chobani Zero Sugar platform includes 5.3-ounce single-serve cups in Vanilla, Mixed Berry, Strawberry and Blueberry varieties; four-packs of 5.3-ounce cups in Vanilla and Mixed Berry varieties; and 32-ounce multi-serve containers (in Vanilla) at a suggested retail price of $5.49.
"This no-lactose, low-to-no sugar is a trend that will become a megatrend, and it will be here for years to come," says McGuinness.
Prairie Farms Dairy unveiled a line of 3.5-ounce cream cheese cups in six flavors to meet the snacking trend.
Premium offerings speed up 
Heath notes that products that tend to have the "most staying power" in cultured dairy are ones made with "natural and high-quality ingredients." Building on this concept, Icelandic Provisions introduced Icelandic Provisions Fruit & Nut skyr — a line that combines healthful nuts, fruits and seeds, and whole-milk skyr.
"It really adds a great option for a consumer who is looking for a textural treat any time of day," remarks Heath.
According to Adeline Druart, president of Vermont Creamery and a vice president with Vermont Creamery's parent company, Arden Hills, Minn.-based Land O'Lakes, consumers are willing to pay more for higher-quality foods. She believes cultured dairy inherently fits the bill here, as these products have a "richer taste" and many opportunities for premiumization.
"Culturing dairy offers a unique rich and complex taste that cannot be duplicated — playing with types of cultures and time creates unique flavors profiles that elevate dairy from regular to unique," she adds.
Vermont Creamery's recently launched high-fat cultured sour cream is an elevated version of a classic product. The offering comes come in three flavors, including Cilantro Lime and Fire Roasted Onion & Chive.
"Our cultured sour [cream] reinvents a beloved staple into a more luxurious offering, setting the new high bar for a rich and velvety sour cream experience," Druart points out. "With 22% milkfat — as compared to 18% in regular sour cream — and the same blend of cultures as our award-winning crème fraîche, Vermont Creamery has once again delivered on its promise to make dairy that tastes better because it's made better."
Druart believes there are many product development opportunities in the category — if companies look beyond yogurt.
"The premium and cultured dairy products category is [relatively] new beyond yogurt," she adds. "While the premium segment is growing faster than its regular counterpart, the biggest challenge is to educate consumers on the benefit of cultured dairy products."
Snacking cruises along
The popularity of snacking as opposed to eating three full meals a day was a trend prior to the pandemic and did not slow down over the past year, says Rebecca Leinenbach, vice president of marketing and communications for Edwardsville, Ill.-based Prairie Farms Dairy Inc. To that end, the company recently released a line of 3.5-ounce cream cheese cups in six flavors: Strawberry, Honey Vanilla, Sea Salt Caramel, Onion and Chive, Garden Veggie, and Plain. The offerings build on the success of Prairie Farms' 8-ounce cream cheese brick but in a snackable format.
"The cups offer convenience, value, and permission to indulge," Leinenbach says. "The wide variety of flavors makes personalized snacking easy for all family members."
Yogurt also can be positioned as a snack, and more people are looking for healthful options to have on hand as they are spending more time at home, notes McGuinness.
"Yogurt has just become more of a staple in terms of a better-for-you snack," he points out.
Salinas, Calif.-based Naturipe Farms LLC joined forces with Chobani this year to create a nutritious snack: yogurt parfaits under the Naturipe brand. The offerings feature Chobani yogurt and Naturipe fresh berries and are designed for snacking on the go. They are available in two flavors: Doubleberry Crunch featuring fresh Naturipe blueberries, Chobani's nonfat strawberry Greek yogurt and granola; and Vanilla Crunch containing fresh Naturipe blueberries, Chobani's nonfat vanilla Greek yogurt, and granola. Each berry parfait provides 10 grams of protein and is under 170 calories, Naturipe says.
Clio Snacks, Piscataway, N.J., also debuted a new snacking-focused product: Clio granola and yogurt parfait bars. Combining Clio's signature creamy Greek yogurt with a layer of crunchy granola, Clio says it transforms the traditional parfait into a craveable, ready-made refrigerated bar.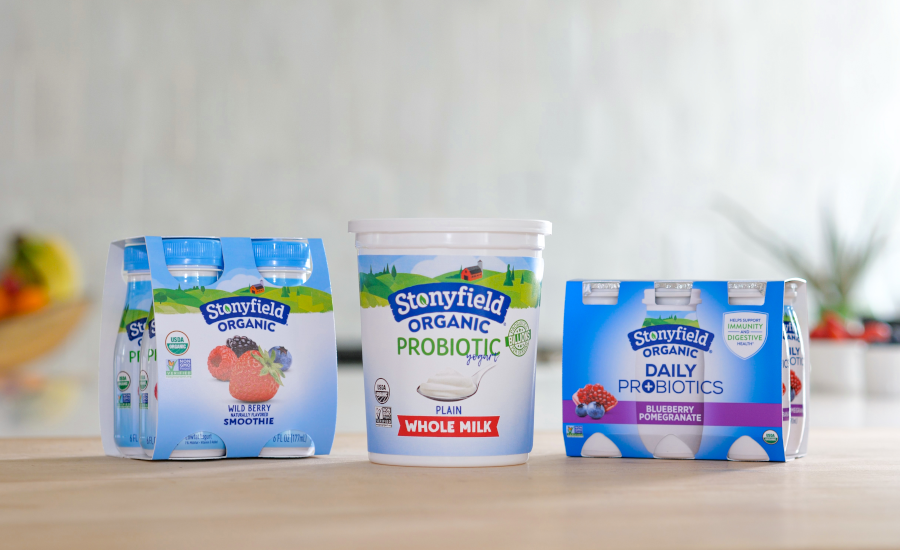 In response to pandemic-related behavioral changes, Stonyfield Organic has begun to release more multi-pack and large-format offerings.
New formats enter expressway 
According to McGuiness, offering new types of formats — from drinks and multi-packs to snack packs and family packs — that meet different needs is key to winning with consumers. He says that shoppers want many different options for consuming cultured dairy, and yogurt drinks are growing in popularity.
Bedford Park, Ill.-based Raymundo's Food Group says it brought yogurt-based beverages to market this year. Its Desi Natural brand expanded its product line to include lassi and yogurt drinks. Desi Natural lassi yogurt drinks are available in two flavors — Alphonso Mango and Strawberry — in 16-ounce and 50-ounce containers.
The new Desi Natural yogurt drink lineup is based on traditional flavors and includes Masala Chaas, Original Salted, and Mint varieties. The beverages come in 16-ounce and 50-ounce sizes and feature the perfect mix of spices and salt, Raymundo's Food Group says.
Heath says he's noticed is a move away from single-serve to multi-pack or large-format offerings, and believes this shift in consumer behavior will have a "lasting impact" on cultured dairy.  
Conover agrees that multi-format options are trending with consumers as they've gotten used to taking fewer trips to the grocery store.
"We have been working on expanding our larger-format offerings with 16-count pouches for club stores, and expanding our existing larger-format items like our Stonyfield Kids 12-count, 3.1-ounce smoothie, and traditional quarts distribution," she explains.
Newly available in a larger 24-ounce format is Bellwether Farms Plain sheep milk yogurt from Petaluma, Calif.-based Bellwether Farms LLC. The company says its consumers "expressed that a larger-size container would just make so much sense for enjoying at home with their families."
Convenience is another factor driving new formats. Westby, Wis.-based Westby Cooperative Creamery, for example, unveiled sour cream packaged in a squeezable pouch this year.
"Consumer needs and preferences are ever-changing, and this new product — sour cream in a pouch — addresses two key trends: convenience and cleanliness," says Emily Bialkowski, sales, and marketing manager. "This project also provides another layer of security for our farmers, who need a consistent place to send their milk."
Pandemic causes detours
As with the rest of the food and beverage space, cultured dairy did struggle with supply chain disruptions during the COVID-19 pandemic, notes Heath.
"As a smaller player in the space, we experienced delays in obtaining some of our raw materials and key ingredients, which has been a challenge," he explains. "But we are fortunate to have a robust operations team, so we have been able to continue to meet demand."
Okeson says LALA also had to make operational changes due to the pandemic.  
"Due to the COVID-19 pandemic, supply chains have been disrupted globally, and labor shortages pose a threat to operations. Like many companies, we've seen product out-of-stocks and had to readjust our product mix," he adds. "We're focusing on delivering more of our other products to customers and consumers, ensuring on-shelf availability when stock issues elsewhere arise."
In addition to causing companies to adjust their operations, the pandemic also brought to light larger questions about product development.
"The COVID-19 pandemic has caused many companies to rethink their way of doing business, including product development and what innovation is really needed," says Okeson. "The last 12 months have been a chance for the category to take a step back and truly rethink the needs of the consumers."
Meet the alternatives
Silk, a brand of Danone North America, Broomfield, Colo., and White Plains, N.Y., says it launched Silk Greek-style "coconut milk" yogurt alternatives. The offerings are the product of a multiyear effort to deliver the signature traits of Greek without the traditional ingredient of dairy, resulting in a breakthrough combination of a thick texture and a good source of plant-based protein.
New York-based Icelandic Provisions launched "oatmilk skyr." Developed in partnership with MS Iceland Dairies, Iceland's oldest cooperative of family-run dairy farms, the "oatmilk" skyr is made with 1,000-year-old traditional skyr-making methods and heirloom Icelandic cultures — cultivated to grow in a nondairy environment for the first time, Icelandic Provisions says.