Bareman Dairy, Holland, Mich., received the Member of the Year award from the All Star Dairy Association at its 54th annual convention, which was held Feb. 29 to March 4 at the Hyatt Grand Champions Resort in Indian Wells, Calif.
Also recognized with purchasing awards were:
Scotsburn Dairy, Scotsburn, Nova Scotia, and
Carl Colteryahn Dairy, Pittsburgh, Pa.
The following received Quality Assurance Awards:
Milk: Sunshine State Dairy, Plant City, Fla.
Ice Cream: BGC Manufacturing, Tyler, Texas
Buttermilk: Upstate Niagara Co-op, Buffalo, N.Y.
Sour Cream: BGC Manufacturing;
Cottage Cheese: Upstate Niagara Co-op, West Seneca, N.Y.
Yogurt: Upstate Niagara Co-op, West Seneca
Ice Cream Mix: Turner Dairy Pittsburgh, Pa.
Sarah Farms, Yuma, Ariz., received the "Doc Lawrence" Most Improved Plant award.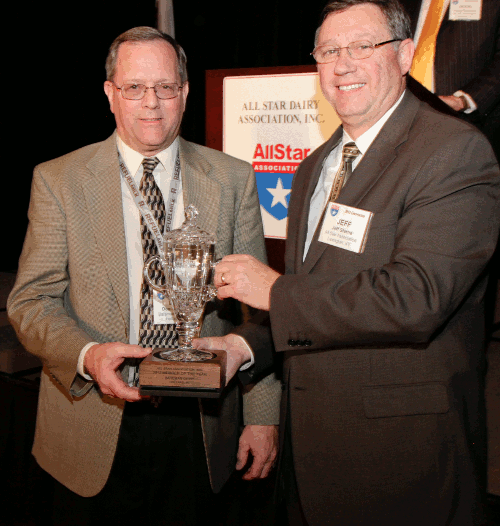 Don Scholten (left) accepts the Member of the Year trophy from Jeff Sterne, executive director of the All Star Dairy Association.
Evergreen Packaging Co., Memphis, Tenn., was named Supplier of the Year and received the Thoroughbred Award.
The John D. Utterback Annual College Scholarship awarded $5,000 evenly to the following member employees or dependants:
Elyse Bevers, Pacific Lutheran University, Darigold Inc.
Christopher Jones, Western Carolina University, Milkco Inc.
Stephen Turner, Robert Morris University, Turner Dairy
Dillon Washam, University of Arkansas, Hiland Dairy
The All Star Dairy Association is based in Lexington, Ky. The president is John Bedrosian and the executive director is Jeff Sterne. Newly elected board members are: Brian Perry, Perry's Ice Cream; Novile Ramsey, Milkco, Inc.; Richard Shehadey, Producers Dairy; and Richard Washburn, Washburn's Ice Cream.
All Star Association's 54th annual convention set a record for attendance. Among those attending were 43 dairy, water, food, and custom mold members representing 91 plants.