CheeseCon, a biennial gathering of dairy industry leaders, suppliers, marketers, and more, who share information about the latest in cheese technology, workforce, whey opportunities, product safety, marketing, and dairy exports, is set to take place at the Alliant Energy Center in Madison, Wis., from April 4 to 6.
Co-hosted by the Wisconsin Cheese Makers Association (WCMA) and the Center for Dairy Research (CDR), the conference features impactful seminars, ample networking events, and the largest-ever tabletop exhibition hall, featuring the industry's most trusted supplier partners.
CheeseCon takes place in odd-numbered years and features a day of tabletop exhibits. This event complements the CheeseExpo, taking place in even-numbered years, which offers technical exhibits. 
"Everyone in the dairy processing industry is welcome to attend CheeseCon. CheeseCon draws people at all levels of the dairy processing industry," Grace Atherton, communications director for the WCMA, told Dairy Foods. "This includes CEOs, marketing staff, product distributors, plant managers, food safety and quality assurance professionals, young professionals, and salespeople. The list goes on and on. There is something for you no matter what your role in the dairy processing industry is."
More than 3,000 dairy leaders are expected to attend CheeseCon. They will share the latest updates in cheese technology, workforce solutions, product safety, and much more. 
Education seminars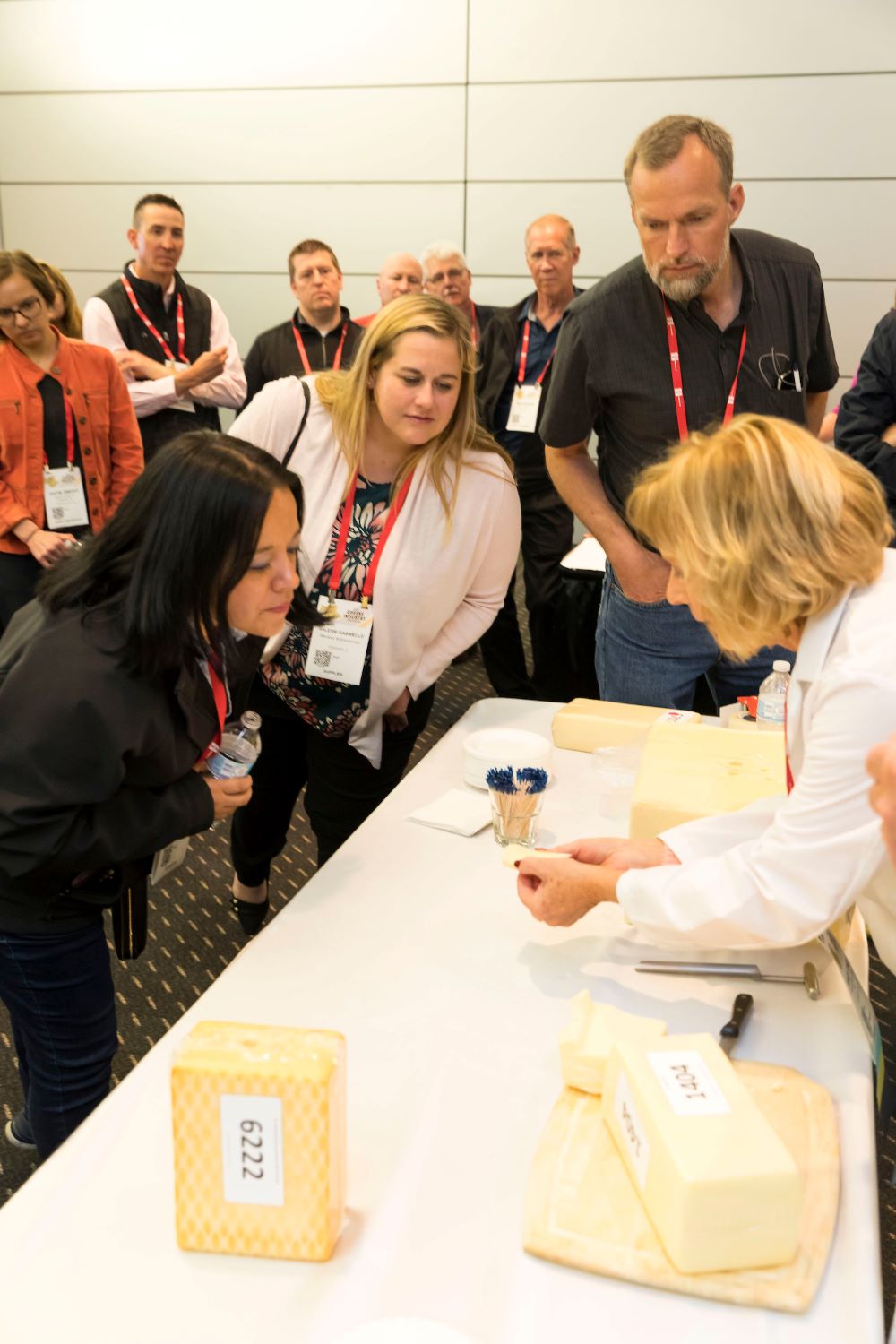 CheeseCon will be a place to network and a place to learn. 
"Our attendees learn from the best of the best," Atherton says. "The experts at the Center for Dairy Research (CDR) have a full schedule of seminars and hands-on workshops … all with a targeted focus on cheese and whey products that you won't find anywhere else." 
Seminars, events, and offerings at CheeseCon include:
Seminars on "Optimizing Manufacture of Snack Cheese;" "Milk Pricing Reform in Federal Milk Marketing Orders;" "Pathogen Prevention, Training Resources, and Traceability;" and "Advances in Whey Processing." 
A tour of CDR's new state-of-art facility on Thursday, April 6. 
The Chr. Hansen Championship Cheese Auction, with proceeds going to scholarships and education to support the next generation of the dairy industry. This event raised more than $330,000 last year.
WCMA Recognition Breakfast, where dairy stakeholders who have made outstanding contributions to the dairy industry are honored. 
Recognition of training graduates from WCMA training programs, representing the next generation of dairy professionals. Since 2017, more than 500 people have graduated from these programs. And to foster networking, a WCMA Young Professionals reception will be held.
Collegiate Dairy Products Evaluation contest
WCMA Job Fair 
For a full interview with WCMA's Grace Atherton that previews CheeseCon, click on our podcast below.
This podcast is sponsored by Bruker