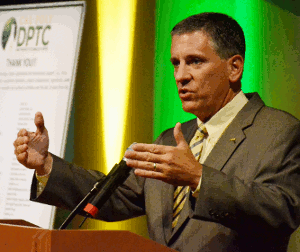 The Dairy Products Technology Center (DPTC) celebrated its 25th Anniversary Oct. 25 to 27 with a mini-symposium on "Dairy Products Technology and Future Innovation Opportunities." The Dairy Products Technology Center (DPTC), established in 1986, is a program within the College of Agriculture, Food & Environmental Sciences at Cal Poly State University, San Luis Obispo, Calif.
Originally established in 1987, the DPTC is now recognized globally as a Center of Excellence that supports the premier dairy region of the world. "The DPTC wanted to take some time from our busy schedules to hold this celebration to acknowledge those who have contributed to the success of the DPTC over the last 25 years and to launch the next 25 years of education, research and outreach for a global dairy industry", according to DPTC director and Dairy Foods columnist Phil Tong.
The mini-symposium featured university president Jeffrey Armstrong (photo, above); Norm Olson, professor emeritus of the University of Wisconsin and founding Director of the Wisconsin Center for Dairy Research; Dave Barbano, professor of Food Science from Cornell University and Current Director of the Northeast Dairy Foods Research Center; and John Jeter, CEO and President of Hilmar Cheese. An industry panel was made up of Larry Jensen, CEO of Leprino Foods; Erika Smith a senior principal scientist at General Mills; and Bill Graves, Senior Vice President of Dairy Research Institute (DRI).
An open house included tours, lab demonstrations, free ice cream, and drawings for Cal Poly Cheese Gift Packs. Many former faculty, staff, alumni, as well industry supporters and the public were on hand to get an up close look at the facilities and information on the work is currently going on at the center. Drawings of a proposed expansion of the facilities that support the DPTC were unveiled.
"We need to update and expand our facilities to accommodate a new Masters in Professional Studies program. Additionally the new space will enhance our abilities in dairy foods research and applications work as well as improve our ability to deliver an expanded program of training and industry outreach", said Tong.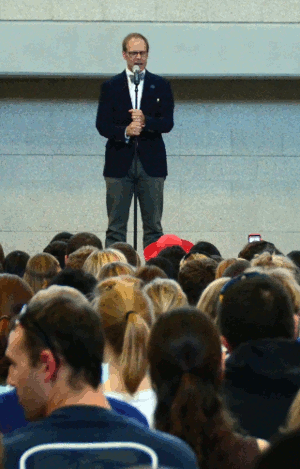 Later that day, Alton Brown (photo, left)  the Food Network's favorite foodie, was on campus for two special events.
"The student session for Alton Brown was a huge success. Nearly 800 students came to listen to him speak and meet him afterwards. I was also pleasantly surprised at how entertaining and funny Alton was. Overall, it was a great event," according to Sarah McAtee, ASI Events Outreach Supervisor.
He later gave a performance at the Performing Arts Center outlining his Top 10 Myths of Food Science. "Alton Brown's presentation on his top 10 food science myths was very enlightening and sparked conversation within the audience, which was very easy for us since Alton's humorous charisma was so welcoming. It was a great and fun celebration of the DPTC," said Geoffrey Elliot a second year dairy science student.
Brown said if he was left on island and only had one food it would be cheese.
The celebration concluded with an alumni/industry picnic.
"It was great to see so many students return to Cal Poly to join us for this celebration, to learn of their professional success, and to hear they are living happy and productive lives," Tong said.
He went on to state, "It was a special celebration that in some ways was very nostalgic and other ways full of excitement for the future of the DPTC. I am proud that we were able to take an idea and then 25 years later showcase the impressive array of education, training and research accomplishments of the DPTC. But even more, I am excited about the solid foundation we have established to do much more to serve our State's and our nation's dairy industry in the next 25 years."
Photos by Jamie Foster Photography