As Dairy Foods learned from its new a survey of cheese processors, specialty and artisan cheeses are in this year. For many cheese processors, that means creating
new flavors and combinations to grab attention.

A flavor trend popping up the last couple months is hot and spicy flavors. Whether it's jalapeno, chipotle or habanero, keeping things hot is all the rage with cheese processors.

As part of Kraft Food's launch of new products this year, the company introduced two new spicy flavors of cheese products. Spicy Jalapeno was added to its Philadelphia cream cheese line and Cracked Black Pepper to its string cheese line (Kraft and Polly-O). The string cheese is sold in 12-ounce packages for a suggested retail price of $4.59. The cream cheese is sold in 8-ounce containers for a suggested retail price of $2.69.


Alongside the zesty Black Pepper string cheese, the company also introduced Italian Style Pizzeria and Sweet BBQ varieties. Kraft Foods is based in Northfield, Ill.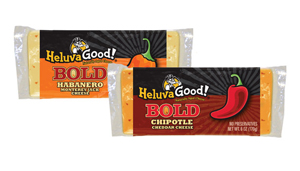 Heluva Good!, a brand of f HP Hood LLC, Lynnfield, Mass., created an entire new line of bold and spicy flavors. The line features three new flavors, with two focusing on adding some heat — Chipotle Cheddar, Habanero Jack and Special Reserve Extra Sharp Cheddar. The cheese is available at a suggested retail price of $2.50 for a 6-ounce package. Learn more here.


Spicy flavor is also being highlighted with the new Jalapeno-flavored string cheese introduced by Weight Watchers Cheese, manufactured by Schreiber Foods Inc., Green Bay, Wis. It's sold in packages of 12 for a suggested retail price of $4.32.

Read more about how Bold flavors are driving cheese purchases.