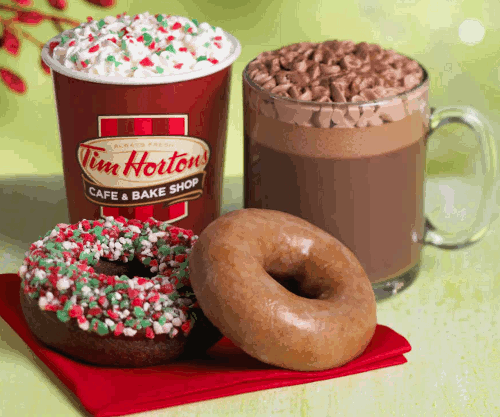 Two milk-based beverages join donuts on a new seasonal menu at Tim Hortons Café & Bake Shop restaurants. The Dublin, Ohio-based chain is serving a new Peppermint Mocha Latte and a Candy Cane Hot Chocolate. Donut flavors are Gingerbread Candy Cane Chocolate and Ginger Molasses Cookie.
The Peppermint Mocha Latte is described as a "premium espresso latte," made with cocoa, frothy milk and mint chocolate flavor. It is finished with chocolate whipped topping and a sprinkle of chocolate powder.
Candy Cane Hot Chocolate combines hot chocolate and chocolate mint flavoring. It is finished with whipped topping and pieces of candy cane bark.
The seasonal beverages and baked goods are available in U.S. restaurants through December 31 or while supplies last. As of Sept. 30, 2012, Tim Hortons had 755 restaurants in the United States and 4,138 restaurants systemwide.