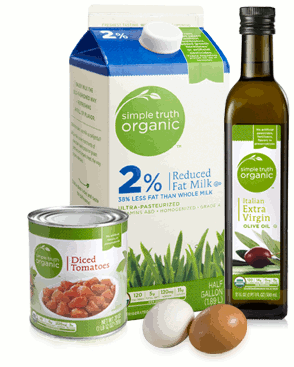 The Kroger Co. today announced nationwide availability of its new Simple Truth and Simple Truth Organic brands. Simple Truth and Simple Truth Organic products are free from 101 artificial preservatives and ingredients that some customers have said they do not want in their foods. Simple Truth Organic products are certified organic by the USDA. In addition, the Simple Truth brand offers several USDA-certified natural products, including meat, chicken and eggs.
Dairy categories include milk and yogurt; other categories are salads, dried fruit, sodas, chips and quinoa.
Kroger ranks 11th on the Dairy 100, Dairy Foods' annual ranking of North America's largest dairy processors. Kroger has 20 dairy processing plants that manufacture milk, ice cream, novelties, cultured dairy foods, juices, drinks and water. The company also owns Turkey Hill Dairy near Lancaster, Pa.
In a statement, Kroger said the launch of the Simple Truth brands comes at a time when consumer demand for organic food is on the rise, according to the Organic Trade Association (OTA), which notes that 78% of U.S. families say they are choosing organic foods.
"While organic products are available in most conventional grocery stores, our customers told us that labels can be confusing, and there's a general belief in the marketplace that organic means more expensive," said Mary Ellen Adcock, Vice President of Natural Foods for Kroger. "At Kroger we understand these challenges, so we're offering our shoppers the Simple Truth Organic brand, an easy, more clearly labeled and affordable way to buy organic products."
All Simple Truth and Simple Truth Organic products are clearly marked with the brand's green circular logo and contain straightforward ingredient statements. Simple Truth Organic items display the USDA organic seal on the front of packaging, while Simple Truth products have highly visible identifiers that indicate their category.
About the Simple Truth Launch Program
Simple Truth and Simple Truth Organic brands are being introduced to customers nationwide through an integrated marketing campaign, involving both in-store and online components. In-store communications include branded shelf signs, stanchions in produce and meat sections and front-of-store standees and banners in more than 2,200 Kroger and Banner Brand stores. Online elements include a Simple Truth website and a social media presence on branded Facebook, Twitter and Pinterest pages.
Simple Truth and Simple Truth Organic brands will be rolled out in phases beginning this month with new food introductions, including cereals, frozen pizza, and vegetarian options, happening regularly. By January 2013, both brands will collectively expand to more than 40 product categories and appear in many aisles at Kroger's Family of Stores.
About Kroger
Kroger, one of the world's largest retailers, operates 2,425 supermarkets and multi-department stores in 31 states under two dozen local banner names including Kroger, City Market, Dillons, Jay C, Food 4 Less, Fred Meyer, Fry's, King Soopers, QFC, Ralphs and Smith's. The company also operates 788 convenience stores, 342 fine jewelry stores, 1,124 supermarket fuel centers and 37 food processing plants in the U.S.