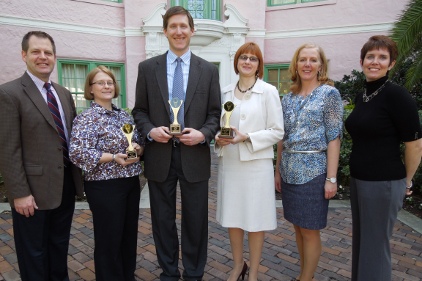 Representatives from the winning companies pose with trophies and contest sponsors. Fromt left: Lance Maylath, Sensient Flavors; Robin Waite, Perry's Ice Cream; Bill Hayes, Sensient Flavors; Eva Balazs, Perry's Ice Cream; Cary Frye, IDFA; and Amy Vodraska, Dairy Foods.
By the International Dairy Foods Association
From the simple tart flavor of citrus fruits to ingredients more often found on the drinks menu and in decadent desserts, the new and innovative products competing in the International Dairy Foods Association's Innovative Ice Cream Flavor Contest showcased the creativity of U.S. ice cream and frozen dessert makers. The competition is part of IDFA's annual Ice Cream Technology Conference.
"This year we sampled several products that captured the fresh taste of lemon, lime, pineapple and grapefruit while others were inspired by popular cocktail ingredients, such as gin and bourbon," said Cary Frye, IDFA vice president for regulatory and scientific affairs. "This annual contest provides a unique opportunity to spot new trends. We also saw products that incorporated Greek yogurt into a frozen dessert and others that offered unexpected ingredients such as soy nuts, honey almond granola and chilies."
Honors for the most innovative ice cream flavor went to Carrot Cake Ice Cream entered by Perry's Ice Cream, Akron, N.Y. Sensient Flavors, an ingredients company serving the ice cream industry, won most innovative prototype flavor for its Pistachio Brittle – Bourbon Caramel Ice Cream. Perry's Ice Cream also took home the most innovative novelty award for its Pink Grapefruit Sorbet Bars.
The contest, sponsored by Dairy Foods magazine, is a popular session at the annual conference. There were 21 entries in three categories, making this year's competition the largest yet. Conference participants served as the judges, including Dairy Foods associate publisher Amy Vodraska.
Dairy Foods' Amy Vodraska (left) presents award to Robin Waite of Perry's Ice Cream