Dairy Foods & Beverages
Dairy Processing and Equipment
Processing
Operations
Milk
Meet Bill Weigel, the owner of Weigel's convenience stores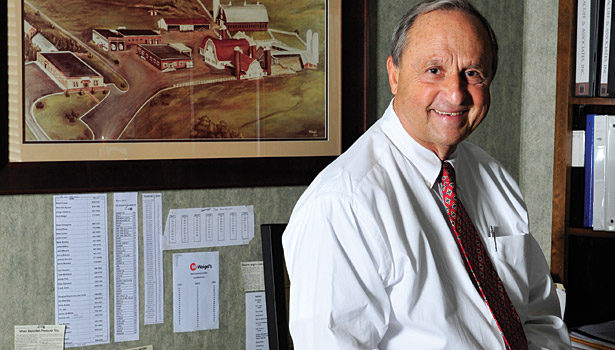 As Bill Weigel navigates his Toyota Avalon down Tennessee State Highway 131 through Powell, Tenn., he points out landmarks from his boyhood. There is the house where his grandmother lived. Over there is the orchard where he went for an apple to mask the tobacco on his breath from smoking (at age 9) his homemade corncob pipe. And that's where he boarded the bus and rode to the big city (Knoxville) all by himself before he was even 10 years old.
As he steers the car into the entrance of the Broadacres subdivision and onto the road leading to the dairy and his office, he shows a visitor the log cabin where he was born. The man's life is wrapped up in this small town northwest of Knoxville. He is the fifth generation of Weigels in this area; an ancestor settled in Tennessee from Germany in 1847.
William B. (Bill) Weigel is chairman and chief executive officer of Weigel's, a chain of convenience stores throughout eastern Tennessee. He also owns Broadacre Dairy, which processes the milk, juices and teas sold exclusively in the stores. He's a modest man. He answers his own phone, and everyone in the company calls him Billy.
The success of the dairy and the stores are intertwined. The dairy depends on the success of the stores. The stores need quality beverages, like the award-winning 2% chocolate milk or fat-free Skim D'Lite, which is cold-bowl separated, leaving the milk with its flavor and texture.
Jeff Sterne, the executive director of the All Star Dairy Association, cites other retailers with their own dairies, including giants like Kroger, Publix and Safeway, and smaller ones like Braum's Inc. in Oklahoma and Rutter's Dairy in Pennsylvania. Growth is the challenge for all of these businesses, Sterne says. But as long as the stores keep expanding and selling more milk, the dairies can prosper.
Before there were any Weigel's stores, there was just the dairy, which originally wholesaled milk. The company operated a home delivery business, too. In 1958, Weigel's father and uncle opened a drive-thru store modeled after a Land O' Sun Dairy operation they saw in Florida. Consumers pulled up to a window, returned an empty glass gallon container and drove off with a full bottle.
The problem with the drive-thru stores was that the merchandise assortment was too limited. After a few years, Bill developed those stores into walk-in stores carrying groceries and other items. In 1970 Weigel's became the first convenience store company in Tennessee to introduce self-service gasoline pumps. Today there are about 60 stores. Every year, the company builds four new units and remodels one. (Weigel's has its own general contracting business.)
William W. Weigel Jr. wanted his son to become a doctor. Bill took all the pre-med courses at Vanderbilt University, but he knew he wasn't going to be a physician. (One of his two daughters did earn a medical degree. Son Kurt works in the corporation as Director of Recuiting.) Instead, Weigel joined the family business and developed the retail stores. In 1961, his Air National Guard Unit was called up during the Berlin Crisis and he spent almost a year overseas.

I want to hear from you. Tell me how we can improve.