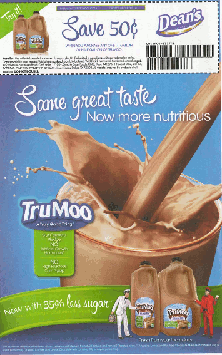 Milk, butter and cheese get their due in the free-standing inserts for the week beginning Sunday, Jan. 13.
TruMoo chocolate milk is said to be more nutritious
Dean Foods says of its TruMoo chocolate milk "same great taste now more nutritious." The FSI points out that the milk has 35% less sugar than "a leading chocolate milk brand" and that the beverage is made without high-fructose corn syrup. Further, the FSI states that milk is sourced from farmers who pledge to use no artificial growth hormones.
Land O'Lakes uses social media to promote Saute Express
Land O'Lakes calls its Saute Express "a convenient, toss-in-the-pan solution to dinner in 30 minutes or less." Smartphone users can find recipes for the new seasoned butter and olive oil product (named a Best New Dairy Product of 2012 by Dairy Foods) by scanning a QR code or going online to sauteexpress.com. The FSI includes logos of Facebook, Twitter and Pinterest.
Smart Balance blended butter makes cholesterol claims
GFA Foods states "butter just got better" in its FSI for Smart Balance butter (blended with oil), which is sold in sticks and tubs. The marketer states the food is "made with delicious real butter" as well as EPA/DHA omega-3s and "a naturally sourced ingredient that helps block the cholesterol in the butter." A food plan is available online (smartbalance.com). The product is said to be "great for baking & spreading." GFA Foods takes a second FSI for its buttery spread, which also contains omega-3s.
In other activity:
Melting Pot Foods says "Entertain with ease" with its DiLusso deli meats and cheeses.