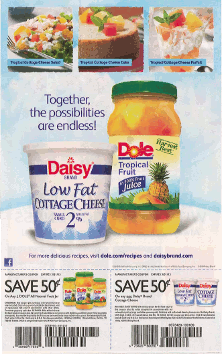 As millions of Americans face the first full week of the New Year, dairy marketers tie their messages in free-standing inserts to consumers' resolutions to eat better and lose weight. Here's a look at FSI activity for the week beginning Jan. 6:
Daisy and Dole jointly promote low-fat cottage cheese and tropical fruit in an FSI headlined "Together, the possibilities are endless!" Photos show the cottage cheese in a salad, on a cheese cake and in a parfait. The two food companies direct readers to their respective websites for recipes.
Separately, Doles states "Blenders are so 2012!" in an FSI for Shakers, a make-at-home fruit smoothie kit containing yogurt.
Sargento calls its string cheeses "wholesome, flavorful, and oh so satisfying." The FSI lists the nutritional content of the natural cheese snacks: at least 5 grams of protein per stick; a good source of calcium; and 90 calories or less per stick. Smart-phone users can scan a quick-response code and others can follow the URL www.sargento.com/snacks for snack ideas.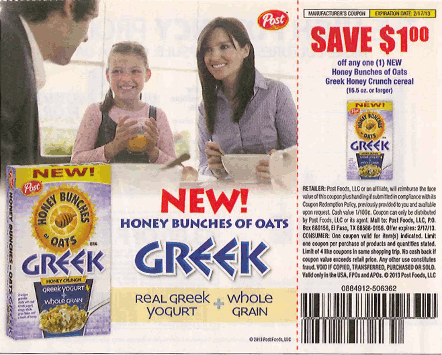 In other activity this week:
Post Foods launches a new Honey Bunches of Oats cereal made with real Greek yogurt.
J&J Snack Foods promotes its low-fat, fat-free and gluten-free Whole Fruit fruit bars and sorbet under the headline "New Year, New You!"
General Mills' Yoplait shows a Weight Watchers endorsement logo and points value (two points per serving) for its light and Greek 100 SKUs.
WhiteWave Foods states its Silk PureAlmond almond milk is "slimmer than skim" and is "perfect for a new year, and a new you."
Abbott Nutrition shows its Ensure Complete beverage containing 13 grams of protein, omega-3s, prebiotics, antioxidants, calcium and vitamin D.