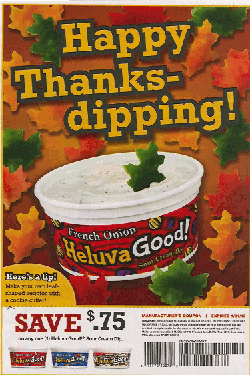 Kraft Foods is a heavy user of the free-standing inserts for the week beginning Nov. 11, featuring its cheese and sour cream brands. Other dairy marketers suggest their foods and ingredients for the Thanksgiving holiday.
Kraft serves Cracker Barrel, Velveeta, Breakstone's
Kraft Foods promotes its aged reserve Cracker Barrel Cheddar cheese. The food won a gold medal at the 2012 World Championship Cheese contents.
A recipe for macaroni and cheese made with Velveeta appears under the headline "A recipe for togetherness." Besides the processed cheese, the recipe calls for these other dairy foods: 1 cup milk, one-half cup Kraft shredded Cheddar cheese and one-quarter cup butter.
Breakstone's sour cream is suggested as an ingredient in a banana-sour cream cake. The recipe also calls for an 8-ounce package of Kraft's Philadelphia cream cheese and one-half cup butter. The FSI directs readers to Kraftrecipes.com for additional recipes.
Kraft features its single-serving Homestyle microwavable macaroni-and-cheese bowls. Three flavors are Hearty Four Cheese, Sharp Cheddar and Bacon, and White Cheddar.
HP Hood suggests vegetables with its Heluva Good! dip
"Happy Thanks-dipping!" is the headline over Heluva Good!'s French onion sour cream dip. The HP Hood brand suggests making leaf-shaped vegetables with a cookie cutter.
WhiteWave pours coffee creamers from International Delight, Land O'Lakes
WhiteWave Foods (a unit of Dean Foods) pictures two new flavors (Hershey's s'mores and Salted Caramel Mocha) of its International Delight coffee creamers. The tagline "What's your I.D.?", used in an current advertising campaign, appears over the Facebook icon.
WhiteWave also takes an FSI for Land O'Lakes half-and-half SKUs, used under license. The insert directs readers online to ShareYourDelight.com, which promotes the Coats For Kids Foundation campaign to purchase winter coats for children.
WhiteWave includes a recipe for Holiday Icing made with its Silk PureAlmond beverage. The FSI asks the question, "Did you know Silk works just like dairy milk in recipes and has 50% more calcium?"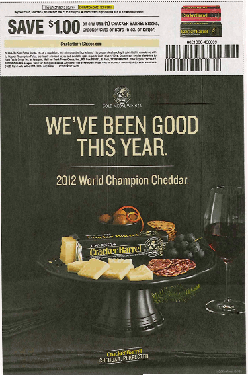 Serve Carvel, Reddi-wip at dessert
Celebration Foods offers a free photo book from Shutterfly with the purchase of a Carvel ice cream cake. The marketer directs readers to a website (crunchtime.celebratethe day.com) offers party-planning tips.
ConAgra Foods positions its "real cream" Reddi-wip alongside a frozen Marie Callender's pie.
In other activity:
"Cereal + milk" are "the dynamic duo," according to an FSI from Kellogg's that includes the "got milk?" logo.
Yoplait and Yoplait's GoGurt (from General Mills) promote their flavors and portability, respectively.