In the 1967 musical "Dr. Doolittle" starring Rex Harrison in the title role, Anthony Newley (Matthew Mugg) sings about his friend "who'll blarney when he can," extoling that "the moon is made of apple pie and once a month it's eaten by the sun," while "the sun is made of cheddar cheese, and the doctor even knows the reason why." 
But fantasy or not, consumers are "over the moon, sun, and stars" over real cheese. In fact, Chicago-based Information Resources Inc. (IRI) notes that the natural cheese category generated $16.4 billion in dollar sales in U.S. multi-outlets, a 2.7% year-over-year (YoY) increase for the 52 weeks ending Sept. 4.
Surpassed only by dairy category leader milk with $17.8 billion in dollar sales and YoY growth of 7.2%, natural cheese is No. 2 in the dairy industry with the aforementioned $16.4 billion in sales, IRI states. Among natural cheese's subcategories, which includes shredded, chunks, slices, string/stick, crumbled, ricotta, and cubed, shredded cheese is No. 1, garnering sales of $6.2 billion and a 2% YoY increase, while unit sales, at a hefty 1.78 billion, declined 2%, during the same timeframe, IRI data reports.
In time for the gift-giving season, Boarderie, Palm Beach, Fla., offers pre-assembled cheese and charcuterie boards with hand-crafted artisan cheeses, meats, dried fruits, nuts, and chocolates artfully arranged on a keepsake Acacia wood board that arrives pre-assembled and ready to share.
Photo courtesy of Boarderie.
Perhaps due to the popularity of charcuterie boards featuring snackable meats, crackers, and natural cheese chunks and cubes, the subcategories experienced YoY dollar sales of $4.1 billion and $186 million, respectively, and increases of 1.2% and 9.7%. Unit-sales-wise, cubed cheese saw a 9.8% uptick and 55.7 million units, while chunk cheese, at 959 million units, experienced a 1.9% decrease. 
Among IRI's Dairy15 ranked in size (Milk, Natural Cheese, Yogurt, Ice Cream/Sherbet, Fz Novelties, Cream/Creamer, Butter/Butter Blends, Processed Cheese, Cream Cheese, Rfg Dips, Rfg Whipped Toppings, Sour Cream, Margarine/Spreads, Cottage Cheese, Rfg Desserts), John Crawford, vice president of client insights-dairy, notes that all categories are seeing high dollar sales growth with high inflation.
"During the pandemic, dairy staples saw strong growth (Cheese, Butter, Sour Cream, etc.) with single-serve heavy categories not seeing the same growth," he says. "…Consumers made some changes during the pandemic that have stuck. At-home entertainment, cooking, online shopping, reduction in dining out, and focus on immunity and holistic health. They continue to look for products that have health benefits and dairy can capitalize by touting the inherent benefits."
Scott Maney, category strategy and insights manager for cheese at Organic Valley, La Farge, Wis., surmises that cheese is king of the dairy industry.
"Cheese is a huge category so it takes a lot to move the needle," Maney says, explaining that the top flavors/varieties have remained fairly constant on top of the leaderboard. "The top usage segments – shreds and slices – remain dominant with cheddar maintaining its status as the top variety."
In conventional and natural enhanced outlets for the 52 weeks ending Sept. 4, Chicago-based SPINS LLC reports several key takeaways in refrigerated (RFG) segments. For example, shredded and grated cheeses generated $7.59 billion, a 1.7% YoY increase; sliced and snack cheeses grew 4.6% with sales of $6.54 billion; cheese clocked in at $5.09 billion (1.2% YoY increase); and albeit from a smaller base, cottage, ricotta, and farmer cheese saw 4.8% growth and sales of $1.46 billion, says Dan Buckstaff, SPINS' chief marketing officer.
Brand-wise, private-label cheeses, at a less expensive price point, remain "dominant players" that will continue to grow in the marketplace, Maney states.
IRI data for the 52 weeks ending Sept. 4 concurs. Private-label cheese is the top seller in six out of nine subcategories: shredded, $4.1 billion in sales (2.5% YoY growth); chunk, $1.3 billion in sales (1% YoY growth); slices, $1.4 billion in sales (7.2% YoY growth); string/stick with $472 million (-2.5%); ricotta, sales of $97 million (0.2%); and RFG grated cheese with a YoY growth rate of 7.6% and sales of $46 million. When looking at units of private-label cheese, cubed cheese, at a 27.3% YoY growth trajectory, was the runaway winner with other units remaining flat or experiencing single-digit and even double-digit decline (-10.1% for ricotta).
Yet, within the top-performing $6.2 billion natural shredded cheese subcategory, several emerging brands posted solid triple-digit growth, including a 127.9% rise in dollar sales for Cracker Barrel and 105.5% growth for Hispanic cheese brand La Morenita, which generated U.S. multi-outlet sales of $8.8 million and $10.1 million, respectively.
Excluding the No. 1 private-label shredded cheese, the Top 5 shredded cheese brands are: Kraft, notching $948 million in dollar sales (-1.5%); Sargento, with $400 million in dollar sales (4.5%); Tillamook, with $161 million in sales (13.4%); Crystal Farms, $85 million (-18%); and Belgioioso, $65 million (10.2%).
Top dairy brands generally stay the same over time, IRI's Crawford says, citing Chobani, Coffee Mate, fairlife, Häagen-Dazs, International Delight, Philadelphia, and Sargento.
More premium cheeses for at-home entertaining
Noting that off-brands aren't available in the premium artisanal cheese space is providing plenty of growth opportunity. "Consumers seek to elevate their mealtime experience – whether through taste by adding bolder flavors like aged cheddar or upscaling with a premium brand for a special meal occasion," Maney explains.
Based in Madison, Wis., Dairy Farmers of Wisconsin CEO Chad Vincent highlights that natural cheese continues to see growth — up 2.7% vs. a year ago and 5.6% vs. 2 years ago. "At-home entertaining has returned with more gusto, which means cooking for larger gatherings has returned," he says.
Billed as the Original Keto Wrap, Folios Cheese Wraps is available in four flavors: Parmesan, Jarlsberg, Cheddar, and Mozzarella, its newest flavor. The 100% lightly baked cheeses are naturally gluten-, grain-, lactose- and hormone-free, contain 13 grams of protein and healthy fats, and have only 1 gram of carbs.
Photos courtesy of Folios Cheese Wraps.
"Cheddar is 20% of the category, it's a classic for a reason," Vincent explains. "Wisconsin's cheesemakers spotted cheddar's true potential early on, recognizing how versatile this variety can be. Whether you like cheddar young or aged, mild or sharp, straight up or with streaks of blue, Wisconsin artisans are constantly exploring and innovating this variety's potential. Next top varieties are cream cheese, mozzarella, and blends (Colby/jack, cheddar/jack/Hispanic)."
In addition to aged cheddars, spicy cheese flavors are "hot," along with sweet and savory. "Some frequent flyers include jalapeño, hot pepper, smoked, herb; and fastest growing flavors are buffalo, ghost pepper, hatch chile, maple/sugar, garlic, and pesto," he adds.
During the COVID-19 pandemic in 2020 and 2021, retail sales of non-specialty cheeses fell. However, specialty cheeses bucked the trend with "marginal growth."
Vincent points out that Wisconsin cheesemakers, which produced 877 million pounds of specialty cheese in America in 2021, accounted for 48% of all the specialty cheeses made in the United States.
 "That means Wisconsin cheesemakers craft almost half of the nation's specialty cheese," he explains. "Organic has stronger average annual growth from 2016-2021 but is only 0.5% of the category. Where we see a lot of growth is Hispanic cheeses (3% of category), they continue to grow much stronger than non-Hispanic and the overall category.
"The oldest Hispanic-owned cheese manufacturer in the country calls Browntown, Wis., home," he continues. "Founded in 1964 by Gilberto Villaseñor Sr. and his brother-in-law Ignacio Villaseñor, V&V Supremo's Chula Vista Cheese Company makes everything from Oaxaca to quesadilla cheese to sour cream." 
Based in Dallas, LALA U.S. Inc. produces several award-winning Latin-inspired cheeses, including its Queso Fresco, a soft, white crumbling cheese, and Queso Panela, a white, fresh and smooth Mexican cheese made from pasteurized cow's milk. 
To educate others about all things cheese, from pasture to plate, in October, the Dairy Farmers of Wisconsin launched a new online platform inviting expert cheesemongers, makers, and scientists to "Tour the Cheese State University Campus." 
Shooting for the stars
To appeal to cheese-loving consumers, several brands are releasing new products and campaigns. 
With creamy cheese being used for on-the-go snacking, Frigo Cheese Heads, a brand of Saputo Dairy USA, Lincolnshire, Ill., launched a new integrated campaign, "We Are All Cheese Heads," featuring a cast of animated characters. The campaign aims to celebrate and encourage tweens and teens to embrace their individuality and creativity.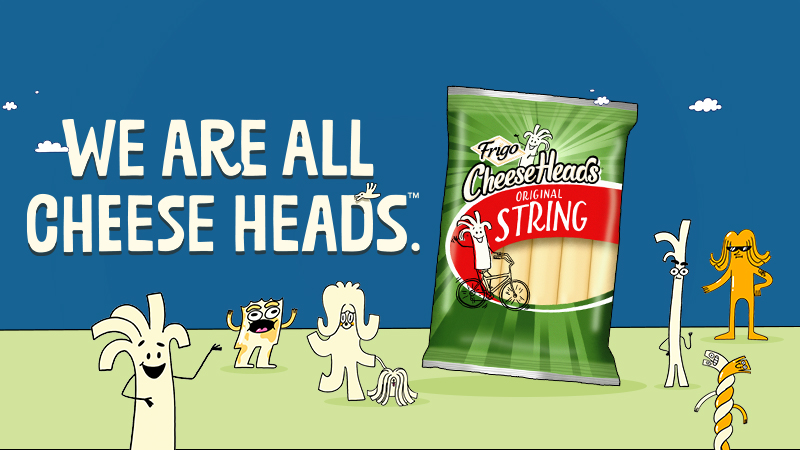 Designed to appeal to tweens and teens, Frigo Cheese Heads launched a new integrated campaign, "We Are All Cheese Heads," featuring a cast of animated characters.
Photo courtesy of Saputo Dairy USA.
The idea for the campaign stems from the ongoing debate about the best way to eat string cheese, creating social media fodder by pitting different eating styles against one another. Rather than taking sides, the Cheese Heads brand is reimagining how tweens and teens think of string cheese and how they eat it: biting, chomping, nibbling, peeling, twisting or any other way they choose to enjoy the healthy snack which contains 80 calories and 6 grams of protein, the company says. 
"There's an infinite number of ways to eat Cheese Heads, just like there's an infinite number of ways for kids to be themselves," explains David Cherrie, Saputo Dairy USA vice president, marketing and innovation. "We see great opportunity for this campaign to entertain tweens and teens and inspire them to be themselves and embrace their creativity in a fun and relatable way while also appealing to their parents."
For the more sophisticated palate, Rogue River Blue Cheese has developed a cult-like following among cheese-lovers across the globe since it was first introduced in 2002. Made by Rogue Creamery, Central Point, Ore., the aged blue cheese was the first American cheese to win the World's Best title at the 2019/2020 World Cheese Awards, it says. 
Every year on the Autumnal Equinox (Sept. 22), when the storied cheese is released, cheesemongers from all over the world rush to get their hands on a wheel. The cheese is available across the United States and overseas in many countries, such as Spain and Australia, bringing a taste of Oregon's Rogue Valley with it and a new meaning to the term, "American cheese."
"Rogue River Blue truly represents a taste of place. It's a culmination of flavors and influences in the Rogue Valley, which makes it so special to our community to be able to share it with friends and fans across the globe," says Rogue Creamery President David Gremmels, who created the recipe for the blue cheese more than 20 years ago. 
To make Rogue River Blue, cheesemakers exclusively use milk collected in the fall, when fresh rains bring renewed growth to the pastures and the cow's milk is at its best. After cave-aging the wheels for nine to 11 months, Rogue Creamery wraps the cheese in organic, biodynamic Syrah grape leaves from neighboring Troon Vineyard that have been soaked in pear spirits.
Gremmels points out that the flavors and texture of Rogue River Blue vary slightly year to year. The 2022 release exemplifies the classic fudgy and rich texture and flavors of pear brandy, vanilla, toffee, truffle, and fig for which Rogue River Blue is known. Hints of brown butter, milk chocolate, toasted hazelnut, and brothy, savory notes that make this year's vintage distinctive, he adds.
Also from Oregon and revered for its award-winning specialty cheddar cheeses, Tillamook County Creamery Association (TCCA), a farmer-owned co-operative and Certified B Corp., won four Gold, one Silver, and two Bronze awards at the 125th International Cheese & Dairy Awards (ICDA). Almost 5,500 entries were evaluated by a team of judges from all over the world, evaluating each product on aroma, flavor, texture, and visual presentation. TCAA won Gold for its English-Style Sweet Cheddar and its Hickory Smoked Extra Sharp White Cheddar cheeses. 
With a cult-like following, Rogue River Blue Cheese, an aged blue cheese developed by Rogue Creamery President David Gremmels in 2002, was the first American cheese to win the World's Best title at the 2019/2020 World Cheese Awards. 
Photo by Will Studd/courtesy of Rogue Creamery.
The impact of organic
Dairy experts are seeing an impact on clean-label, reduced-sugar, zero-added-sugar, and/or organic products. "Clean label (humanely raised, Non-GMO, etc.), low sugar, lactose-free, low sodium, pre/probiotic and immune defense claims are seeing strong growth across the Dairy15 outpacing total category growth," IRI's Crawford says. "Organic growth is much slower +1.7% with higher inflation impacting higher priced products. Organic is a 36% premium in price per unit across the Dairy15. The premium is higher in price per volume at 70%."
While organic products cost more, that has not stopped most consumers on the organic journey from straying, SPINS' Buckstaff says. 
"[T]hose who are invested in buying organic products will continue to purchase these, regardless of price because they see it as important and will invest in their health/wellness," he says.
Organic Valley's Maney agrees. "Part of the consumer shift towards premium cheese includes a focus on clean-label with fewer ingredients as well as higher quality/better ingredients which encompasses organic."
In addition to competition in pricier organic brands, plant-based categories are seeing more competition than typical dairy products as more brands emerge and there is competition for achieving the closest flavor and texture to traditional dairy, experts note.
According to Dublin-based Research and Markets, the global vegan cheese market size was expected to reach $2.1 billion in 2021. With new innovations from Daiya Foods, Good Planet Foods, Kite Hill, and Parmela Creamery, the worldwide vegan cheese market is expected to reach $ 4.4 billion with a compound annual growth rate (CAGR) of 13.1% during 2021-2027, the market research firm says.
"Apart from this, major players are introducing vegan cheese in varying bases, textures, flavors, and forms like shredded, cream, block, sliced, soft, parmesan-style, and dips. For instance, Boursin (Bel Brands USA) introduced dairy-free garlic and herbs cheese spread on Amazon Fresh in October 2020," the report states.
The demand for "real cheese" nonetheless remains strong. In 2019, U.S. dollar sales were $34.3 billion and Allied Market Research prognosticates it will rise to $45.5 billion by 2026, growing at a CAGR of 5.25%. Globally, cheese accounted for nearly $157 billion in sales in 2020, with sales of $199.7 billion expected between 2021-2030, at a CAGR of 2.3%.
Now and in the future, sustainability will remain a key driver for the dairy industry. "Our research points to trends around sustainability through trust and transparency as well as new and/or amplified experiences through foods," Dairy Farmers of Wisconsin CEO Vincent concludes. "...Cheesemaking expertise was one of the few things our ancestors brought with them to this state. They chose Wisconsin because the soil and water provided the perfect conditions for doing what they'd been doing for centuries. To maintain that heritage, Wisconsin producers are cognizant of the land, animals, and stewardship practices that make the Wisconsin dairy industry ($45.6 billion) strong and sustainable."