In the 1989 movie "Dead Poets Society," actor Robin Williams famously tells his students to "carpe diem," or "seize the day," in order to make their lives extraordinary. Recognizing that most consumers are searching for functional products to improve their health and well-being, dairy processors are seizing the opportunity to manufacture innovative dairy products that will fuel athletes and nonathletes alike with what they need to power through their day.
Luckily, dairy products are inherently functional because they provide important health benefits, experts note.
"Cultured dairy products, in particular, are a good source of protein, fat, essential minerals, and probiotics, which have a positive effect on our health," says Joe O'Neill, vice president of sales and business development for Fairfield, N.J.-based A&B Ingredients. "Various studies show that regular consumption of dairy products may help better control weight and blood pressure and decrease the risk of stroke and osteoporosis.
"…Cheese products typically offer the highest protein levels among all dairy products," he continues. "However, the wide range of isolated protein sources gives manufacturers unlimited opportunities to increase protein content in any dairy product for better health and nutritional claims."
Mike Medina, category marketing director for specialized nutrition and dairy at ADM, points out that the Chicago-based company is seeing a surge of interest from everyday consumers toward active and specialized nutrition options, including protein shakes, yogurts, hydration beverages, and more.
"The shift from 'sports nutrition' to 'active nutrition' has been a main factor in the increased consumer demand for functional options," he explains. "Consumers are feeling more welcomed into the active nutrition space, which takes a broader approach, offering solutions that are inclusive of different lifestyles and activity levels."
Since COVID-19, Megan Patterson, Fonterra Americas marketing communications manager, has seen a massive shift in consumers' attitudes toward health as they demand expanded food and beverage offerings that enhance wellness.  
"Functional dairy products can deliver on that," Patterson says. "For example, a Technomic Beverage Consumer Trend Report found that 58% of consumers surveyed said they would be more likely to purchase beverages that support the immune system. This is the perfect cue to formulate a yogurt drink made for stress management or a high-protein probiotic smoothie. For the on-the-go consumer, a drinkable yogurt, a high-protein yogurt bar, or a cultured dairy pouch are easy additions to everyday life."
While milk, yogurt, drinkable yogurt, cheese, and cultured dairy are giving children, teens, men and women with osteoporosis, etc., the nutrients they need to build and maintain strong teeth and bones, "without a doubt yogurt is the subcategory where fortification is a driver of new products," states Max Maxwell, manager for market intelligence at Glanbia Nutritionals, Chicago.
"From Greek yogurt to yogurts that provide a unique protein fortification with a keto-friendly angle, both protein and dairy have a positive health perception by consumers globally," Maxwell says. "Protein continues to be the only macronutrient with a positive health halo among virtually all consumers."
A nutritional powerhouse, cow's milk boasts 13 essential nutrients, vitamins A and D, and 8 grams of protein in each 8-ounce serving. 
Photo courtesy of A&B Ingredients
The power of protein ingredients
Protein ingredients such as whey, casein, and calcium are naturally found in dairy products.
"Milk is a pure food source of bone health nutrients including seven key minerals optimally balanced for bone support — calcium, phosphorus, magnesium, potassium, zinc, iron, and copper," Maxwell states.
Since all age groups can digest whey proteins, that is probably the best source of protein to incorporate into one's diet to maintain health, says An Ho, director of research and development (R&D) for Fenton, Mo.-based IFPC.
She notes that all ages can digest whey, which contains trace amounts of lactose. "Whey protein is great for ready-to-eat (RTE) applications and has a great amino acid profile with little lactose," she says.
A multitude of protein ingredients are being used in dairy products, from traditional whey and casein to soy and pea proteins, Medina says. "Whey and casein are classic protein options used in muscle-building formulations, and, as such, are often seen in active nutrition products. Found in milk, cheese, yogurt, sour cream, and more, casein is vital for the functionality and sensory experience of these products.
"However, plant proteins are making a prominent splash in this space," he continues. "Soy is particularly important, as it's the only non-animal protein that is a complete protein, with a [protein digestibility-corrected amino acid score] PDCAAS of 1, making it a fantastic protein source for further fortifying dairy and alternative dairy-based offerings."
Onward and upward
Driven by rising awareness and ample amounts of new product development, the plant-based protein and supplement markets, as well as the alternative protein market, will continue their upward trajectory, data from market research firms suggests. For instance, the plant-based protein market, valued at $12.2 billion in 2022, is projected to reach $17.4 billion by 2027 with a compound annual growth rate (CAGR) of 7.3% until 2027, reports MarketsandMarkets. With a CAGR of 6.7% between 2021 and 2028, the plant-based protein supplements market was valued at $5.68 billion in 2021 and is expected to reach $8.94 billion by 2028, according to Brandessence Market Research.
Besting them all, the global alternative protein market is forecasted to grow from $14.2 billion in 2021 to $33.7 billion by 2030, at a CAGR of 10.1%, states The Brainy Insights.
With the protein market growing, it's not surprising that the FMCG Gurus October 2021 report, "Overview of the Sports Nutrition Market and the Growth of the Active Nutrition Consumer," reports that 53% of the global population classifies themselves as active nutrition consumers.
When looking at the health benefits of dairy products containing cow's milk/cream versus plant-based dairy products, dairy proteins are considered to be more "complete" than plant-based proteins in their amino acid profile, IFPC 's Ho notes.
"This is because they often contain higher concentrations of branched-chain amino acids (BCAAs) like leucine, valine, and isoleucine, which are essential amino acids," she explains. "Milk-based proteins also have electrolytes like potassium and calcium. Soy protein has similar amino acid profiles, but it does have downsides like flavor, texture, or consumer perception. Plant proteins do provide value, but they probably require higher usage fortification to be comparable."
Nothing can beat cow's milk for nutrition, Fonterra's Patterson asserts. "Cow's milk has always been a nutritional powerhouse and these claims add to its lengthy nutrient portfolio. While there is nutritional benefit to both types of milk, cow's milk boasts 13 essential nutrients and is typically sold with only three ingredients — milk and vitamins A and D — putting it on a nutritional pedestal not many other foods can match — even sports drinks with complex formulations."
In addition to dairy milks, spoonable yogurts and on-the-go formats, including ready-to-drink (RTD) beverages, are among the top applications, while low-sugar, high protein and high fiber frozen treats are emerging in the marketplace, ADM's Medina says.
"We're seeing dairy-based confections with various functional properties hitting store shelves, which provide quick, delicious bites for energy, protein, or overall wellness support," he says. "Moreover, blended dairy beverages that incorporate fruits, grains, nuts, spices, and intriguing global flavors are winning with consumers. Dairy beverages that can offer specific functional attributes, such as digestive and immune function support and hydration, are providing captivating added value to shoppers looking for individualized support."
Ahead of football season, Rockin' Protein made by Shamrock Farms announced that Baltimore Ravens' football tight end Mark Andrews is the brand's newest athlete influencer. Kicking off the partnership with a campaign titled "The Beat Mandrews Challenge," fans can see how the 6-foot-5-inch, 256-pound Andrews trains and fuels with the help of his favorite RTD protein beverage. (See "The Beat Mandrews Challenge" video).
Video courtesy of Glanbia Nutritionals
"As a Type-1 diabetic, I closely monitor everything that goes into my body and look for nutrient-dense, tasty foods," Andrews says. "I've been drinking Rockin' Protein every step of my career because it's a delicious and healthy source of protein that also helps keep my abilities at an elite level — it's truly a game-changer."
Rockin' Protein contains 30 grams of protein, has no added sugar, and low carbs to help build lean muscle mass, the company says.
In September, Optimum Nutrition, part of Glanbia Performance Nutrition, released a new RTD Gold Standard Protein Shake with 24 grams of premium protein.
Photos courtesy of Optimum Nutrition
All the way with whey
Although isolated protein can be derived from animal or vegetable sources, not all proteins provide similar nutritional benefits, AB&B's O'Neill explains.
"The quality of protein depends on the combination of amino acids and how easily it can be digested by the body. Animal proteins, like whey and casein, are considered 'complete' or high-quality proteins and can be used for protein fortification in traditional dairy," he states. "However, a growing number of consumers seek out plant-based foods and choose not to consume animal-based products. Alternative dairy products fortified with plant-based proteins will be more attractive to flexitarian and vegetarian shoppers."
When choosing the right protein source, formulators need to consider nutritional benefits, digestibility, allergenicity, and technical aspects such as flavor, texture, and color, O'Neill points out. While some plant proteins are not considered "complete" proteins because they may lack certain amino acids and nutrients, pea proteins are highly digestible and provide significant amounts of amino acids, arginine, and leucine that are important for bone health, he adds.
A&B offers Pisane, a pea protein isolate and high-purity plant protein with no cholesterol that is one the most tolerated and accepted protein sources on the market particularly for seniors who want to improve bone health. It is an ingredient of choice in manufacturing nondairy creamers where fat emulsification is important, he adds.
While protein provides important health benefits, ADM research documents that 70% of global plant protein consumers report taste and nutrition as equally important. Yet, high levels of protein may affect dairy and alternative dairy beverages' color, viscosity, flavor, and mouthfeel.
"We help manufacturers overcome this by leveraging our expansive library of protein solutions, identifying the best protein sources," Medina says. "We then combine that with our complementary ingredients, expert formulation techniques, and masking solutions to optimize the sensorial experience."
ADM manufactures a plethora of clean-tasting soy and pea proteins and isolates for functional dairy and alternative dairy solutions. For instance, its soy protein isolates, which contain 90% protein concentration for bolstered protein nutrition, can be used in beverages and yogurts. For example, its award-winning, clean-tasting ProFam Pea 580 brings a smoother mouthfeel in plant-based dairy and high-protein beverages, while MaxFlex, a blend of pea and rice proteins, has seen success in high-protein beverages such as meal replacements and powdered beverages.
Other new protein ingredients are hitting the market. In fact, NZMP, Fonterra's global ingredients, and solutions brand, recently launched Pro-Optima, a Grade A functional Whey Protein Concentrate (fWPC). Pro-Optima enables unrivaled protein enhancement in cultured products, unlocks a range of textures, and is suitable for a variety of applications in cultured products like spoonable yogurt, drinking yogurt, mousses, nutritional yogurt bars, and more.  
"Savvy ingredient solutions are the core of Fonterra's business," Patterson says. "We know firsthand that using functional ingredients compatible with other health and wellness ingredients and delivering multi-functional benefits across many food and beverage offerings will naturally win over consumers. This is precisely what NZMP's Pro-Optima fWPC was designed to do."
As it seeks to further its position as a leader in nutrition science, Fonterra debuted a new well-being, business-to-business solution brand, Nutiani, which is designed to offer end-to-end solutions to customers through a combination of well-being nutrition products, concepts, and services. "Nutiani will offer powders and drinks with attributes that can help mitigate stress, improve mobility and manage body weight," Patterson states.
On the forefront of new ingredient technology, Glanbia Nutritionals offers a patent-pending technology — UltraHi Protein Yogurt Technology — that facilitates 25% added protein in various yogurt dairy formats (spoonable, spreadable and drinkable) by blending whey and milk proteins, Maxwell says.
In response to consumers seeking more protein in their diets, new products are arriving on store shelves. In September, whey protein leader Optimum Nutrition, part of Glanbia Performance Nutrition, released a new RTD Gold Standard Protein Shake designed to help the body recover and refuel. The shake contains 24 grams of premium protein, 1 gram of sugar and zero added sugars, and 24 vitamins and minerals, plus vitamins A, C, D, E, and zinc to support a healthy immune system.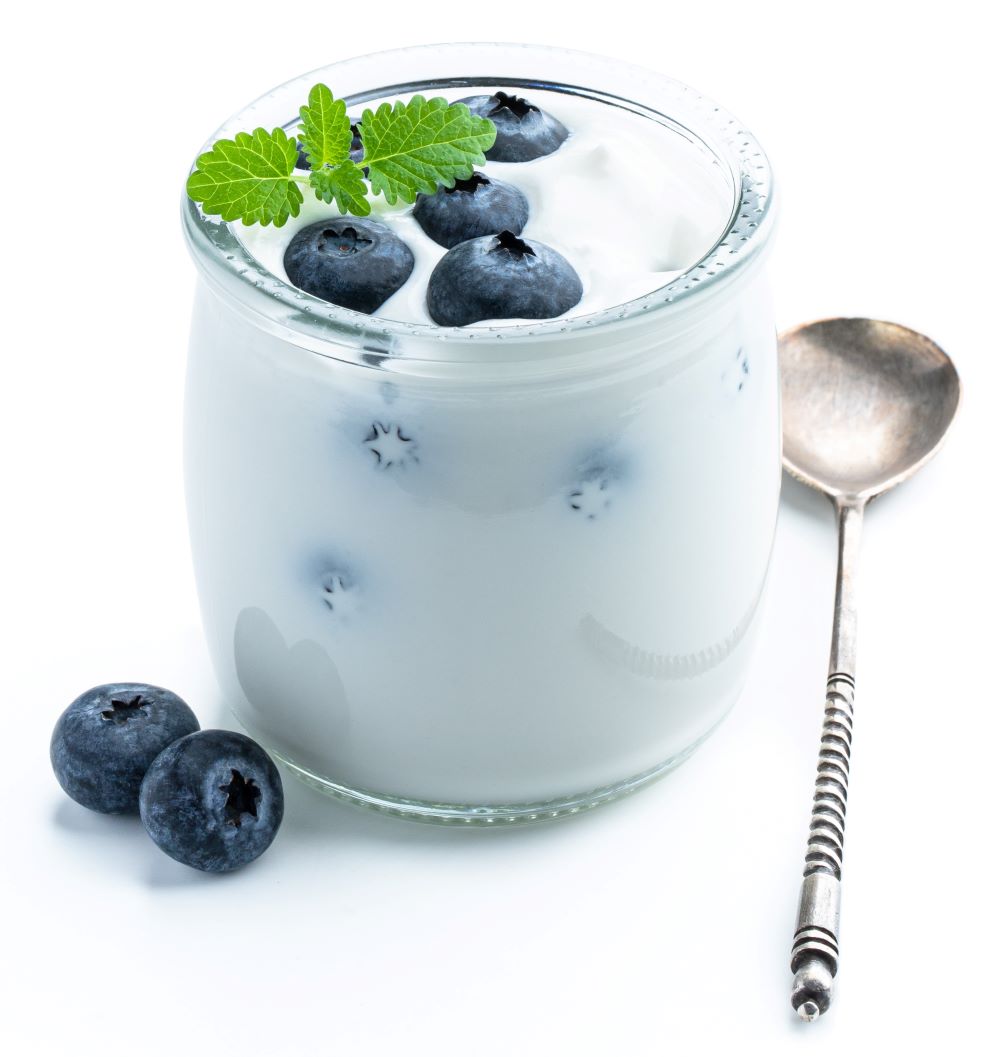 Fortification of Greek yogurt and yogurt are expected to be a driver of new product innovation.
Photo courtesy of IFPC
Future innovation
Experts predict that next-generation solutions for protein ingredients and products will continue to be revealed.
"As people become more aware of the intricacies of different protein composition, they will be more selective about the protein sources of their products," Glanbia's Maxwell explains. "With that will come a deeper investigation and scaling of alternative protein sources. Personalization of protein is on the innovation horizon."
ADM's Medina agrees that functional offerings across categories are becoming more specialized, as active nutrition consumers seek personalized options that meet their unique needs. He suggests that protein blends, including a combination of such plant proteins as soy, pea, rice, chickpea, or navy bean, are creating new opportunities for expanded product development.
Rachel Marshall, Fonterra's senior technical engagement manager for global active living, cautions that dairy processors should consider that not all ingredients are equal and be mindful of choosing ingredients based on their target composition and processing conditions. For example, viscosity management is key for fortification.
She also advises that heat treatment to deliver desired shelf stability is necessary and is dependent on beverage type. For instance, when adding whey protein, ultra-high-temperature (UHT) processing for shelf-stable beverages is necessary.
"One exemption is NZMP's WPC 550, which enables high levels of whey protein in a UHT beverage without heat stability concerns," Marshall says. "…Milk proteins are ideal for spoonable yogurts where fermentation is involved but drinkable yogurts require additional protein boosts, such as NZMP's Pro-Optima WPC 567."
Children's nutrition is a category to watch, ADM's Medina concludes. "We anticipate that this sector will grow with more fortified protein options, especially as parents and caregivers become more acutely aware of their own wellness goals, they are doing the same for their kids."