Selecting the optimal conveyor and palletizers for dairy processing can be vexing. A plethora of variables, ranging from product type and equipment cost to available building space and sanitation requirements, necessitates extreme due diligence by operators if they are to leverage technologies that support their specific operations. 
Indeed, processors' biggest concern should be purchasing a conveyor without first conducting the proper research, says Carl Plamann, account manager for Multi-Conveyor LLC, a Winneconne, Wis.-based manufacturer.
"Go the extra step and compare construction, performance, immediate application requirements and original equipment manufacturer communications, as well as anticipated future product or building expansion plans," he states. "The conveyor should last for decades so plan ahead." The ease that products move along conveyors while withstanding such external elements as heat, friction and vibration is an important purchasing consideration as well, notes Nicholas Schoen, marketing manager for PPM Technologies Holdings LLC, a Newberg, Ore.-based conveyor manufacturer.
Leveraging the most functional technologies is crucial as the proper conveyor selection "can increase throughput and reduce cleaning time, cross contamination and the harmful bacterial growth which can result in food recalls," states Erin West, food applications engineer for FlexLink Systems Inc., an Allentown, Pa.-based conveyor manufacturer. 
In addition, the appropriate conveyors should operate in step with such other production line equipment such as fillers and labelers, adds Ken Lento, FlexLink general manager of unique products and central SBU manager. He continues that some conveyors can automatically accumulate product if there is a line imbalance or inoperable machine, and then re-introduce the product to a line when normal operations resume.
 Expanding interest in plant automation is bolstering the global conveyor system market, which will expand from $9.11 billion in 2020 to $15.18 billion by 2030, with a compound annual grow rate (CAGR) of 5.1% from 2021 to 2030, forecasts Portland, Ore.-based Allied Market Research. "The automated conveyors are suited for handling any volume of goods, and in addition they simplify the industrial task by reducing the amount of time for delivering goods," Allied Market Research states. "Hence, this is leading to a surge in adoption of automated solutions across industries."
 In addition, conveyors are enhancing processors' operating efficiencies by helping to reduce production time and expenses, which includes requiring fewer workers while managing larger product volumes, Allied Market Research notes.
Conveyor auto diverters can split product flow into two downstream systems. Photo courtesy of Key Technology)
Sanitation grabs the spotlight
Designs that provide easy access for sanitation while helping to minimize pathogen growth also are crucial for improving food safety and maintenance. Conveyors should typically have an open-style frame to allow for simple visibility and cleaning with minimal water and chemical use, explains Tony Maniscalco, business unit leader at Souderton, Pa.-based SideDrive Conveyor Co. Welds that are free of the pits and crevices that can harbor bacteria are vital as well, he notes.
"Equipment that is easy to clean and sanitize allow for short cleaning cycles and more run time," adds Jeff Falash, head of research and development for Nercon Eng. & Mfg. Inc., a Neenah, Wis.-based conveyor manufacturer. 
It also is essential for conveyors to meet regulatory agencies' sanitary guidelines, including those from the U.S. Department of Agriculture and U.S. Food and Drug Administration, Plamann says. "Proper sanitation levels can be determined by the product, process, local, state or even federal food safety mandates," he notes. "It could cause big headaches and costly equipment retrofits post-installation when critical sanitation and food safety issues are overlooked, or levels of sanitation are not met."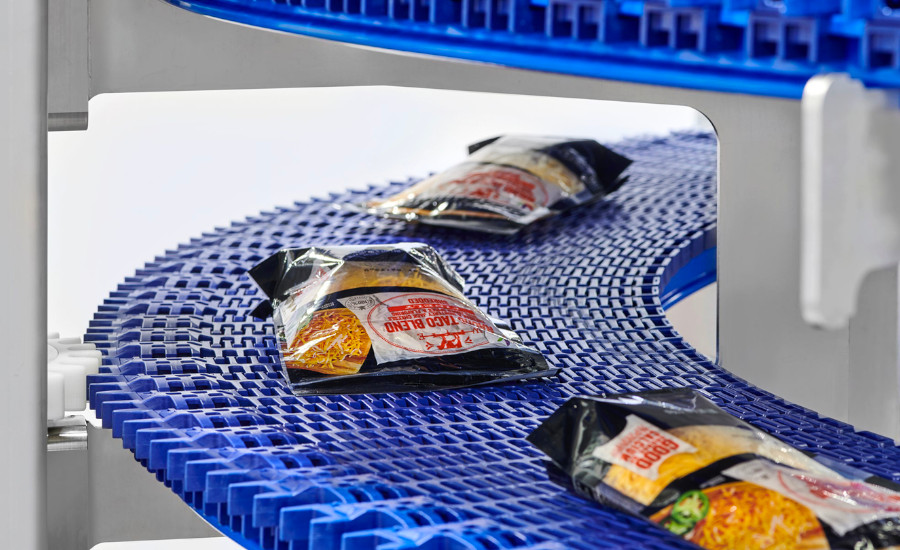 An open conveyor structure enables easier product transfer. Photo courtesy of SideDrive Conveyor Co.
The use of sensors can further strengthen processing operations by, for instance, enabling early detection of product conditions, such as size or color, which may suggest an issue with shredding or cubing equipment, or detecting foreign materials in the product stream, states Rudy Sanchez, process systems product development manager at Key Technology, a Walla Walla, Wash.-based provider of vibratory conveyors. 
In addition, sensors can allow processors to monitor product weight and regulate equipment upstream in order to feed the optimal amount of product onto devices, he states. "This mass flow control is an accurate way to achieve a steady stream, which helps maximize the output of a production line," Sanchez relays. 
Users of pneumatic conveying systems, meanwhile, should seek devices that enable the gentle hygienic movement of dairy powders to minimize product degradation and enable quick equipment cleanings, says Jon Goecker, industry manager for hygienic food sales, at Schenck Process LLC, a Kansas City, Mo.-based conveyor manufacturer. The biggest challenge is identifying the technologies that support operators' specific processes and products, he states, noting that operators can address such issues by working with pneumatic conveying experts who focus on such applications "day in and day out."
 Considerations may include the ability of pneumatic equipment to handle product stickiness and the tendency to smear, mentions Mark Felts, sales director of Powder Process-Solutions, a Chanhassen, Minn.-based conveyor developer. He agrees that processors should use equipment suppliers with expertise in all types of pneumatic conveying.
The most effective systems include conveyors with designs that support processors' specific product lines. Photo courtesy of FlexLink Systems Inc.
Make efficient palletizing a priority
The embrace of palletizers to streamline processing operations also is gaining grand in the dairy industry. In fact, the global palletizer market will rise from $2.37 billion in 2020 to $3.27 billion by 2026 with a CAGR of 5.3% from 2021 to 2026, predicts Mordor Intelligence, a Hyderabad, India-based market research firm. 
"Among all of the machinery products in packaging, a palletizer is the most preferred and beneficial for packaging food and beverage items due to its low cost, small footprint, and high throughput rate," Mordor states. "As organizations heighten their expectations of workplace safety and flexibility, the shift from manual to automated operations is growing in popularity." Automating palletizing — which includes the sorting, stacking and transferring of merchandise onto pallets — will enable processors to create consistently square and stable pallet loads that perform better in warehousing and transport while reducing potential product loss, says Bryan Sinicrope, vice president, marketing and integrator sales, for A-B-C Packaging Machine Corp., a Tarpon Springs, Fla.-based palletizer manufacturer. 
Robotic palletizers are particularly suitable for plants with smaller operating spaces. Photo courtesy of Delkor Systems Inc.
It is important that processors evaluate their operations and goals before making purchasing decisions in order to select palletizers with the most appropriate attributes, Sinicrope states, noting that palletizer options include semiautomatic, automatic, high and low level, robotic and hybrid technologies at a variety of price points.
 Adoption of automated solutions also will better enable dairy processors to enhance their work forces, says Justin Linxwiler, regional sales manager for Covington, Ky.-based ProMach Inc.'s Quest brand of integrated robotic packaging systems. 
"With the current labor shortage, integrating automation reallocates valuable employees to different positions where their skills and talents can best help the company," he says. "It also is crucial that processors select palletizers in accordance with external factors, such as whether the installation site is wet or dry, he states, noting that "the incorrect choice can lead to machine malfunction and possible safety issues."
Yet, the monetary impact is perhaps the most important consideration when selecting palletizing systems, suggests Dan Altman, vice president of sales and marketing at Delkor Systems Inc., a St. Paul, Minn.-based palletizer supplier. 
"Injury and workers' comp claims, cost of labor and the ability to get employees to do the job are part of the calculation about whether a palletizing system should be purchased and the style of system," he states. "But the return on investment can become hard to justify based on manpower alone."
Indeed, processors must decide too if a conventional or robotic palletizer is best for their operations, Altman says. Conventional designs are often more suitable for long-lasting and fast runs with easy-to-handle products, he states, while processors often benefit from having a single robotic palletizer in facilities with several slower conveyor lines as robotic options occupy less floorspace.
"Many older dairies were built without automation in mind, thus providing smaller rooms with limited space for expansion," Altman says. "Processors must do their homework by gathering accurate annual costs and information on speeds, pallet patterns and the future customers that they may add to the line."
No finish line for technological enhancements
The conveyor and palletizer technological evolution, meanwhile, shows no signs of abating. Newer conveyor designs, for instance, will further simplify cleaning and reduce the cost of ownership, Sanchez says. Now and in the future, he predicts that there will be continued innovation around smart automation features to enhance line efficiency and reduce the need for operator intervention.
"The continuing focus will be on sanitation processes to improve availability; system accessibility to improve on scheduled downtime for repairs; and product quality by eliminating catch points on the conveyor," Maniscalco explains.
Automated palletizers are becoming more popular and powerful. Photo courtesy of A-B-C Packaging Machine Corp.)
Additionally, today's conveyors are being designed with flexibility in mind. This enables conveyors to fit in smaller spaces as manufacturing areas decline while not losing sight of high throughput and production efficiencies that is crucial to combat worker shortages, says Jasson Gazzana, Nercon account manager. 
"Efficiency of a facility can often revolve around maintenance of equipment and cleaning processes and procedures," West says. "Integrators, engineering firms, facility engineers, maintenance teams or capital equipment manufacturers should consider the design of conveyors, the design of the robotic arms, the ease of ordering replacement parts, cleanability and return on investment," West states.
Plamann concludes that conveyors are the "lifeline component of your production line; the heartbeat of your system and the brain that starts, stops, speeds up, slows down, twists and turns on command. Make sure the conveyor system you are considering checks your unique product's application boxes."