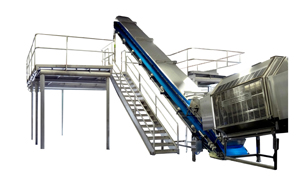 Loos Machine & Automation, Inc. introduces its most powerful cheese shredding system.  Systems consisting of: conveyors, shaker tables, tumble drums, cubers & cutters, blend & batch systems, cellulose addition, shredders/cubers, and mezzanines. Loos Machine & Automation, Inc. makes custom automated equipment and turn-key solutions for the food processing industries. Our shredding systems are capable of up to 35,000 lbs. of cheese per hour, almost doubling the capacity of past systems.
Made to order, we will customize each system to fit your company needs. Our customers choose from many options that will allow their company to not only produce more output but maximize their income. We specialize in stainless steel automated systems for the food processing industry.
Our conveyors offer a wide variety of options to transport cheese at any point during the manufacturing process. This allows you to move in different capacities, as well as direction. Directions can go horizontal, incline, decline, also corners. Loos Machine & Automation, Inc. can accommodate any style of belt desired, whether it is modular, solid-urethane, linkage, etc.  We offer a multitude of conveying styles including: screw, spiral, metal detect, reject, and phasing; just to name a few.
Cheese cutters and cubers are another option offered from Loos Machine & Automation, Inc.  With a multitude of options, we will tailor each machine to your specific needs.  May that be materials types, 316 or 304 S.S. interchangeable harps, hardened blades, wires, ultrasonics or actuation powerplants electric servos, hydraulics, pneumatics, over/under conveyance.  We also offer vision system integration for optimized cut proportioning and minimizing trim waste.
Mezzanines, platforms, and lifts are available to accommodate various degrees of load capacities. Our designs can be engineered to fit through narrow doors since any size can be fabricated. Our customers have their choice of a wide variety of grating materials.  All of our equipment is also designed to meet OSHA regulations.
For more information about our complete cheese shredding systems and/or any of our other products, please contact us at:
Loos Machine & Automation, Inc.
205 W. Washington St.
Colby, WI 54421