Darigold Inc., a dairy cooperative based in Seattle, is the first recipient of the U.S. Dairy Export Council Award for Outstanding Dairy Processing & Manufacturing Sustainability. The award program is administered by the Innovation Center for U.S. Dairy, Rosemont, Ill.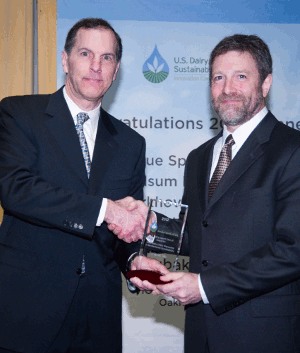 Steve Rowe (right) and Kevin Ponticelli, senior executive vp of the Innovation Center for U.S. Dairy.
The Innovation Center for U.S. Dairy announced the winners on March 7 at an award ceremony in Washington, D.C. The  U.S. Dairy Sustainability Awards is a program to recognize dairy farms, dairy companies and collaborative partnerships for efforts that advance the sustainability of the dairy industry.
Award judges were impressed by Darigold's efforts to reduce water, waste and diesel fuel. Specifically, the company stated that it has:
improved water usage by more than 13%
recycles 50% of its waste
improved fuel usage per unit by nearly 50%, equal to more than 216,000 gallons of diesel fuel annually.
The dairy processor has completed more than 20 sustainability driven packaging redesigns, which have reduced costs by more than $1 million and greatly reduced corrugated and plastic usage.
Another processor, Oakhurst Dairy, Portland, Maine, received an honorable mention for its efforts. The Innovation Center also recognized dairy producers (see the next page).
After evaluating its sustainability performance in 2008, Darigold committed to implementing both operational and innovative approaches that would allow it to effectively address global sustainability challenges. Sustainability touches nearly every aspect of Darigold and is central to how it does business. The co-op monitors 28 performance areas and sets goals for improvement.
Bill Bennett, Oakhurst Dairy
Reducing greenhouse gas emissions
Oakhurst Dairy, owned by the Bennett family, was one of the first companies in Maine to accept the governor's Carbon Challenge. The Bennetts developed a sustainability roadmap with long-term reduction goals throughout the operation.  Oakhurst is a processor of milk, cream and cottage cheese.
From 2008-2010, Oakhurst reduced its plant energy, greenhouse gas emissions, water use and transportation fuel use by roughly 10% each — achieving half of its overall goal. Other sustainable practices include the installation of a solar energy system and the use of hybrid delivery trucks. Bio-diesel fuel meets 14% of the company's overall fuel needs. The hybrid delivery trucks use 25% less fuel. Hybrid vehicles make up 45% of the company's auto fleet.
A third dairy processor, Dean Foods Co., was recognized for its collaboration with AP LLC, of Gooding, Idaho, received an award in the category Outstanding Achievement in Energy.  This partnership of Dean Foods Co. and AgPower Partners, known as DF-AP, led to the creation of what is considered the first major third-party-owned and -operated dairy digester project in the nation.  The methane-fueled renewable energy system produces enough energy to provide the power needs of approximately 900 homes and produces 34,000 cubic yards of ammonia-free fiber that is sold at retail as a landscape fertilizer.