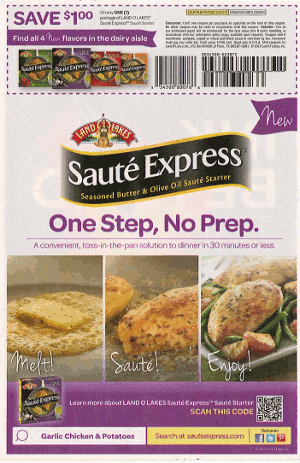 Dairy foods and dairy ingredients are featured in the free-standing inserts for the week beginning Sunday, Nov. 4.
Land O Lakes introduces a new seasoned butter and olive oil ingredient
Land O Lakes headlines its new Sauté Express products as "One Step, No Prep" but shows three photos, captioned "Melt! Sauté! Enjoy!". The seasoned butter and olive oil ingredient is touted as "a convenient, toss-in-the-pan solution to dinner in 30 minutes or less." The FSI includes a QR code and the web address, sauteexpress.com. Logos for Facebook, Twitter and Pinterest are shown.
Sargento has new varieties and cuts of cheese
"Freshness you can taste in every shred" is the headline on the Sargento FSI, which pictures packages of shredded mozzarella and 4 State Cheddar cheese. The cheese processor offers a recipe for Cheesy Italian Vegetables on Sargento.com
Warm Sundaes are new for Baskin-Robbins
Ice cream retailer Baskin-Robbins pictures a warm brownie sundae and a warm Belgian waffle sundae in its FSI. The company instructs readers to "celebrate Thanksgiving" and offers coupons for the purchase of ice cream cakes, beverages, cones and sundaes.
In other activity this week:
T.J. Marzetti promotes its salad dressings, including Chunky Blue Cheese. A recipe for Roasted Pear Salad is available on marzetti.com.
Abbott Nutrition, in separate FSIs, features Ensure Complete and Glucerna, which contain milk ingredients.