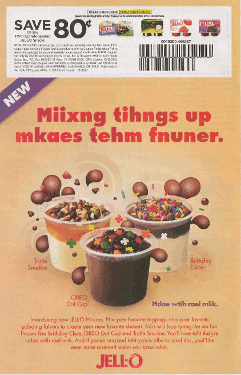 Dairy marketers promoted four new products in the free-standing inserts for the week beginning Sept. 16, 2012.
Jell-O pudding headline causes a double-take
Kraft's Jell-O brand uses an eye-catching headline ("Miixng things up makes tehm fnuner.") to draw attention to its new milk-based pudding SKUs with inclusions. The flavors are Turtle Sundae, Birthday Cake and Oreo Dirt Cup (using the Nabisco cookie brand).
Kraft also took an FSI for its FreshTake seasoning kits. The cheese and breadcrumb mix is sold in the dairy aisle.
Land O Lakes new deli food blends four Italian cheeses into one loaf
Land O Lakes introduced a four-cheese Italian blend loaf sold at deli counters and asked readers to "try our tastiest slice." The FSI includes a QR code, leading to recipes for the cheese. Facebook and Twitter logos are including on the insert.
Dannon's new Activia breakfast blends yogurts are high in protein
Dannon urges readers to "start the day off right" with its Activia Breakfast Blend yogurts containing twice the protein of regular low-fat yogurt and served in 50% larger cups (than 4-ounce Activia cups). The yogurt is sold in four-packs in these flavors: vanilla with grains, banana bread flavor with grains, apple cinnamon with grains, and maple and brown sugar flavor with grains.