Whenever consumers make Jell-O, thicken gravy, or add corn starch to a pie filling, they knowingly or unknowingly are using gums like hydrocolloids to thicken their products and give them a desired consistency. As health-and-wellness trends impact new product development, dairy manufacturers increasingly are using an arsenal of gums, emulsifiers, and stabilizers to give consumers the clean-label, nutrient-enriched products they seek.
Additionally, as dairy's "supporting actors," these ingredients can boost soluble dietary fiber, improve the mouthfeel of juices and juice smoothies, and can extend a product's shelf life by keeping solid ingredients in suspension so they don't settle at the bottom, according to experts.
Wei Li, director of texture solutions at Chicago-based ADM, explains the differences between stabilizers and emulsifiers. "Think of it like this: oil and water don't mix — until stabilizers and emulsifiers come into play," he tells Dairy Foods. "The stabilizer helps manage the behavior of water in an application through its ability to form gel structures within water, whereas an emulsifier will affect the functionality of fats and create an emulsion of two liquids that are naturally immiscible. 
"When combined, they help formulators develop the dairy and dairy alternative applications we find on the shelves in the market today and ensure that consumers are purchasing reliable, quality, and sensory-preferred products," Li continues. "Both stabilizers and emulsifiers must be listed on the ingredient label, but they may support clean-label targets and brands' product claims like gluten-free, non-GMO, vegan, vegetarian, kosher, and/or halal."
Gums, on the other hand, are macromolecules that form water gels and help maintain a product's stability over its shelf life, notes Christine Addington, senior dairy technical service specialist at Minneapolis-based Cargill. "They are used in dairy applications to provide mouthfeel and viscosity, important characteristics in this space as consumers often have high expectations for creamy, indulgent textures," she says.
Simply put, gums are generally used to describe any viscous or adhesive substance, while emulsifiers enhance the stability of oil-like substance in water for dairy applications, explains Tim Grano, sales director for North, South, and Central America at DSM Food and Beverage, Parsippany, N.J. As the name suggests, stabilizers function to keep "the system stability via increasing viscosity, building gel network for suspension, or minimizing the colloid collisions and instability," he says.
Grando adds: "In dairy/dairy alternative applications such as in yogurt, yogurt drinks, cream, fortified milk, etc., the ingredients function as the stabilizer for suspending the dispersed phase such as milk fat or fortified nutrient, stabilizing the protein colloids such as pectin for acidified milk or building hydrophilic network for syneresis control, or controlling ice crystal-like in ice cream."
When deciding which gelling and stabilizing solutions to use, dairy processors are at no loss for options, choosing from four main polysaccharides — botanical, algal, microbial, and animal. On the plant side of botanicals, there's starch, pectin, and cellulose, while seed-based ingredients include guar gum, locust bean gum, tara gum, and tamarind seed xyloglucan. Algal, or red seaweed-based ingredients, are agarose and carrageenan, while microbial ingredients include xanthan gum, gellan gum, and dextran. Within animals, there's hyaluronic acid or chitosan.
Due to an increase of cellulose gel products in the food and beverage industry, Allied Market Research prognosticates the cellulose gel market will reach $2.3 billion globally by 2031 at a compound annual growth rate (CAGR) of 4.5%.
While modern lifestyles have shifted to a proactive approach to wellness, Zach Gall, ADM's global senior marketing manager for Wholesome Ingredients & Texturants, maintains that the desire for creamy treats, yogurts, and beverages has remained unchanged.
"One customer might have several production plants with varying equipment and structure. So, we might have to sell different SKUs to each location to get the same tasting end product." — An Ho, director of innovation and food science at IFPC 

Photo by RJ Hartbeck
"This shift has prompted consumers to seek out plant-based alternatives to traditional dairy offerings, while still expecting a sensory experience equivalent to the gold standard," he says. "…What's more, the global alternative dairy market is currently valued at around $20 billion and projected to grow to $27 billion by 2026. If brands can successfully capture the familiar mouthfeel of consumers' favorites in clean-label dairy and dairy alternatives, they could potentially have a much larger share in the $130 billion yogurt and the $88 billion global ice cream categories."
ADM offers its Stabrium portfolio of gums, emulsifiers, and stabilizers; a Stabrium Texturants line composed of plant-based specialty ingredients that include emulsifiers, polyols, and hydrocolloid solutions designed to control and modify the texture and mouthfeel of food and beverage products; and a new Stabrium hydrocolloid solutions 100 and 200 to enhance the eating, drinking and sensory experience in plant-based beverages, yogurts and frozen desserts that bring targeted texture and added rich body thickness.
Volatility of raw materials market
High inflation, exploding energy prices, and the volatile availability and price fluctuations on the raw materials market continue to challenge the food and beverage industry, experts note. 
On the emulsifier side, specialty lecithins like soy and sunflower lecithins are experiencing high cost and supply challenges due to turmoil around the world, but mostly due to the war in Ukraine — the world's largest supplier of sunflower-based products, says David Dukes, president of IFC Solutions.
"Availability of super popular sunflower lecithin (it's allergen-free, soy-free, and non-GMO) has been significantly reduced. And prices are extremely high with no clear end in sight," Dukes says.
 While sunflower shipments out of Ukraine have improved in recent months, from being completely unavailable, the cost is prohibitive, he adds.
"The big unknown at this point is whether the farmers in Ukraine will be able to grow and harvest sunflower [this] year," Dukes says. "This has also impacted the normally stable soy lecithin market with higher prices and many suppliers on allocation. And while soy lecithin has traditionally had better supply and lower cost than sunflower lecithin, companies that have allergen-free or soy-free products could not easily switch to this alternative to sunflower lecithin when the sunflower material was not readily available."
Katharina Schäfer, product manager at Hydrosol, Hamburg, Germany, also cites volatile supply chain challenges and dairy suppliers seeking new, cost-effective solutions in response to their shrinking budgets. "More and more customers are asking us to help them make their recipes more economical," she reports. 
An international supplier of stabilizing and texturing systems, Hydrosol is developing new ways to reduce the usage of cost-driving raw materials and to develop new alternative systems.
Schäfer specifically cites ice cream and the use of the functional, familiar locust bean gum. It provides a slow, gentle melt, prevents the formation of ice crystals, and gives the ice cream a fuller mouthfeel, making it creamier and "warmer," she explains.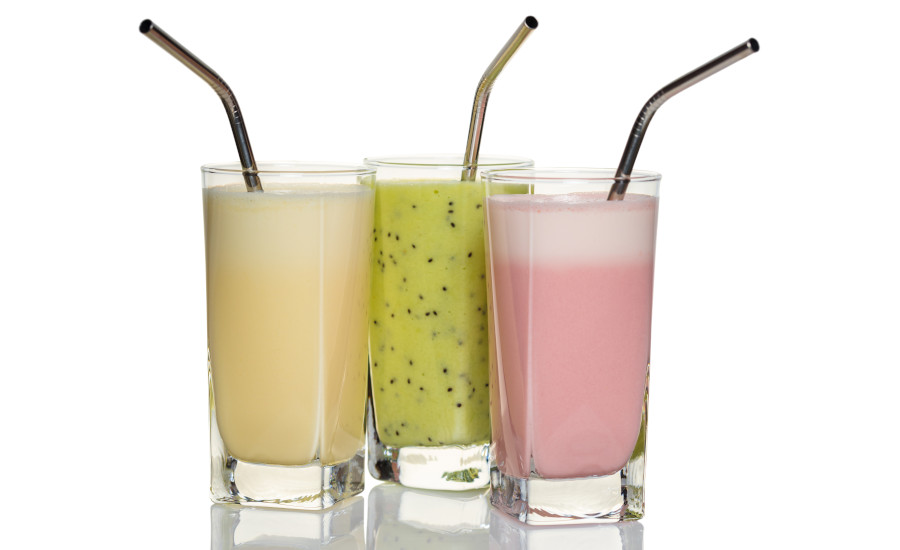 Palmer Holland and Ceamsa developed two all-natural ingredients: CEAMFIBRE, a clean-label ingredient purified from citrus peel; and CEAMSEA, a nutrient-rich ingredient derived from red seaweeds, which is used in human diets as a natural thickener.
Photo courtesy of Palmer Holland
Yet, while ingredient prices have dropped a bit after a huge jump last spring, locust bean gum still costs four times what it did a year or two ago. "We try to retain the many functional properties of locust bean gum using more economical ingredients," Schäfer says. "First and foremost are other galactomannans like tara gum, which can often produce the desired properties in ice cream when combined with other ingredients like carrageenan. You need to make adjustments with care, in order to reduce or entirely replace locust bean gum,  depending on how far the price needs to be reduced."
A hydrocolloid sustainably harvested from the ocean, carrageenan is a naturally derived ingredient designed to preserve seaweed's natural habitat and biodiversity. "It has unique functionalities extracted from a special species of red seaweed. It plays an essential role in the food industry thanks to its ability to bind with dairy caseins," explains Bret Horace of Westlake, Ohio-based Palmer Holland which, in partnership with Porrino, Spain's Ceamsa, specializes in the production and worldwide distribution of such ingredients as pectin, fiber, carrageenan, alginate, and refined locust bean gum. 
It's all about quality
A perfect combination of stabilizers and emulsifiers enhances the quality of a variety of dairy applications and dairy alternatives, says Steven Gumeny, product manager for rice ingredients and functional proteins, North America, at Parsippany, N.J/-based BENEO. 
"Stabilizers can be used in both dairy beverages, and also frozen dairy or dairy alternatives,  where freeze-thaw stability is important," he says. "Speaking just of starches, they generally will be applied to increase viscosity (which can aid in stability). They are also used to create a pleasant mouthfeel and build rich creamy textures. Finally, they can support the creation of low-fat and low-calorie dairy, i.e., ice cream and yogurts, and can be used successfully in both dairy and non-dairy alternatives. 
"Rice starch is unique among other starches and this presents several opportunities for dairy applications. With the smallest granule size of any starch, it can mimic the sensation of fat on the tongue and therefore help to improve mouthfeel in reduced fat dairy," Gumeny continues. "Rich starch is less prone to syneresis and provides excellent freeze-thaw stability." 
BENEO's portfolio, which is composed of both native and modified rice starches from three different rice varieties, are used in dairy and dairy alternative products at different ratios of amylose and amylopectin, Gumeny explains. This allows developers to create different textures in a finished product.  
An ideal fat replacer that provides a clean label, high-performance solution, rice starch has a small granule size of 2–8 μm and perfectly mimics the sensation of fat globules in the mouth. "This makes rice starch an ideal fat replacer as it creates a texture that is indulgent, creamy, and has no off-taste," he says. "In addition, rice starch has a very white color, which does not disturb the color of the application … and can withstand harsh processing conditions such as low pH, high temperature, or high shear and therefore allows an alternative to modified food starch for a clean-label benefit with similar technical performance."  
In response to consumers seeking out organic products, BENEO recently launched an organic waxy rice starch that it says can improve the creaminess of desserts and yogurt.
Fiberstar Inc., River Falls, Wis., also offers a plant-based ingredient — Citri-Fi citrus fiber — that helps to emulsify and stabilize milk, ice cream, cheese, and yogurt as well as the same plant-based dairy alternatives. "Citri-Fi citrus fiber … improves the heat and freeze/thaw stability, thickness, mouthfeel, and overall texture," notes Shuai Li, Ph.D., principle scientist at Fiberstar.
Founded in 1939,  Linden, N.J.-based IFC Solutions offers a large variety of specialty lecithins, including liquid and powder lecithins derived from sunflower, soy, and rapeseed/canola as well as certified organic offerings and specialized blends to meet specific customer requirements. 
Meanwhile, Cargill's texturizing portfolio includes hydrocolloids such as pectin, carrageenan, xanthan gum; a wide array of modified and label-friendly starches sourced from corn, potato, and tapioca; and emulsifiers such as lecithin. 
"As a global company, one thing that sets us apart from others is supply chain reliability," Addington stresses. "For example, we recently opened a new, cutting-edge pectin production facility in the heart of Brazil's citrus-growing region. It produces the full range of Cargill's high methoxy pectins, the type most often used in dairy formulation, bringing expanded production capacity to the marketplace."
As cost for ingredients like locust bean gum rise, dairy formulators can turn to other ingredients like carrageenan when making ice cream.
Photo courtesy of Hydrosol
The new plant not only significantly increases Cargill's pectin supply; it also spreads its production across two continents as the ingredient supplier operates three pectin production facilities in Europe. 
Sustainability also is at the forefront of the new pectin production facility as it leverages advanced technology to reduce its environmental footprint and includes sustainability certification of raw materials. The plant also is powered by thermal energy generated from biomass and biogas, using already proven sustainability practices.
All-natural ingredient innovations 
From seaweed to citrus, sustainable ingredients for plant-based and clean-label trends will remain a major dairy industry trend, experts note. 
For instance, Palmer Holland and Ceamsa manufactures two all-natural ingredients: CEAMFIBRE, a clean-label ingredient purified from citrus peel with many functional properties for a wide range of applications dairy formulations; and CEAMSEA, a sustainable, nutrient-rich ingredient derived from red seaweeds, that has traditionally been used in human diets as a natural thickener while offering optimum benefits in clean-label dairy formulations.
A go-to ingredient for dairy and plant-based beverages, CP Kelco's KELCOGEL Gellan Gum provides both excellent suspension and mouthfeel in one. "So, formulators don't have to worry about the separation of nutrients, a smooth pour, and fruit or cocoa settling at the bottom of the container over shelf life," explains Neil Morrison, head of global sales technical service for the Atlanta-based natural ingredient solutions company in business for more than 90 years.
 The company uses nature-based, renewable raw materials modified as little as possible to preserve nature's amazing functionality and help solve formulation challenges.
 Morrison says, "The world's leading dairy brands rely upon our ingredient portfolio for viscosity modification, thickening, suspension, stabilization and gelation. Our ingredient portfolio includes GENU Pectin, KELCOGEL Gellan Gum, KELTROL Xanthan Gum, GENU Carrageenan, SIMPLESSE Microparticulated Whey Protein Concentrate, and NUTRAVA Citrus Fiber." 
He explains that NUTRAVA, a next-generation fiber ingredient made from sustainably sourced citrus peels, supports dietary fiber intake and can help formulators with supply challenges. 
"It may be used as an alternative to starch or locust bean gum in applications such as cream cheese, dairy beverages and drinking yogurts, plant-based beverages and dairy alternatives, yogurt fruit preparation, and ice cream," Morrison explains. "…It also supports reduced-fat and reduced-sugar formulations."
The company also offers GENULACTA Carrageenan, a nature-based ingredient well-suited for application in milk systems, particularly as a stabilizing agent for chocolate milk since it provides uniform suspension of cocoa and prevents separation of cream or whey, he adds.
Founded in 1941, Edison, N.J.-based ISC Gums is a leading manufacturer of gum acacia, a triple threat used as a texturizer, stabilizer, and emulsifier in countless food applications, says Matthew Berlinger, vice president of ISC Gums. The all-natural gum acacia is certified organic and is non-GMO.
Solving the stabilization puzzle
Because formulators need to manage several factors, such as water content, viscosity, ionic strength, and lipid and/or particulate suspension, control mechanisms like carrageenan can help solve the stabilization puzzle, says An Ho, director of innovation and food science at International Food Products Corp. (IFPC), Fenton, Mo. 
For more than 25 years, under its Dairy House brand, IFPC has been blending stabilizer systems to support the dairy and nondairy industries. "We work with great vendors for additional technical support on new ingredient innovations and will send our technical support reps to our customers' location to enhance current products, troubleshoot, and even learn more about connecting formulation work with end product processing," Ho says.
If a customers already has a formula in place, she suggests that her team of food scientists can provide ingredient substitutions when ingredient supply is tight or cost prohibitive.
She cautions, however, that re-formulating can take time to prove it will work from benchtop to full production.
"Another challenge is that there are various processing conditions at each customer location," Ho says. "One customer might have several production plants with varying equipment and structure. So, we might have to  sell different SKUs to each location to get the same tasting end product."
Depending on the application, processing requirements, and shelf-life expectations, a formulation might need ingredients from one, two, or all three categories, Cargill's Addington notes.
 "Our customers — and consumers — are looking for ingredients that can do more, both functionally and nutritionally. The plant protein space is a prime example. We're learning to leverage processing technology to develop plant protein ingredients with greater emulsifying and thickening properties, alongside their nutritional benefits," she concludes. "Similarly, work is underway to develop fats and oils that impart more textural functionality or don't require emulsifiers. Fibers are another example of ingredients we're finding can deliver both nutrition and function, contributing to the texture while also enabling a fiber claim on the product label."