Last year was an exciting year for the milk industry. We saw more product innovation, sustained growth of chocolate milk and whole milk sales, and resumed growth of organic milk. Among other strong initiatives, MilkPEP embarked on a powerful five-year partnership with the United States Olympic Committee, and an impressive number of milk companies activated with the partnership, putting their own brands in the spotlight.
The best news is that milk volume sales performance was the best we've seen compared to the last six years. The industry is at a pivot point. Driven by continued innovation, milk brand engagement and smart marketing, and industry alignment against common priorities – namely driving more fluid milk sales and regaining consumers' trust in dairy – 2017 has the potential to even outpace 2016.
Building on this powerful momentum, MilkPEP continues to focus on driving consumer demand for milk by increasing milk's relevance and establishing trust in milk. Four strategic priorities, identified through extensive research, marketplace and consumer understanding, will help ensure that the milk category achieves success over the next three years.
Win with kids
The milk category simply cannot win if we don't win with children. Fortunately, it is a winnable battle. As an industry, we need to stand for kids, and we need to make sure kids stand for milk.
Children consume nearly half of all milk volume, but have driven the largest volume loss for fluid milk over the last five years. Between 2011 and 2015, more than 500 million gallons were lost to declining consumption among kids 2 to 17, according to our ongoing consumption trackers. Not only are kids the largest volume opportunity today, they are key to future milk consumption.
The good news is that children love milk.  It tastes great, and they know how good and nutritious it is for them. In fact, many kids would drink even more if they had the opportunity – 41% of kids said they would drink more milk if they could, according to a recent MilkPEP study of 2,400 moms and 1,500 children.
Armed with a rich understanding of kids and their moms, MilkPEP will execute a dual approach to impact kids' volume through MilkPEP programs. Milk Life will continue to target moms of young kids to reinforce the value of milk in their children's lives. And, excitingly, we will talk directly to kids, reminding them of their love of milk and how it helps them achieve every day.
Maximize the Team USA partnership
Milk Life's five-year sponsorship of Team USA has already proven to be a game changer for the milk industry. In year one of the partnership, more than 50 milk brands took part in an industry-wide movement that demonstrates the unmatched role milk plays in the lives of athletes, helping them fulfill their potential. The partnership and the athletes who compete connect with moms and kids in a way that makes milk highly relevant in their lives.
The natural connection of milk with America's top athletes is foundational to the power of the partnership. Nine out of 10 U.S. Olympians grew up drinking milk — a unique and powerful claim. 2016 and the Rio Olympic Games were just the beginning. In 2017, MilkPEP will introduce new opportunities for milk brands to connect with their own local athletes with the nationally supported Team Milk program.  
Align milk with food culture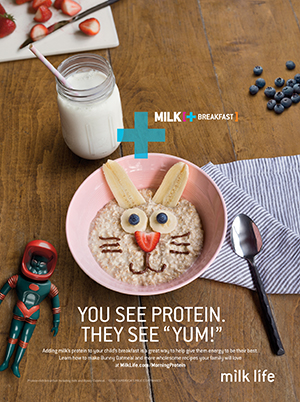 With children consuming nearly half of all milk volume, MilkPEP knows that this group is key to growing milk sales. With its Milk Life ad campaigns it will continue to target moms of young kids to reinforce the value of milk in their children's lives. Image courtesy of MilkPEP.
Consumers today have an emotional connection to their food choices, as it has become an integral part of our lives, our identity and what we stand for. The demand for real, fresh food is stronger than ever. In fact, more than half of adults seek out locally produced food, according to a Packaged Facts 2014 survey. Even children are engaging with their food more than ever, through cooking shows and experimenting with new tastes from diverse cultures.
Milk should own a place at the core of food culture – it is delicious, safe, wholesome, locally sourced and naturally nutrient-rich. But it has been left behind as some food trends continue to evolve, like plant-based diets. Throughout our programs, MilkPEP will encourage consumers to take a new look at milk and reinforce how milk values align with their own values.
From on-trend recipes and beautiful food photography, to giving consumers more information on the facts about where milk comes from, MilkPEP is reframing milk's context. For instance, the My Morning Protein program draws on food culture with visuals and content from tastemakers and food influencers. Later this year, we will tell the story of how milk goes from the farm to the glass to further elevate milk as the original farm-to-table food.
MilkPEP is building a toolkit for the industry and will work with milk brands to help tell their unique stories, from featuring farm content on their websites to bringing food culture to retail, and more. We will help ensure the entire industry is engaging in the food culture conversation by celebrating milk as the farm-fresh product it is.
Help build brands
The milk category will not grow unless milk brands grow, so it is crucial that milk companies have the tools and assets to help them succeed. Encouraged and inspired by the U.S. Olympic Committee partnership and The Great American Milk Drive models, which provide high-value assets that milk brands can customize against their own objectives, MilkPEP will continue to build programs with milk brand activation at the center.
In 2016, I was inspired by the innovation and energy put forth by the industry. Brands are activating in new and exciting ways – and in larger numbers than ever before. MilkPEP's goal is to increase the number of milk companies and retailers that utilize and win with the programs and assets we provide.
In 2017, MilkPEP's powerhouse consumer campaigns – Milk Life, Built With Chocolate Milk and The Great American Milk Drive – continue to work hard to engage consumers and sell milk. The four strategic imperatives – winning with kids, maximizing the USOC partnership, aligning milk with food culture and helping build brands – integrate into and further strengthen the campaigns, optimizing opportunities that will surely drive the milk business even further.