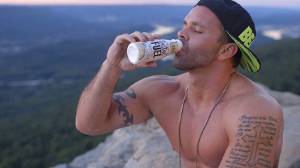 La Farge, Wis.-based Organic Valley teamed up with Humanaut, a brand invention agency, to launch of a viral video campaign to educate consumers about the benefits of Organic Fuel, its organic milk protein shake. 
To date, the video has over 1.1 million views on Youtube and Facebook. The video was named Adweek's best commercial of the week on Feburary 20 and was featured in Forbes, Mashable and Digiday, among other media outlets, according to Organic Valley.
The tongue-in-cheek video directs people to SavetheBros.com, where people can learn more about the benefits of Organic Fuel and receive a Buy-One-Bro-One coupon for a free product to share with someone in need of clean protein.
Humanaut  said in a press release that the "Save the Bros" campaign, and video they created, is "designed to tap into bro culture, and encourage social sharing online. The long-form video takes an irreverent look at the bros' love for muscle building 'brotein.'"
The company said the outreach is aimed at the growing number of active adults who seek organic, on-the-go nutrition without artificial flavorings, sweeteners, GMOs, toxic pesticides, antibiotics or artificial hormones.

Organic Fuel is an organic milk-protein recovery shake. It contains 26 grams of protein per 11-ounce bottle, and 70% of the recommended daily intake of calcium, with no artificial sweeteners. It features an ideal combination of protein and carbohydrates for powering muscles and aiding in post-workout muscle recovery, according to the company.
Read more about the product and where it's sold here: Organic Valley launches on-the-go milk protein shakes.

Based in Chattanooga, Tenn., Humanaut works with established companies and startups to create new brand experiences, non-traditional marketing campaigns and launch new products.
SOURCE: Organic Valley