These are highlights from the USDA's Dairy Market News for the week of Oct. 1 to 5. Download the complete Dairy Market news report.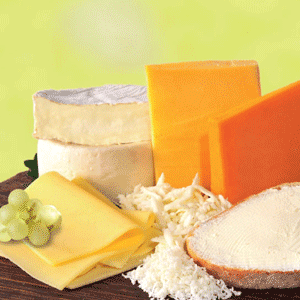 NATIONAL DAIRY RETAIL REPORT: Retail ad features continue to display dairy products with fall themed advertising centered around football and baking being common. Higher prices are noted this period across the cheese categories, most likely reflecting the higher wholesales cheese prices. There is a slowing down of ice cream features, yet it remains the top featured individual item.
National butter prices this two-week period averaged $2.61 per 1-pound pack, down 2 cents from two weeks ago. Ad prices ranged from $1.99-3.99. Wholesale prices for Grade AA butter were $1.95 this week.
Cheese prices were higher for 8 ounce blocks, at $2.21 +13 cent; 8 ounce shreds at $2.26 +19 cents; 1 pound block at $3.66, +12 cents; and 1 pound shred at $4.29, +62 cents. Cheese in 2 pound loaves at $4.75, were down 53 cents.
Yogurt features remain active. Greek yogurt in 4-6 ounce containers averaged 99 cents nationally, down 1 cent from two weeks ago. Some features were as low as 49 cents for national brand and 69 cents for store brand in surveyed stores. Conventional yogurt prices averaged 50 cents, down 2 cents.
Conventional milk's national weighted average advertised price for half gallons this period, $2.27, is 14 cents below two weeks ago. Organic milk's national weighted average advertised price for half gallons, $3.31, is up 8 cents, after declining 24 cents last period from four weeks ago. This results in an organic-conventional half-gallon milk advertised price spread of $1.04, up from $0.82 two weeks ago and matching the $1.04 four weeks ago.
CHEESE HIGHLIGHTS: Cheese prices across the U.S. continued to move higher this week. Monthly average prices for barrels for September at the CME Group are over 17 cents higher than prices a year ago. Blocks are also nearly 17 cents higher for the same period. Cheese production while above year ago levels, is slowing its pace. Tight milk supplies in the West have slowed cheese making in the region. Cheese makers would like to expand production, but sourcing the milk is becoming more of an issue. The Central region has remained active in cheese production, taking advantage of rebounding milk volumes after the hot summer. Cheese demand for retail accounts is good with food service accounts adding to their orders. Specialty cheese sales for holiday promotions are also good. Export demand has slowed as prices are higher than most international markets. Manufacturers state that domestic demand is sufficient for most current inventories.
FLUID MILK: Milk production is increasing, to varying degrees, across most regions of the nation. Eastern milk production is increasing with import loads needed in the Southeast and Florida to meet Class I demand. Manufacturing milk supplies in the Eastern region remain tight. Midwest milk haulers and handlers report that volumes of farm milk pickups are varied. California milk output is steady with processing plants running on lighter than projected schedules as supplies lag behind year ago levels. The Pacific Northwest, Utah and Idaho show milk production benefiting from the cool fall weather and increasing along the seasonal trend. Cream supplies are mostly in balance with need in the East with spot cream availability steady to higher in the Midwest. Western cream markets are trending mostly steady.