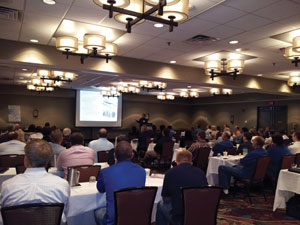 Processors turned out for a short course on membrane technology in June.
The Practical Membrane Technology Short Course, held June 6 to 8 in Bloomington, Minn., attracted 103 participants. The short course is organized by BNP Media, owner of Dairy Foods magazine and produced by the magazine and Filtration & Membrane World LLC.
The 2½-day course focused on the basics of membrane technology and process design, new membrane technologies, materials and applications.
Sefa Koseoglu is the founder, owner and president of Filtration and Membrane World LLC.
His research contributions have been in several areas of separation sciences that deal with purification of bioactive compounds and use of membrane technology in food processing.
Comments from those attending said the course include "one of the best courses I have attended" and "will return to work with lots of ideas of things to research."
The short course will be held again in Bloomington on June 5 to 7, 2013.