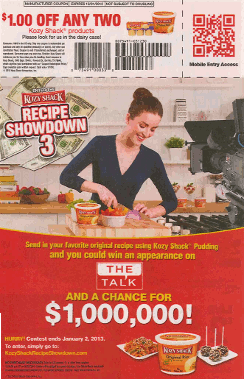 Kozy Shack, Yoplait and Dannon  were among the brands active in free-standing inserts for the week beginning Oct. 7. 
Kozy Shack seeks recipes using its pudding or flan in a  "Recipe Showdown" contest running Oct. 1 to Jan. 2, 2013. Entrants submit original recipes, that will be judged on four criteria: creativity; best use of the pudding or flan; healthfulness; and appropriateness of the recipe to the category (dessert or main course/appetizer/side dish).
The Grand Prize is a trip for two (including airfare, two nights in a hotel and $500 cash) to Los Angeles to attend a taping of CBS Television's 'The Talk' and to make an appearance on the show.
The grand prize winner will have the opportunity to win either $10,000 or $1,000,000 as a bonus prize. During the appearance on "The Talk," the Grand Prize winner has the opportunity to select from 50 envelopes, one of which contains a message entitling the winner to the $1 million bonus prize, payable $25,000 per year for 40 years. Two First Prizes are $5,000 and eight Second Prizes are $500.  Entry is online or by scanning a QR code on the insert.
Yoplait kicks off its 'save lids to save lives' campaign
In recognition of October as Breach Cancer Awareness Month, General Mills' Yoplait asks readers to "Join us to help make a difference!" by redeeming lids on Yoplait products. General Mills pledges to donate 10 cents per lid or online entry to the Susan G. Komen for the Cure, up to $2.5 million, plus as much as an additional $2 million based on other consumer actions.
The "save lids to save lives" program has been expanded to other General Mills brands, including cereals, soups and frozen vegetables.
In other activity, Yoplait promotes its Simplait and Greek yogurts.
Dannon asks shoppers to eat yogurt for breakfast
Dannon promotes the protein content of its yogurt brands in an FSI headlined "Fuel your morning!" A secondary headline states: "Make Dannon a part of your breakfast."
The FSI states new Activia Breakfast Blend, Oikos Greek yogurt and Light & Fit Greek yogurt have twice the protein of regular low-fat yogurt. The foods are available at grocery stores and super centers, according to the FSI.
In other activity this week:
Abbott Nutrition promotes its PediaSure, Glucerna and Ensure beverages made with dairy ingredients.