Consumer packaged goods giant ConAgra continues to innovate with dairy foods and beverages. In the free-standing inserts for the week beginning Sept. 23, the CPG's Marie Callender's and Healthy Choice brands promoted new products.
Marie Callender's uses real cream in its pies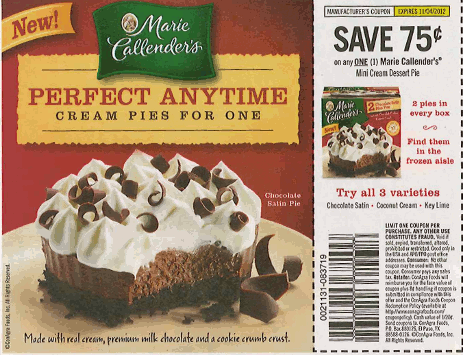 Marie Callender's Mini Cream Dessert Pie is "made with real cream, premium milk chocolate and a cookie crumb crust. The dessert is sold two to a carton in Chocolate Satin, Coconut Cream and Key Lime flavors. They are available in the frozen aisle.
Greek frozen yogurt from Health Choice has 100 calories per serving
The Healthy Choice brand rolls out a strawberry Greek frozen yogurt that has 100 calories per serving. Three single-serve cups are sold per pack.
In other activity this week:
Hidden Valley (Clorox Corp.) promotes its new "for everything" ranch dressings as "the new ketchup."
Sargento shows the variety of its string cheeses.
T. Marzetti calls its Simply Dressed salad dressings "simply made . . . simply delicious." Ingredients include extra virgin olive oil, sea salt and canola oil "which provides omega-3," according to the FSI. Not use, the FSI states, are trans fat, high fructose corn syrup, MSG and artificial flavors.
Yoplait light from General Mills says "crunch in your creamy is so good." The yogurt comes with 

 

 granola inclusions from sister brand Nature Valley.