✕
U.S. dairy exports in 2022 will mostly continue to speed down the expressway, albeit with different drivers. First, let's talk about how 2021 has played out because some of the trends from this year will extend into the next.
Despite logistics problems, relatively high dairy prices, collapsing margins for hog farmers in China, and multiple waves of COVID-19 causing disruptions in importing countries, U.S. exports are on track for a new record high in 2021. January through July, U.S. milk-equivalent exports are up 12% from last year — with cheese up 5%, whole milk powder up 8%, nonfat dried milk/skim milk powder up 10%, dry whey up 19% and butter up 132%. Exports during the second half of the year might slow down a bit, but we're still looking at a very positive 2021.
Chinese demand stops at rest area
The downside to the increase in exports this year is that they have primarily been driven by Chinese demand. On a milk-equivalent basis, exports to China are up 65.3% this year, while exports to all other destinations are up only 4.7%. Shipments to China have accounted for all the growth in dry whey, whey protein concentrate, and lactose exports this year.
On the surface, this is great: The largest importer in the world is buying significantly more product from the United States. But what happens if, or when, Chinese demand slows down?
Chinese demand for dairy products from all the exporters has been voracious. Year to date, the country's imports are up over 30%. Their import spike in 2020-2021 is now larger than the increase in 2013-2014, which ended with a crash in both Chinese import demand and global dairy prices. Is this time different?
I think so, and I hope so. It doesn't have the same speculative bubble feel as last time, but there is still evidence that inventories inside of China have built up a bit, and Chinese demand is predicted to cool.
I'm expecting total Chinese imports to be flat against year-ago levels for the remainder of this year and grow by only about 3% in 2022. So a crash isn't expected, but to get significant growth in U.S. exports next year, we might have to count on countries other than China.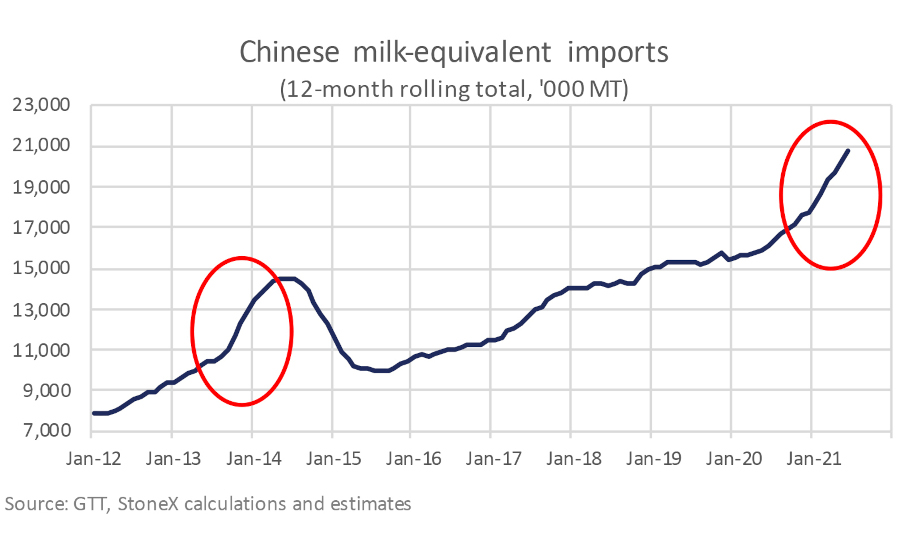 Rest of world speeds up
While Chinese imports have been surging higher over the past year, imports by the rest of the world have been trending down. In the early stages of the pandemic, these countries took advantage of the drop in dairy prices and loaded up on inventory. They have been working down those stocks, and it is likely taking a little longer than usual due to reduced demand from lockdowns and economic hardships in many of the importing countries.
I think that inventories have been worked down, and buyers are starting to come back into the market. They are a little cautious given that global dairy prices are on the expensive side, at least relative to their five-year price range. Between the low working stocks, expected strong economic growth next year, and continued vaccination campaigns, our models point to good global demand outside of China in 2022. However, the expected high prices and continued consumer cautiousness in the face of what are likely to be even more new variants developing will dampen the demand side a little.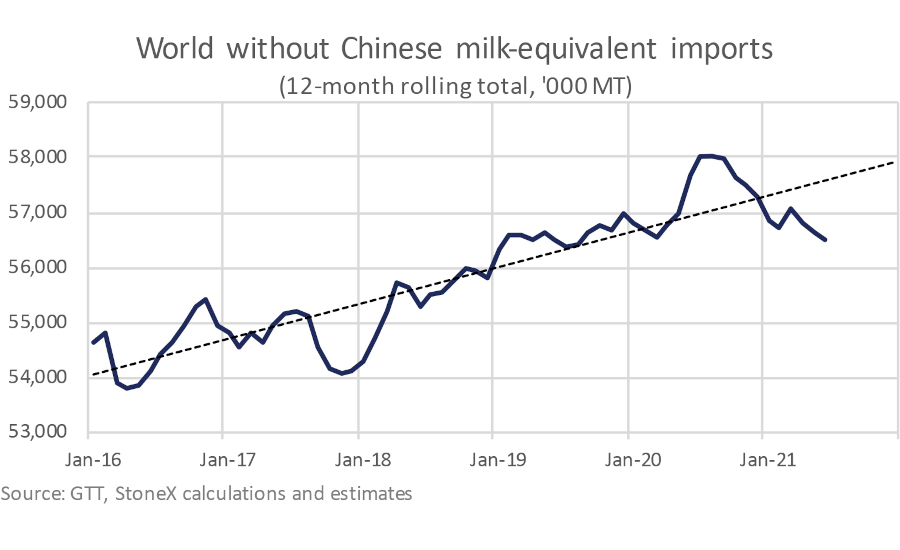 I think the demand will be there, but it will shift away from China and toward other importing countries. The next question is whether there will be U.S. supply available to ship out, and can it actually ship out? Milk production growth in the United States is slowing down in reaction to high feed costs and tighter farm-level margins. I expect production growth to slow from 2.7% in the first half of this year to just 0.9% in the first half of next year.
Additionally, when you factor in growing domestic demand in the United States, that does not leave much new product available for the export market. Instead of milk-equivalent exports growing 10% — as they are expected to for 2021 — U.S. exports may slow to something around 3-5% in 2022, primarily due to tighter exportable supply out of the United States.
The outlook is mostly good. We've pushed exports to new record highs in 2021, primarily on the back of China. It looks like Chinese demand will cool off a bit, and imports are expected to rebound by other countries. The United States looks well positioned — with more available supply than Europe has — to satisfy the demand. We should see U.S. exports grow in 2022, but the growth might be limited by the available supply, as milk production is expected to be weak in the first half of the year.
Nate Donnay is the director of dairy market insight at StoneX Financial Inc. He has been applying his interest in large complicated systems and statistical analysis to the international and U.S. dairy markets since 2005.