If sales data are any indication, more consumers are saying goodbye to coffee filters, tea bags, and the long wait to brew. According to data from Chicago-based market research firm IRI, dollar sales within the shelf-stable ready-to-drink (RTD) tea and coffee category shot up 9.5% during the 52 weeks ending Aug. 8, 2021, to $7,647.5 million. Unit sales increased 3.0% to 3,044.1 million.  
And on the refrigerated side, dollar sales for RTD tea and coffee climbed 13.6% to $2,640.2 million. Unit sales improved 7.8% to 906.1 million.
✕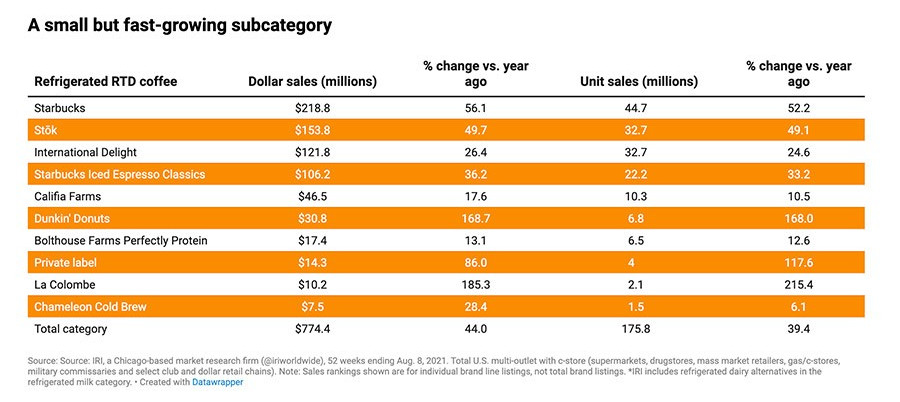 Cold-brew coffee takes off
Cold brew coffee was the standout within the shelf-stable RTD tea and coffee category. The subcategory's dollar sales rose 24.2% to $322.5 million; unit sales grew 19.5% to 102.8 million.
Starbucks led in growth among the top 10 brands, with its dollar and unit sales skyrocketing 96.0% and 100.1%, respectively.
Four other top 10 brands also impressed. The Rise brand posted dollar and unit sales gains of 95.2% and 101.6%, respectively. Chameleon Cold Brew, meanwhile, saw 58.4% and 52.3% increases, while Dunkin' Donuts saw 54.5% and 51.8% gains. And La Colombe posted 39.5% and 41.4% dollar and unit sales improvements.
Two top 10 cold brew brands lost ground, however. The High Brew brand realized a 35.5% decline in dollar sales and a 36.6% decrease in unit sales. And dollar and unit sales for Starbucks Frappuccino fell 8.4% and 11.9%.
The shelf-stable RTD cappuccino and iced coffee subcategory also realized double-digit growth. Dollar sales climbed 15.5% to $3,126.9 million. Unit sales rose 12.6% to 997.6 million.
Although seven of the top 10 brands saw double-digit growth, Java Monster greatly outperformed the subcategory. The brand's dollar sales jumped 250.7%; unit sales shot up 250.6%. Two other top 10 brands saw very strong growth, too. Kitu Super Coffee realized 66.9% and 69.2% dollar and unit sales gains, respectively, while private label brands posted 50.2% and 40.5% dollar and unit sales increases.
Only one top 10 brand lost ground. Dollar sales for Starbucks Doubleshot brand tumbled 1.7%; unit sales fell 11.6%.
Tougher going for RTD shelf-stable tea
Although dollar sales rose 4.6% to $4,198.1 million in the RTD shelf-stable tea subcategory, units were down 2.0% to 1,943.7 million.
Six of the top 10 brands posted positive dollar sales growth, but only three of them also saw unit sales gains. Those three include Lipton Pure Leaf (up 12.3% and 6.8%), Lipton (up 12.5% and 7.7%) and Lipton Diet (up 11.4% and 9.6%).
Posting decreases in both dollar and unit sales, meanwhile, were Monster Rehab (down 8.3% and 6.9%), Snapple (down 2.9% and 5.4%), Arizona Arnold Palmer (down 2.9% and 12.5%) and Diet Snapple (down 1.7% and 7.1%).
Refrigerated coffee sales soar
Within the refrigerated RTD tea and coffee category, RTD coffee was the growth standout. Dollar sales within the subcategory rose 44.0% to $774.4 million. Unit sales jumped 39.4% to 175.8 million.
Even more impressive is the fact that every top 10 brand realized double-digit dollar sales gains. And nine of those brands also pulled off double-digit unit sales gains.
Two of the top 10 brands saw triple-digit gains. Dollar sales for La Colombe climbed 185.3%, while the brand's unit sales rose 215.4%. And Dunkin' Donuts realized 168.7% and 168.0% dollar and unit sales increases, respectively.
The larger and more mature refrigerated RTD tea subcategory saw more modest growth. Dollar sales increased 5.2% to $1,833.1 million. Unit sales rose 2.7% to 720.2 million.
In general, the top 10 brands underperformed the total subcategory. In fact, only five brands posted positive dollar and unit sales growth — Milo's (up 29.2% and 26.4%), Gold Peak (up 7.0% and 2.2%), Health-Ade (up 7.4% and 12.0%), GTS Enlightened Synergy (up 3.1% and 3.4%) and private label (up 3.2% and 1.7%).
The biggest loser among the top 10 was Lipton Pure Leaf. Dollar sales tumbled 21.0%, while unit sales were down 24.0%.
Also included within the refrigerated RTD tea and coffee category is kombucha. That subcategory took a real nosedive, with dollar sales falling 23.9% to $32.7 million. Unit sales declined 25.3% to 10.2 million.