Contributed on behalf of Ossid
Faced with increased demand for its deli cheese products, MDS Foods Inc. worked with Ossid, powered by Pro Mach, to develop an automated system to replace its labor-intensive, time- consuming manual process of weighing, labeling, and packaging products at its Manchester, Tenn., facility. MDS Foods' goals were to increase the production line's capacity and profitability as well as give the company the capability to bring more product categories, predominately packaging smaller chunks of cheese, into its facility.
MDS Foods and Ossid collaborated on developing an automated system to replace the manual operation. The new packaging solution uses an Ossid 1522 weigh price label system, a CS100 case scale, and Datamax label printers. The equipment is integrated with ID250 case labelers, from ID Technology, which like Ossid is owned by Pro Mach. Premade boxes are provided to the packing station by a WF-20 case erector system from Wexxar, another Pro Mach company.
System scans cheese pieces individually, calculates total case weight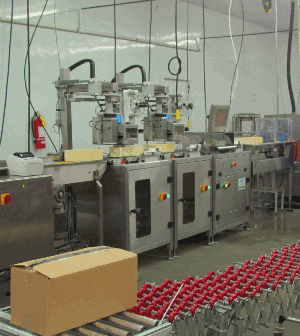 As the cheese comes off the Cryovac line shrink tunnel, an inspector examines it to ensure that there are no issues. It is then put on a conveyor belt, which has air knives that blow moisture off of the product to optimize label adhesion. The product is indexed into a load cell where it is weighed. The scale determines if the product meets fixed weight or random weight parameters within plus or minus .05 grams.
Random weight products are deli loaf packages that grocery stores slice for customers. The system will then scan the pieces individually and calculate total case weight. The case information is then directly printed and applied to the case, which is then sent to be palletized.

Fixed weight products, which is a product category that MDS Foods will begin packaging in the future, include chunks and smaller pieces of cheese or half moons. In the past, the company had to outsource this operation. Weight and measurement parameters are defined by codes. The equipment determines if a piece of cheese meets the specific tolerances established by the codes. Using a case weight exact multiplier, MDS Foods knows how many pieces are to be placed in a case.
Depending on whether the product meets fixed weight or random weight parameters, it is conveyed to one of two stations where labels are applied. Top labels include pricing information, ingredient codes, UPC code, weight, and dates. Bottom labels are decorative brand labels. Once labeling is completed, products proceed down a conveyor line and are delivered to the appropriate packing station for placement in premade shipping cases, which are also automatically labeled.
The former manual operation relied on 14 people to physically place the cheese on a scale, weigh it, apply a label to it, hand scan the individual piece label, pack it onto a hand-erected box, apply a label to it, and then seal and palletize the box. Since the automated system requires only four people, MDS Foods was able to reassign employees to its other production lines.
Increase throughput, decrease overhead in packaging
MDS Foods Director of IT Chris Vaught explains, "Since the system has only been in operation for a short time, we have a limited amount of performance data. However, we have increased our throughput by nearly 10 percent, while at the same time decreasing our overhead. We know that we have not lost any efficiencies as we have been learning the system. Currently we are running about 10 different form factors across the line now. Our speeds range from 10 to 18 packages a minute depending on the product. The pieces of cheese, which weigh between 5 and 15 pounds, are 4 inches high and 4 inches wide and range in size from 17 to 20 inches long."
Not only were there errors with the former manual operation and weighing inaccuracies that resulted in higher direct labor costs, but MDS Foods also lost productivity because it would have to stop and fix problems as they occurred. By eliminating the errors, the company has increased its output and efficiency.
Since Ossid was able to provide a complete system, which utilizes products from its sister companies, the company took full responsibility for the entire line. This eliminated MDS Foods' need to deal with three different vendors. If there is a problem, the company only needed to make one phone call. Furthermore, the company found Ossid's remote support capabilities to be a tremendous asset during the line's start up.
Vaught adds, "Working with Ossid has enabled us to make significant improvements to our throughput, allocation of resources, and reduction of overhead. Since the automated system includes extensive data collection features, we plan to leverage the information to further streamline our packaging operation and optimize opportunities for ongoing improvement. The new system gives us a valuable competitive edge in a very demanding business and positions us for profitable ongoing growth in the marketplace."