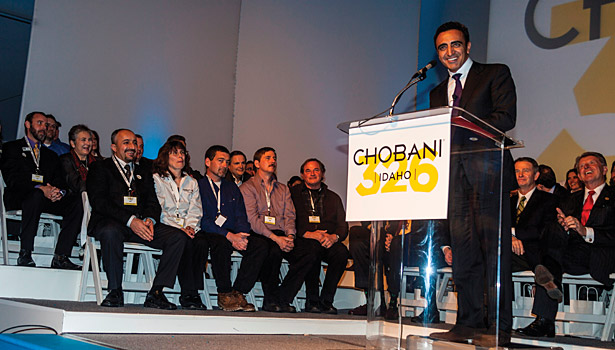 Greek yogurt processor Chobani, selected by Dairy Foods as its 2012 Processor of the Year, has received two new honors this month.
Food Engineering (a BNP Media publication, as is Dairy Foods), named Chobani's facility in Twin Falls, Idaho, its 2013 Plant Of The Year.
Chobani President, Founder and CEO Hamdi Ulukaya was honored as a "disruptive innovator" at the fourth annual Tribeca Disruptive Innovation Awards.
"Innovation isn't all about technology. At its core, innovation is about change—being bold enough to challenge the simplest idea and looking for ways to do it better," said Ulukaya. "Together, this group of honorees represents that change, and I'm honored to share in this celebration of innovating and disrupting."
The Tribeca Film Festival (TFF), in association with the Disruptor Foundation and Harvard Business School Professor Clay Christensen, father of Disruptive Innovation Theory, honored innovators, pioneers and game-changers across various disciplines and domains at the awards ceremony hosted by NYU Stern School of Business. The ceremony showcased the applications of and advancements in disruptive innovation theory that have spread far beyond the original technological and industrial realms.
Additional award winners include:
Twyla Tharp, Choreographer, Author and Founder of Twyla Tharp Dance;
City of Manchester, Sir Howard Bernstein, Chief Executive;
Norma Kamali, Designer and Wellness Advocate;
Rus Yusupov, digital product designer;
Elise Andrew, creator of I F*cking Love Science/Science is Awesome;
Glenn Beck, Founder and Owner, TheBlaze;
Ben Kaufman, founder of Quirky;
Nicolas Berggruen, Think Long Committee for California, The Berggruen Institute;
Peter Shapiro, music and film entrepreneur;
Garrett Camp, Founder, StumbleUpon and Uber;
Jack Andraka, winner of the Gordon E. Moore and Google Thinking Big awards;;
Beth Comstock, Chief Marketing Officer and Senior Vice President of GE , GE FOCUS FORWARD;
Forbes Media;
Ken Goldberg and Ayorkor Korsah, Co-Founders, The African Robotics Network (AFRON) ;
Donald Katz; founder and CEO of Audible Inc.
Henry Jackson Initiative;
THINX;
Kenzo Digital, Director/Artist;
Deborah Kenny, Chief Executive Officer, Harlem Village Academies;
Beau Lotto, Founder, Lottolab Studio;
STEM to STEAM initiative, John Maeda, President, Rhode Island School of Design;
Urban Dictionary Creator, Aaron Peckham;
Psy, South Korean Artist/Global Phenomenon;
Plant of the Year

Chobani received Food Engineering's Plant of the Year award for its state-of-the-art facility in Twin Falls, Idaho. Opened on Dec. 17, 2012, the Twin Falls facility was built in 326 days following a $450 million investment. At nearly one million square feet, the Twin Falls plant is said to be the largest yogurt manufacturing facility in the world.
"At Chobani, we're committed to craftsmanship and innovation, which is truly embodied by our Twin Falls plant. We're honored to have been named Plant of the Year by Food Engineering, as the award is a true testament to our hardworking employees, vendors and community members who helped us bring our dream to life," said Marc Abjean, senior vice president, global engineering and project management.
The facility is sized to accommodate 14 production lines, 11 million pounds of milk daily, and with infrastructure for future expansion. Shambaugh & Son, L.P. acted as the prime Design-Build contractor; Tippmann Group was the building contractor; and Boccard provided process, machinery, automation and integration of all process equipment.