Dairy Processor News
Dutch treats
Web exclusive: Dairy innovators set up shop in The Netherlands
FrieslandCampina is known for its dairy innovations, including a 2010 project to develop butter that doesn't spatter when used for frying.
Editor's note: U.S. journalist John W. McCurry visited The Netherlands along with a delegation of international journalists. He wrote this report exclusively for dairyfoods.com.
---
FrieslandCampina is a large dairy operation in The Netherlands.
The Netherlands, a country of 17 million people, is a nexus of food innovation in Europe and is the second largest exporter of agricultural and food products in the world behind the United States. The dairy sector accounts for about 10% of these exports. Food is the country's largest industry, accounting for 9.2% of total GDP.
The Dutch are quite proud of this huge economic engine and recently hosted a group of international journalists for an in-depth look at Holland's food industry. Led by the Netherlands Foreign Investment Agency, the country's chief economic development agency, the tour included looks at significant food processors and major research institutions.
A significant portion of the tour examined the dairy industry, which dominates the Netherlands food sector. A glance at the statistics shows why:
• Number of farms with dairy cows: 19,250
• Number of dairy farms: 17,240
• Number of dairy cows: 1.47 million
The largest dairy firm is FrieslandCampina, which is one of the five largest dairy companies in the world. It is owned by a cooperative of more than 14,000 dairy farms in the Netherlands, Germany and Belgium. It accounts for 9.7 billion euros of the country's total dairy turnover of 12 billion euros.
The company is preparing to meet global demand for milk. CEO Cees t' Hart told a gathering of international journalists that he expects the largest growth in milk demand to come from China, Southeast Asia, North Africa and Brazil.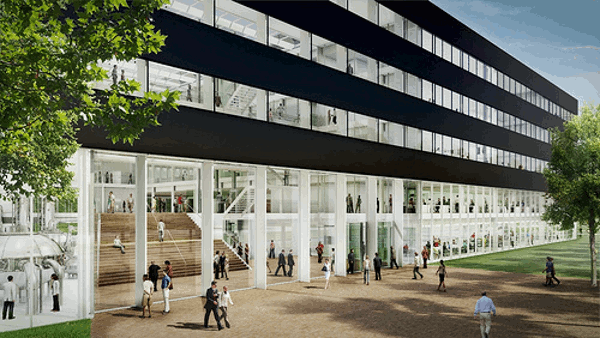 Danone expects to open an innovation center in Utrecht in 2013.
FrieslandCampina is known for its dairy innovations, including a 2010 project to develop butter that doesn't spatter when used for frying. The company's butter operation decided to focus on developing different butters for specific uses. A year of research and hundreds of frying tests determined that increasing the amount of air in butter would prevent it from spattering and burning. Friesland Campina developed what it describes as a unique solution and has applied for a patent.
One of the many foreign investments in the dairy sector has come from Japan-based Yakult. Both the European headquarters and the production facility of Yakult for the European market are located in Almere, the Netherlands. The Yakult factory was opened in 1994. The factory currently produces two products (Yakult and Yakult Light) for The Netherlands, Austria, Belgium, Ireland, Italy, Germany, Luxembourg, the United Kingdom, and a limited part of France.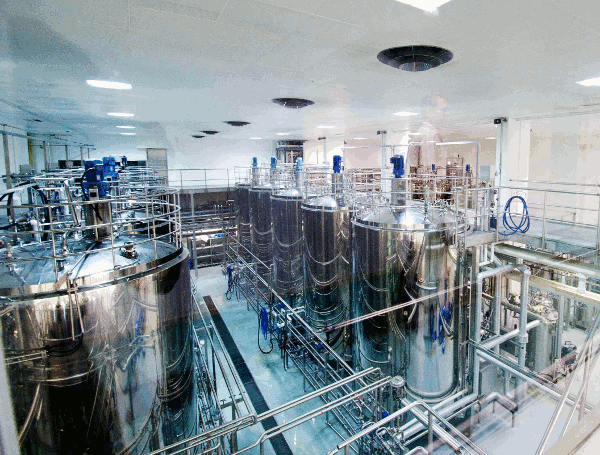 A Yakult facility in Almere.
"The Netherlands is a center of ground-breaking fundamental research in the field of dairy production," said Jan-Albert Blaauw, Yakult spokesman. "This is one of the reasons for Yakult to select the Netherlands as production location. Yakult has many cooperation initiatives with scientific institutions and universities in relation to research and development. These initiatives may also lead to opportunities in the field of product development and innovations."
Blaauw believes the Netherlands dairy industry has a bright future with production set to grow as EU relaxes milk production restrictions in 2015.
"New dairy companies have entered the Dutch market over the last years and new ones will probably join. The Netherlands seems to be the ideal springboard to the rest of Europe."
In 2011, New Zealand-based Fonterra, the world's largest dairy company, moved its European headquarters from Hamburg, Germany, to Amsterdam. The company decided it had an urgent need for a reorganization of its operations in Europe. It was attracted by The Netherlands' concentration of dairy expertise.
Fonterra also considered Paris, London, Madrid and Zürich, but ultimately concluded that The Netherlands' position as a center of knowledge and innovation in the dairy sector was the major attraction.
French dairy giant Danone is another company expanding in the Netherlands. Danone acquired Royal Numico, a nutrition specialist in 2007. Prior to that purchase, Danone had only operated a commercial unit in Utrecht for its dairy and waters business. The business became two divisions Danone Baby Nutrition and Nutricia Advanced Medical Nutrition.
William Green, head of public affairs for Nutricia, said the company wanted to keep the expert personnel based in the Netherlands, so it decided to retain its divisional headquarters in the Netherlands and build a new innovation center, which will open in Utrecht during the second half of 2013.
"Two factors were important to this decision," Green said. "The first was the existing base of nutrition and dairy expertise in the Netherlands, both in the commercial sector as well as in the research and academic area. The second was the business-friendly environment of North Holland, especially in its proven ability to not only attract international companies, but also to welcome and support a large expatriate business community."
Green said research at the innovation center will focus on nutrition science innovations targeted to age-specific or health-vulnerable groups.
The industry has benefited from the presence of several major food research facilities in the area south and east of Amsterdam known as Food Valley. One of those institutions is NIZO food research in Ede, which owns the largest food testing pilot plant in Europe. NIZO, which began its work in 1948 in dairy research and subsequently expanded to the broader food industry, has a long list of major food company clients. NIZO's current work includes projects to reduce salt in foods such as bacon, bread and cheese with the goal of reducing salt by 50%. Another project involves replacing fat in ice cream through the use of proteins.
Another major source of food and dairy innovation is TI Food and Nutrition, a public-private research center in Wageningen. One of its areas of focus is the study of the effects of probiotics on intestinal health and immune defense.
Adjiedj Bakas is a noted Amsterdam-based futurist whose book The Future of Food looks at projected trends in the sector. Bakas, who was the featured speaker at a gathering of industry leaders at the Food Valley Expo in Arnhem in late October, believes Holland will continue to be a leader far into the future due to its rich dairy heritage and its depth of food research.
"Holland will stay a food hub because of its strong agricultural sector, big food companies like Unilever and smaller, but much more innovative ones that focus on niche markets," Bakas said. "The historical strong position of the Netherlands in food innovation makes me believe that this country won't lose its strong position easily."

I want to hear from you. Tell me how we can improve.