From left: Delkor owner Dale Andersen, Sen. Al Franken, SBA Administrator Karen Mills, and Sen. Amy Klobuchar 
The U.S. Small Business Administration announced that $490,000 in funding is available from the Minnesota Trade Office through the SBA's State Trade and Export Promotion (STEP) program. SBA administrator Karen Mills made the announcement at the Minneapolis headquarters of Delkor Systems last month.
STEP is a government program to assist selected small businesses with a portion of their export funding needs. Delkor received a $5,000 grant last year in the first round of STEP funding from the Minnesota Trade Office. The company used the funds to participate in PMMI's Expo Pack 2012, one of Latin America's biggest trade shows. As a result of its participation, Delkor now has a business agent in Mexico. The company said it anticipates an increase in export sales by the end of the year, and has hired more staff, which includes three bilingual employees.
On hand for the announcement were U.S. senators Amy Klobuchar and Al Franken.
(updated Oct. 5, 2012)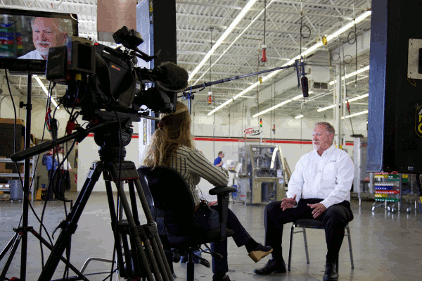 Sally Rosen, associate producer of the CBS Evening News, interviews Dale Andersen, CEO of Delkor Systems, for the Jobs Report segment. Over the last two years, Delkor has hired more than 60 new employees due to strong business development and growth. The interview is scheduled to be broadcast Friday, Oct 5 at 5:30 p.m. Central Time.