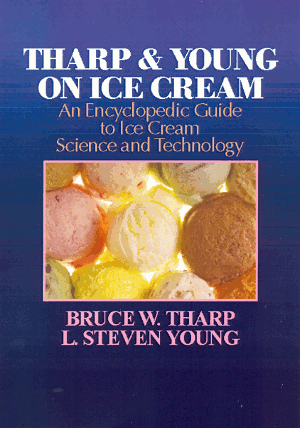 Bruce Tharp and Steve Young, who write the On Ice Cream column for Dairy Foods, have completed "Tharp & Young on Ice Cream, An Encyclopedic Guide to Ice Cream Science and Technology." The 410-page book is available for sale in The Dairy Foods store on dairyfoods.com.
Tharp and Young operate businesses devoted to providing technical know-how to the ice cream and dairy food industries throughout the world. For the past two decades they have collaborated in offering an international technical short course on ice cream. Selected data and troubleshooting pointers presented in the Encyclopedic Guide were developed from responses to thousands of queries from course attendees, as well as from the hands-on experience of the authors, who have been active in ice cream production since childhood.
Besides providing a definitive introduction to the applied science of frozen desserts, the book explains key management concepts from cost-reduction strategies to yield improvement, marketing, and regulatory compliance in formulation and labeling. Their book is a comprehensive practical reference to ice cream and other dairy and non-dairy desserts. It covers every stage of processing, including mix ingredients, processing, packaging, marketing and regulations. It provides calculations, formulas, troubleshooting tips, freezing data points and costs.
Engineers, product developers, plant managers, marketing specialists and quality control specialists will benefit from reading this book. Tharp and Young write about the essential techniques for quality control and ideas for new products and market opportunities. Their book is an all-inclusive guide to the meaning of hundreds of technical terms and ideas needed for ice cream manufacturing. And it is a practical introduction to the ingredients, freezing methods, flavoring, and packaging of ice cream, sherbet, sorbet, gelato, frozen yogurts, novelties and many other kinds of frozen desserts.