Frigo CheeseHeads sweepstakes offers cheese for a year
Saputo's Frigo CheeseHeads string cheese brand taps into the presidential election year with a call to vote for a favorite cheese and a separate sweepstakes. The free-standing insert pictures eight varieties of string cheese under the headline "We give your family freedom of choice!" Scanning a quick-response (QR) code on a red-white-and-blue campaign button with a smart phone takes readers to a web page where they can vote. Voters are cautioned to "cheese wisely." The sweepstakes offers five top prizes: a year's supply of the cheese (awarded as 25 $6 coupons). Entry is on the brand's Facebook page or online through Nov. 11.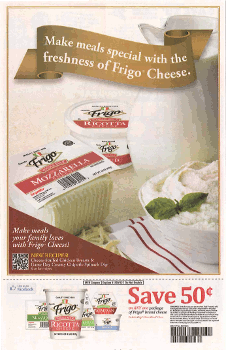 In a separate FSI, Saputo promotes its Frigo mozzarella cheese. A QR code leads to recipes, including cheese-stuffed chicken breasts and game day creamy chipotle spinach dip.
Nestle's serves a recipe calling for Carnation evaporated milk
Nestle's Carnation promotes its packaged milk and evaporated milk as ingredients. The headline states: "Wholesome. Rich. Savory. That's the Carnation difference." The FSI instructs shoppers to find the products in the grocer's baking aisle. A recipe for turkey veggie tetrazzini calls for one 12-ounce can of the company's evaporated lowfat 2% milk and 2.25 ounces of shredded Parmesan cheese. Other recipes are available at VeryBestBaking.com.
Make mashed pototoes with milk, I Can't Believe It's Not Butter spread
Unilever's Knorr Homestyle Stock offers a recipe for savory mashed potatoes that calls for three-quarter cups milk and one tablespoon of Unilever's I Can't Believe It's Not Butter! Spread.
In other activity: