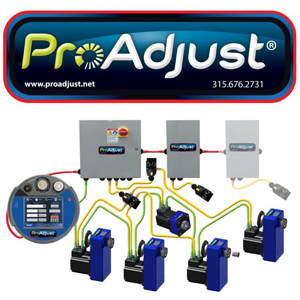 ProAdjust®, an innovative add-on solution that automatically adjusts the change-over points of most machines, will be on display at Pack Expo 2014, Booth# 2520.  ProAdjust makes changeovers fast, accurate and repeatable on virtually any machine that requires changeovers.
Developed and supported by the engineering team at Schneider Packaging Equipment Company, Inc., ProAdjust improves a machine's overall equipment effectiveness (OEE) lowers costs, and is compatible with most machinery in every industry that requires changeovers. It is a self-contained system consisting of a controller and integrated Power Packs that provide the motion. The system is specifically designed to meet the requirements of an automatic adjustment system while being easy to install. The system is scalable from one to hundreds of adjustment points.  Wiring is plug-and-go, and, most importantly, no programming is required.  ProAdjust uses a simple point and click touch screen interface for one-time machine setup and features an easy setup for creating and editing 'recipes.'
"The ProAdjust integration is completed on-site and requires no middleware or manual adjustments to achieve consistent, precisely aligned, automatic adjustments of machine change-over points.  This increases throughput, and eliminates the mistakes and excessive change-over time that typically happens, resulting in wasted production time and product," says, Richard Schneider, President, Schneider Packaging.  "As an example, a machine automated with ProAdjust at 14 points of adjustment resulted in a 28 minute changeover savings, recouping the cost of the ProAdjust system in just four months," Schneider added.
ABOUT PROADJUST
As manufacturers face increasing demand to produce more SKU's on existing equipment, the need to both improve line efficiency and reduce changeover time is paramount.  ProAdjust is designed to address the need for speed and accuracy by providing a solution that can be added onto new equipment from an OEM as a low cost option or older existing equipment as a field retrofit.  Equipment such as fillers, cartoners, labelers, conveyors, mixers, case packers, palletizers, case loaders, all manner of packaging equipment will benefit from the installment of ProAdjust.
 For more information, please visit our website at www.ProAdjust.net  or contact us via email at sales@proadjust.net. If you wish to discuss your particular application, or if we can answer any questions, please call us at 315-676-3035.