Organic Valley, the nation's largest cooperative of organic farmers and a leading organic brand, said this week that sales increased to $860 million in 2012 from $715 million in 2011, a 20% growth.
In 2012, the farmer-owned cooperative brought on 211 new farmers (an 11% increase), and donated more than $2.2 million to nonprofit organizations dedicated to advancing organic food and farming, and building community.
"The widespread drought creating feed shortages was tough, yet our farmer-owned cooperative model proved resilient," said George Siemon, C-E-I-E-I-O and founding farmer of Organic Valley, La Farge, Wis. "Our farm families and community came together to face the feed shortage while continuing to focus on providing the very best food nature can produce."
While Organic Valley grew 20%, projections indicate the organic industry overall grew nearly 10% for the second straight year. Organic sales reached $30 billion in 2011.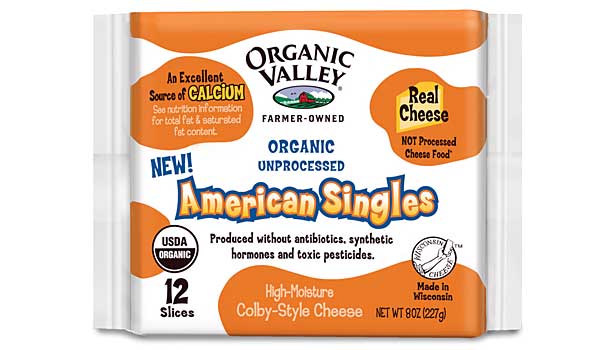 Dairy products
Organic Valley products enjoyed recognition in 2012, winning first place in the World Dairy Expo Championship and Gold in the Los Angeles International Dairy Competition for European-Style Butter, and similar accolades for other products, including Pasture Butter, Cream Cheese, and Heavy Whipping Cream.
New products were also launched in 2012, including the first-ever unprocessed, organic American cheese singles. Organic Valley American Singles are 100% real cheese, providing families with a healthier alternative to "processed cheese food" and a delicious, smooth-melting cheese perfect for sandwiches and snacks.
Renewable energy projects
Organic Valley was proud to be a leader in alternative energy initiatives in 2012. The Cashton Greens Wind Farm is Wisconsin's first community wind project. The electricity that the two windmills generate is equivalent to 89% of the electricity consumed within cooperative-owned facilities. Add to this a state-of-the-art solar electric system on its headquarters' roof, these 2012 initiatives have contributed significantly to the co-op's efficiency and energy independence, while creating yet more jobs for rural communities in Southwest Wisconsin where the cooperative is headquartered.
The cooperative's dedication and hard work was rewarded in 2012. Siemon was recognized by the National Resource Defense Council with a Growing Green Award in the business category and inducted into the Social Venture Network Hall of Fame in the Environmental Evangelist category.
Looking ahead to 2013, Organic Valley will celebrate the 25th anniversary of the founding of the cooperative in March, with a renewed commitment to organic education and keeping farmers on the land.
Organic Valley: Independent and Farmer-Owned
Organic Valley is America's largest cooperative of organic farmers and one of the nation's leading organic brands. Organized in 1988, it represents 1,814 farmers in 35 states and three Canadian provinces. Dairy Foods named the co-op the Processor of the Year in 2010.

SOURCE: Organic Valley