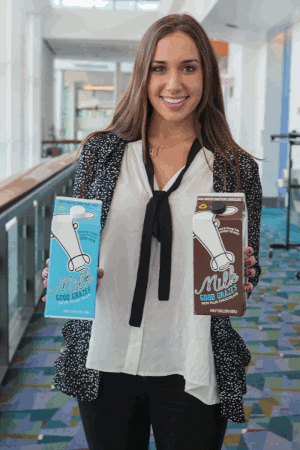 Jennifer Ahern
A student from the Fashion Institute of Technology, New York, is the grand prize winner in a contest that sought to bring a fresh perspective to the world of packaging design. The entry from FIT junior Jennifer Ahern of Philadelphia (photo), featured a more abstract approach to iconic cow images, focused on appealing to contemporary shoppers.
"I was inspired by the edgy drawings of Picasso and I wanted to design something that the customer would be attracted to," Ahern said. "Our generation can be careless, but more people are starting to pay attention to the green movement, so sustainability programs like the one Evergreen promotes are very important to the future."
Evergreen is Evergreen Packaging, Memphis, Tenn., which sponsored the Project Carton student packaging design competition. Ahern's design was shown at a VIP reception at last month's Pack Expo International in Chicago.
Other winners were:
--Category winner: Juice: Samiel Laury
--Category winner: Milk substitute: Carla Yuen
--Category winner: Other: Vanessa Magbanna
More than 24 packaging design students participated in the competition as part of the New York-based college's fall curriculum. 
"From a design perspective, paperboard packaging provides an excellent cost-effective platform for branding," said Erin Reynolds, marketing manager for Evergreen Packaging. "Cartons offer the perfect canvas to tell a compelling brand story and provide the informational content consumers want."
Contest entries were evaluated based on compelling brand depiction, connection with the target audience, shelf impact, innovation, and execution of details. Judges were Lynn Dornblaser, director of innovation & insight at Mintel; Marcus Hewitt, chief creative officer at Dragon Rouge; Ron Sasine, senior director of packaging at Wal-Mart; Noel Stewart, senior packaging engineer II at Coca-Cola America; and Andy Yates, design director at WhiteWave Foods.