Dairy Foods & Beverages
Packaging Technologies-Dairy Processors
Cheese
Operations
A new product from Kraft gives home chefs a quick way to prepare dinner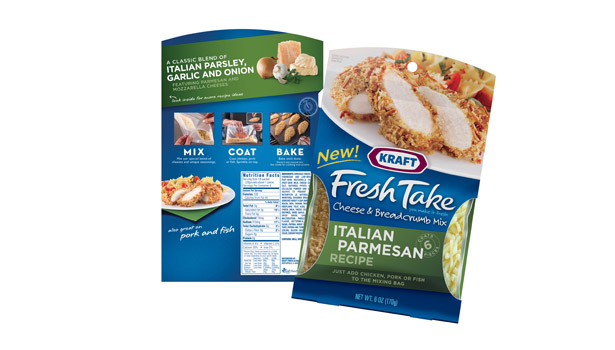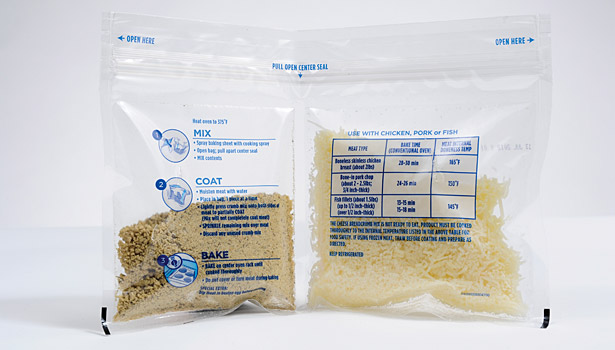 A new grocery item that pairs cheese with nondairy ingredients required an entirely new package. Fresh Take from Kraft Foods, Glenview, Ill., contains cheese, bread crumbs and seasonings. It is intended to help the home chef create dinner entrees quickly with a three-step mix-coat-bake approach.
Packaging challenges included keeping the dairy and the dry components fresh and minimizing the package footprint so that it would fit.
Kraft created a package from flexible film that has two pouches with oxygen and moisture barriers. One pouch contains cheese; the other contains seasoned bread crumbs. The moisture barrier keeps the bread crumbs crispy, said Katharine Pfenning Nickell, a senior packaging engineer at Kraft. A center seal separates the two pouches.
The package has another function besides keeping the ingredients fresh: it serves as a mixing bowl. The home chef opens the bag to break a center seal to combine the cheese and seasoned breadcrumbs. She adds a protein, such as chicken or fish, coats it with the mixture and then bakes it. The ingredients form a crispy brown crust. Because the package is the mixing bowl, clean-up is simplified.
Kraft's original idea was for an unfolded pouch, Nickell said, but that would have been too wide and it was not received well by retailers. So Kraft modified the package so that it could be folded in half and wrapped it with a sleeve. Fresh Take is sold in the packaged cheese aisle.
The new package is the same size as an 8-inch cheese pouch, Nickell said. The outer paperboard wrap-around sleeve, printed with a photograph of the entrée, helps the product stand out on the shelf, she said. The back side of the pouch shows the mix, coat and bake steps. More detailed instructions are on the pouch itself.
The pouches are formed on the processing line. New pouch-forming equipment was required. Some of the existing filling equipment was adapted for this product.
The outer paperboard wrapper is recyclable, but the plastic film is not. The film, though, is accepted by TerraCycle, a third-party that collects plastic packaging and creates new products from it.
Kraft Fresh Take comes in six varieties and is sold nationwide for a suggested retail price of $2.99. The varieties are:
Southwest Three Cheese. A blend of garlic, cumin and red chili pepper are the nondairy ingredients. The cheeses are Colby, mozzarella and Cheddar. Kraft recommends it with chicken, pork or fish.
Italian Parmesan. Parsley, garlic and onion are combined with Parmesan and mozzarella to coat chicken, pork or fish.
Rosemary & Roasted Garlic. The cheeses are mozzarella, provolone, Parmesan and Romano. Kraft suggests using it with pork, chicken or fish.
Cheddar Jack & Bacon. Monterey Jack, Cheddar and provolone cheeses are combined with savory herbs and bacon to make a coating for chicken, pork or fish.
Chili Lime & Panko. The cheeses are Colby and Monterey Jack and the nondairy ingredients are chili peppers and lime. It is intended to be used with fish, chicken or pork.
Savory Four Cheese. A blend of feta, mozzarella, provolone and Parmesan cheese is mixed with roasted garlic and onion for use on a hamburger or in a meatloaf.
Read more about packaging technolgies for dairy processors here.

I want to hear from you. Tell me how we can improve.