By Elopak
The Diamond® Curve® mini carton from Elopak Inc. stands out from other cartons with a unique curved edge for a more comfortable grip and more merchandising area than standard mini cartons.  Another curve in the top panel makes pouring more convenient by allowing a larger spout and screw cap than those typically used on mini cartons.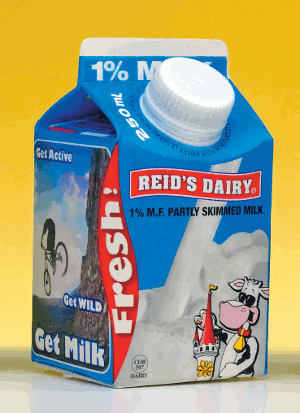 At a time when many dairies are losing market share, Reid's Dairy of Belleville, Ontario has doubled its sales of 250 ml and 500 ml cartons in three years with the Diamond Curve.  The 250 ml mini cartons are very popular in schools, where the cap lets even young students open them without help.  Hospital patients and nurses appreciate them for the same reason.
 While students cite the cap and unique shape as the primary reasons they like the Diamond Curve, high-quality printing by Elopak Canada adds to the appeal.  The Reid's cartons go beyond 2-color or 3-color flexo, featuring full-color photos of skateboarding, rock climbing and other youth-oriented activities.  Local high school students consulted on the designs.
The Diamond Curve offers even more merchandising area than standard Pure-Pak® gabletop cartons with the same sustainability advantages.  Their primary material, paperboard, comes from a renewable resource and carton production generates significantly lower carbon dioxide emissions than plastic bottle production.
Reid's is selling two percent, one percent, skim, and chocolate in the Diamond Curve mini cartons, with shelf life of about three weeks.  All are filled on an Elopak E-PM30D machine, at speeds up to 3,000 per hour.  The dairy also uses Elopak's one-liter Curve carton to differentiate its Reid's Natural premium juices, lemonade and iced tea.
Elopakis one of the world's leading suppliers of packaging systems for liquid food products. It develops, manufactures, sells and services complete systems for the packaging of non-carbonated liquid food products including dairy, juice, wine, water and soup.  Elopak is a well-known and established supplier of gable-top cartons through its Pure-Pak® system.  In 2010, the company, including joint ventures, employed over 3,000 people, had revenue of EURO 780 million and produced 12.8 billion cartons.  With organizations and associates in more than 40 countries and customers in over 80, the Elopak Group seeks to bring its international expertise and product technology to new markets.