Submitted by Mettler-Toledo Safeline
Commonwealth Dairy epitomizes state-of-the-art.  This joint venture between Ehrmann USA, the US subsidiary of Ehrmann AG, and Commonwealth Yogurt, started up its new, ultra-modern facility in Brattleboro, Vermont in May 2011.  The SQF-certified plant, which produces yogurts for private label customers, adheres to superior quality standards.  Illustrating their commitment to food safety, their three production lines are anchored with Osgood UltraClean fillers followed by SmartChek x-ray inspection systems from Mettler-Toledo Safeline.
"We had the luxury of having a greenfield project.  We took the opportunity to invest in the highest technology equipment, which is not typically found in the yogurt industry, so we could produce the highest quality product," said Dieter Dobousek, Chief Technology Officer at Commonwealth Dairy.  "The Osgood fillers and Safeline x-ray inspection systems are examples of the extraordinary technology we rely on here to produce superior quality yogurts."
Commonwealth Dairy is producing preservative-free yogurts with a long shelf life that is comparable to traditional preserved products.  They achieve this in a HEPA air-pressurized production room housing the Osgood UltraClean filling machines which have a 4 LOG kill capability. The Osgood fillers use advanced technology to sterilize the cups by the injection of vaporized H2O2 and to disinfect the heat-sealed foil membranes; UV lights are utilized.  Filling of the product takes place in sterile air zone enclosures on the filling machines.  Osgood also supplied the integral pick-and-place systems to load the finished cups into cases, as a turnkey solution. 
"We searched for inspection equipment that could inspect the whole case.  Metal detectors wouldn't work because of the foil lidding on our cups.  We needed x-ray systems," explained Dobousek.  "We considered x-ray systems from three manufacturers.  We considered the supplier's service, the technology's capabilities and price, in that order.  Our attitude is: what's the value of the best machine if you can't get service?  Based on these factors, we decided to go with Mettler-Toledo Safeline and their SmartChex x-ray systems."
"We're diligent in eliminating opportunities for foreign material to get into our product.  For example, we maintain a glass-free environment," noted Dobousek.  "We work hard to take the highest precautions at every step.  The Safeline x-ray systems detect metal, glass and plastic.  They'll also detect a broken bit of pit from an apricot, peach or cherry, wood from the harvesting of strawberries and more.  Basically, they recognize foreign objects by measuring the density of product and detecting differences or irregularities.  Inspecting sealed cases before they are shipped gives us assurance that high quality product is leaving our facility."
"Our sales rep, Don Stewart of Flo-Dynamics, was a determining factor in our selecting Mettler-Toledo Safeline.  He took the initiative to show us what the equipment could do and how the company would stand behind it," said Dobousek.  "The Safeline service technician did a fantastic job of setting up the systems, which wasn't easy because we were still in construction mode."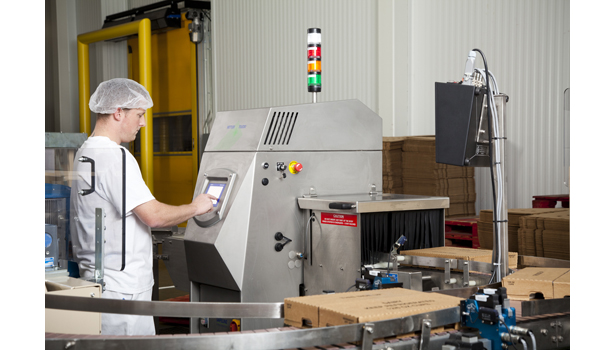 Commonwealth Dairy currently operates multiple production lines 24 hours a day, five days a week.  Lines are dedicated to packaging 80 mm, 95 mm and 115 mm diameter cups, with changeovers to accommodate different cup volumes and various yogurt types and flavors. 
"The Safeline x-ray systems exceed our expectations.  We're impressed with the systems' sensitivity to detect the very small objects that we regularly run through as tests.  We've had no unplanned downtime.  And the systems are very easy to use," added Dobousek.
To ease changeover, the x-ray systems are pre-programmed with the appropriate settings for each product.  The operator simply enters the product code via the color touchscreen control panel and the accept/reject criteria for that specific product is defined.  An auto-learn capability automatically analyzes product variations to continuously achieve optimum sensitivity throughout the production run, making frequent calibration unnecessary.
"Because we were starting up a new company in rural Vermont, it was difficult to recruit experienced operators and supervisors.  We brought in a few experts including the production manager and the QC manager and asked them to train our local recruits.  In hiring line operators, it was more important to us that they had the right personality than the right professional experience," said Dobousek.  "We've been very successful with our new staff.  We've been running at a very high standard of quality – way beyond our expectations.  This is my third start-up from the ground up, and it's the best yet."
"Within one year, we went from concept to test runs, on time and on budget.  To save time and money, we searched for filling technology that had already been 3A certified for use in the dairy industry in the US.  That qualification eliminated several fillers that otherwise met our needs," explained Dobousek.  "We liked that Osgood has an association with Bosch, one of the leaders in aseptic packaging.  Osgood has the service capability to fully support us, and the price was right."
With all-natural zero-percent-fat yogurts, blended yogurts made with real sugar instead of high fructose corn syrup and all-natural light yogurts made with Stevia instead of Aspartame in addition to conventional all natural, rBST-free milk products, Commonweath Dairy has quickly established a reputation for very high quality as well as good taste.  "Our choice of equipment is a reflection of the quality-conscious strategy that permeates everything we do," concluded Dobousek.  "Our Osgood UltraClean Fillers and Safeline x-ray inspection systems help us achieve the highest quality standards."
Resources: