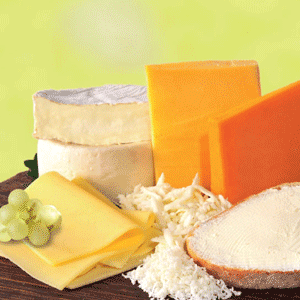 By Greg Miller, on behalf of the Innovation Center for U.S. Dairy
In today's food and beverage marketplace, it's not enough for food to be good for you. Food must connect people to a lifetime of goodness. Parents need to feel good about the foods they share with their children. They want to be confident their own nutritional decisions will lead to a healthy future.
While many people are looking for food that contributes to health and wellness, some also are monitoring food labels to avoid consuming certain ingredients. Among the three most scrutinized items on food labels, sodium (surpassed only by calories and sugar) has come under fire in recent years1, with more than half of customers expressing concern of too much sodium in their diets2.
Although cheese contributes only 8% of sodium to the U.S. diet, the dairy industry isn't taking this concern lightly. Through a Cheese and Sodium Task Force that represents nearly 80% of the U.S. market by volume, the Innovation Center for U.S. Dairy, established under the leadership of dairy farmers, is collaborating within the cheese industry to change the cheese and sodium conversation.
Sodium levels in cheese vary significantly
An Innovation Center for U.S. Dairy and Dairy Research Institute study found the amount of sodium in cheese was typically lower than the amount of sodium listed on the label. In addition, tests showed there was significant variance in sodium content of cheeses from the same manufacturer.
Research shows people can detect as little as a 10% difference in the amount of salt in cheese. By reducing the variability of sodium, manufacturers can not only lower the average amount of sodium but also increase customer satisfaction.
As a result, the task force identified a need to directly and rapidly measure sodium, especially in the presence of salt replacers like potassium chloride. The assay most often used in the industry actually uses the chloride measurement to determine sodium content through calculation. However, this assay cannot be applied when salt substitutes like potassium chloride are used.
Another common method for sodium measurement, inductively coupled plasma (ICP) spectroscopy, can directly measure sodium but is not a rapid test, meaning it does not allow for adjustments during the cheese making process.
Innovative solutions to accurately measure sodium in cheese
With industry partners, including Oxford Instruments, the task force has identified a technology from outside of the food industry with potential to quickly and accurately measure sodium content, even in cases where potassium chloride is used. The technology also may have broader food industry applications for sodium reduction, as well as for measuring other minerals.
Preliminary testing looks promising, and trials are being planned to optimize accuracy and repeatability at task force members' plants. As work progresses, cheese manufacturers can connect with the Innovation Center and the task force to learn about adopting this measurement system.
Few know that cheese is a source of high-quality protein
With sodium reduction options in sight, the next step is dispelling myths and misinformation about cheese.
Although commonly part of the sodium conversation, cheese contributes only 8% of sodium to the diet.3 At the same time, only 12% of Americans know that cheese is a source of high-quality protein.4 In fact, most cheeses meet the U.S. FDA criteria as excellent sources of calcium, good sources of protein and phosphorus, and minimal lactose content. This information must be shared with the public to promote overlooked health benefits and expose misperceptions.
In reality, cheese is a nutritious choice that can fit easily into most diets. As an industry, we must do more to show people how cheese can be part of a lifetime of goodness by emphasizing it as:
• The No. 2 source of calcium in the diet, second only to milk5
• A recommended food in the Dietary Guidelines for Americans
• A source of phosphorus, vitamin A, zinc and — when fortified — vitamin D6
• A dairy-friendly option for those with lactose intolerance7
• A convenient, portable and versatile food that can be incorporated easily into an active, healthy lifestyle
• A part of the DASH diet, which has been the highest-rated diet plan for the fourth year in a row, according to U.S. News & World Report
With the help of the cheese nutrition education resources available on www.USdairy.com/hw, now is our time to help change the cheese and sodium conversation among the public. It's our collective responsibility to address public health concerns and provide Americans with nutrient-rich foods for a lifetime of goodness.
 
---
Sources
1 Natural Marketing Institute. 2013.
2 Mintel. 2012.
3 Hentges E. Sources of Sodium in the Food Supply. Paper presented at: Institute of Medicine Committee on Strategies to Reduce Sodium Intake Information-Gathering Workshop. 2009. Washington, D.C.
4 Protein whitepaper, Innovation Center for U.S. Dairy; 2013:19
5 Fulgoni III VL, Keast DR, Quann EE, Auestad N. Food sources of calcium, phosphorus, vitamin D, and potassium in the U.S. Presented at Experimental Biology, Anaheim, Calif. April 24-29, 2010.
6 Cheese & Nutrition: Health Professionals, Innovation Center for U.S. Dairy and National Dairy Council; 2011:2
7 Cheese & Nutrition: Health Professionals, Innovation Center for U.S. Dairy and National Dairy Council; 2011:2