As more consumers and retailers make sustainability a crucial factor in their purchasing and business decisions, it is becoming increasingly crucial for dairy processors to develop an eco-conscious mindset. Indeed, operators that leverage transport and logistics systems that are less harmful to the environment can better standout from competitors while reducing expenses.
Transportation companies, meanwhile, are making it easier to create an eco-friendly culture by providing vehicles and services that emphasize sustainability. "With global vehicle manufacturers setting wide-reaching goals toward zero-emissions and fleet leaders around the world following suit, it is increasingly clear that the petroleum-based transportation era has begun its descent, and there is no going back," said Gladstein, Neandross & Associates, a Santa Monica, Calif.-based clean transportation and energy consulting firm, in its May State of Sustainable Fleets 2022 Market Brief.
The brief notes that "tens of billions of dollars are being invested globally by traditional and start-up vehicle manufacturers, infrastructure and low-carbon fuel providers, public and private sector fleet operators of all shapes and sizes, and all levels of governments. A new pathway is being paved for zero- and near-zero emission vehicle technologies and low-carbon renewable fuels, with acceleration expected in each subsequent year."
Operating in an eco-friendly manner is particularly beneficial for processors as more dairy product marketers are emphasizing healthy attributes, Rick Mihelic, director of emerging technologies for the Fort Wayne, Ind.-based North American Council for Freight Efficiency, states. Processors that leverage sustainable trucks and tractors also can realize better fuel economy while cutting the associated emissions and helping to lower the chance of regulatory mandates governing vehicles, he added.
"Dairies that use renewable natural gas-fueled vehicles in their own operations, or who contract with fleets that use [renewable natural gas] (RNG) vehicles, ultimately reduce the net environmental footprint of the dairy," Mihelic explains. "Accurately assessing the entire logistics system environmental footprint for a dairy's product is challenging but important."
 
Take small steps forward
It is important for operators to create strategies for reducing emissions, as most dairy processors still are primarily using trucks with diesel engines for inbound supply and outbound product deliveries, he said. "Change can be challenging, but setting interim targets and taking steps in the right direction are how to make progress," Mihelic reveals. "Fleets should not be overwhelmed by the rapid pace of technological change, or fear of obsolescence in investments. Think continuous improvement."
"With global vehicle manufacturers setting wide-reaching goals towards zero-emissions and fleet leaders around the world following suit, it is increasingly clear that the petroleum-based transportation era has begun its descent, and there is no going back." —
Gladstein, Neandross & Associates
Diesel trucks, however, are running much cleaner than their predecessors from 20 years ago, according to Mike Medeiros, senior vice president, dedicated contract carriage, for Penske Logistics, a Reading, Pa.-based transportation management services provider. Nevertheless, he notes that more fleets will incorporate alternative fuel vehicles that operate on propane and natural gas, as well as battery-electric and fuel cell electric-powered vehicles.
"With continued concern around the future and potential for energy shortages and global warming, it is important for everyone to increase their own awareness as it pertains to sustainability in transportation and logistics, and to use this as an opportunity to educate their employees and customers," Medeiros notes.
Indeed, processors should create a sustainability mentality by clearly communicating their eco objectives to transportation-related employees and drivers and include incentives for achieving specific goals or milestones, adds Mark Finger, senior vice president of maintenance and operations for Transervice Logistics Inc., a Lake Success, N.Y.-based provider of transportation services. He noted that gaining buy-in from all parties is key to achieving tangible results.
"Be reasonable with goals; share results; provide positive reinforcement and solicit feedback from all vested parties," Finger suggests. "As sustainability becomes more prominent, it is becoming a requirement with some customers, so being in front enables an organization to pursue new opportunities that might not exist absent a proven program."
Finger points out that processors can monitor their eco progression by understanding their transportation system baseline and tracking the carbon footprint over time. "Optimize routes to maximize cargo capacity while minimizing miles between stops, and leverage telematics to assess and evaluate driver and vehicle performance relative to fuel economy and engine idling," Finger says.
In addition, operators can profit from a comprehensive preventive maintenance program that includes periodic engine control module (ECM) downloads for review of active and inactive fault codes, he adds, explaining that an ECM monitors sensors in the engine bay to manage a vehicle's air-fuel mixture and regulate the emission control system. A fault code indicates that an issue is occurring with a vehicle which can require diagnosis and repair. Active fault codes signify current matters and inactive fault codes past issues.
 
Transitions can be taxing
It is difficult, meanwhile, to create an eco-friendly structure as switching to new vehicle types, such as electric fleets, can be costly and complex, Medeiros says. "It takes planning and dedication to run more sustainable operations and there are myriad directions that a processor can take," he notes. "Partnering with industry experts that can provide objective feedback and insight is paramount."
Technology limitations when attempting to install alternative fuel sources in semi-trucks, along with an inadequate number of fueling stations for electric charging and natural gas vehicles, also are creating operational barriers, says Crystal Dixon, marketing and advertising manager for Western Dairy Transport LLC., a Cabool, Mo.-based milk and dairy hauler.
Having the necessary infrastructure to support alternative fuel vehicles is crucial for program expansion.
Photo courtesy of Penske Logistics
"The future of electrification in transportation will require all entities in the supply chain to evaluate and likely update their existing infrastructures for instances of 'last-mile' deliveries, as well as warehousing and logistical operations beyond the processor level," she explains. "Processors should stay current on emerging technologies to best meet those challenges."
This includes understanding the necessary investments for incorporating high-tech solutions in their supply chains. "Processors can best leverage sustainable systems by carefully seeking out transportation and logistics providers that are working towards low- and zero-emission goals, energy-efficient practices, alternative vehicles, and the proper utilization of domestic fuels," she relays.
Advancing technologies, meanwhile, are leading to greater adoption of eco-friendly strategies and will enable operators to better manage the large infrastructure and capital expenditure requirements, Matt Copot, Transervice Logistics' vice president of maintenance, mentions.
When planning their sustainability strategies, dairy processors also should consider if they want to award business to third parties that meet specific eco targets, he says, noting that customers often based their purchase decisions on sustainability and environmental factors.
 
A new day is dawning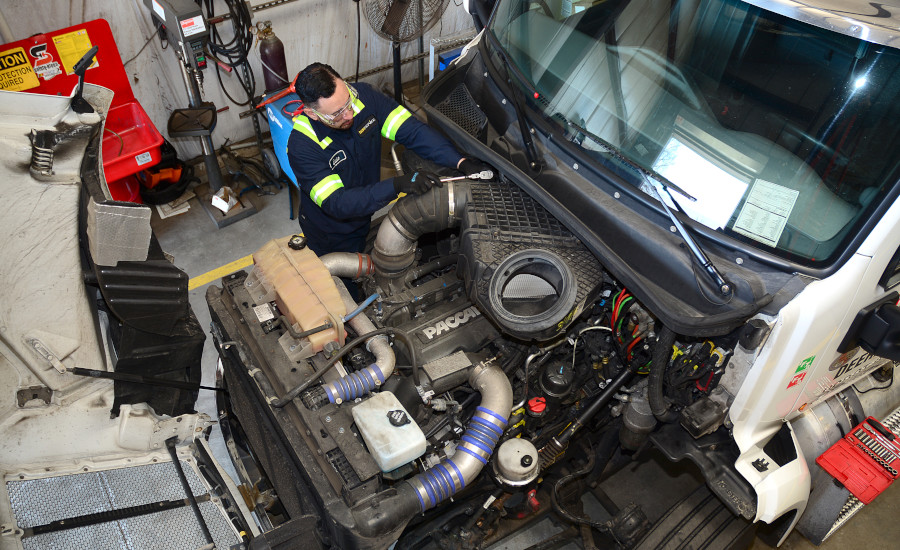 Processors can use telematics to evaluate vehicle and driver performance.
Photo courtesy of Transervice Logistics Inc.
"Sustainability has gained increasing momentum in the transportation industry over the last several years and there is mounting pressure for fleets to not only dramatically reduce emissions but to adopt holistic and proactive management strategies that encompass all areas of fleet sustainability," the State of Sustainable Fleets 2022 report states, adding that a fundamental shift away from gasoline- and diesel-based transportation is underway.
In addition, major market and regulatory forces from 2021 and early 2022 are helping to create a "perfect storm" that is driving an accelerated transition to clean vehicles and fuels, the report notes.
"Billions of dollars of public and private sector investments have been made, a growing number of ambitious greenhouse gas reduction goals and policies are being put into place, and an increasing zero-emission regulatory framework are all combining to hasten the transition that will occur in the coming decades," the report states. "A strong foundation for this transformation has been firmly established and transportation stakeholders recognize that they must continue the path forward to a more sustainable future."