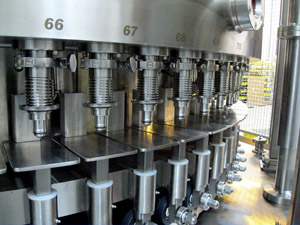 As a longtime supplier of fillers to the juice industry, Federal Mfg., powered by Pro Mach, developed a new high-speed modular series filler that enables companies to maximize uptime and throughput to meet market demand. The compact filler's elegant design, state-of-the-art controls, and semi-automatic dedicated clean-in-place unit offer high productivity with speeds up to 450 1.75 liter PET juice carafes per minute.
The new high-speed filler, which is 3-A Process certified, uses highly efficient, gravity level filling valves on a 120-inch pitch. The 70-valve unit is integrated with a 21-station Fowler/Zalkin pick-and-place capper from Fowler Products, a Pro Mach business. Fowler also supplies the cap elevator sorter, cap chute, and air conveyors that transfer 70-millimeter caps for 1.75-liter PET juice carafes to the capper.
The filler features an Allen-Bradley PLC-based control system with CompactLogix. An Allen-Bradley 10-inch PanelView Plus is used for HMI.
The new filler has a dedicated, closed-coupled, clean-in-place unit, which controls the circulation of cleaning fluids. An acid metering system controls the concentration of cleaning fluids with a conductivity probe. 
The unit includes an integrated bottle rinser that grips the empty bottles by the neck and inverts them over a nozzle. An ionized air rinse takes the electrostatic charge out of the bottles to release any particles that may be inside.
"This is an exceptional high-speed, high-throughput juice filling solution," said Mike Collins, Federal Mfg.'s Vice President of Sales and Marketing. "It represents the utmost in Federal's dedication to robust, long-lived solutions."
For more information about Federal's high-speed juice filling and capping solutions, call 855-371-4639 and visit www.FederalMfg.com.
About Federal
Durable, reliable, and hygienic designs have been the hallmarks of Federal fillers and cappers since 1946. To meet the strict demands of today's consumer, Federal has developed filling systems that further protect the quality, freshness, and flavor of products without compromising the core machine characteristics customers have come to expect in terms of operations and productivity. www.FederalMfg.com.  
About Pro Mach
Pro Mach is a leading provider of integrated packaging products and solutions for food, beverage, household goods, pharmaceutical, and other diverse consumer and industrial companies. Through multiple business units and related brands, Pro Mach provides equipment, installation, training, parts, and service in bottling and capping, primary packaging, flexible packaging, identification and tracking, material handling, and end-of-line packaging.
 Pro Mach has a diverse customer base, from Fortune 500 companies to smaller, privately held businesses worldwide, which depend on reliable, flexible, technologically advanced packaging equipment and integrated solution sets. Pro Mach is headquartered near Cincinnati, Ohio, with manufacturing facilities and offices throughout the United States and Canada. For more information about Pro Mach, visit www.ProMachInc.com.