Arla Foods said 2012 revenues rose 15% to DKK 63.1 billion (about $11.3 billion) and consolidated net profit was 3% of revenues (DKK 1.9 billion/$340 million, highest in its history). The Denmark-based dairy cooperative said mergers, acquisitions and strong brands were behind "the significant rise" in its turnover in 2012.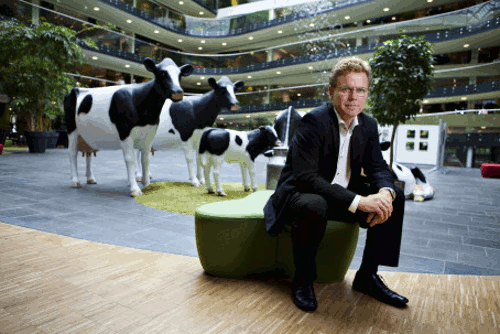 Arla has 12,300 cooperative members in Sweden, Denmark, Germany, UK, Belgium and Luxembourg.
"2012 was a landmark year for Arla. In a tough market, Arla has continued to develop a strong cooperative with promising new positions in several core markets and strong brands. The Arla performance price is below the 2011 level, but it should be noted that it is at the high end of the European spectrum for dairy companies, which have all had to operate under the same market pressure," says Arla Foods' CEO, Peder Tuborgh (pictured).
In a statement, Arla said that "while growth in European markets for food products is low, markets outside the EU are experiencing double-digit growth rates."
Arla delivered growth in both turnover and earnings in almost all markets outside the EU in 2012. In Russia, Arla's turnover increased by almost 28%, and in the Middle East and Africa, sales of dairy products to consumers grew by 22%.
"It became clear in 2012 that future opportunities lie in new growth markets. Our ingredients business and markets outside Europe in 2012 contributed significantly to the company's profit – in fact, we have never experienced such a positive development in our profits outside the EU. It is evidence that our international strategy is now delivering for us in financial terms and it demonstrates that the international markets will be crucial for our future earnings," says Peder Tuborgh.
Arla's global brands, led by the Arla brand and Lurpak, achieved overall growth. Globally, the Arla brand grew by 3.4% and Lurpak by 5.1%. Arla's third and smallest global brand – Castello – suffered as a result of European consumers' general reluctance to buy slightly more expensive branded products. As a result, global turnover from Castello products decreased by 1.1% in 2012 compared to 2011.

Arla Foods Ingredients (AFI), which is responsible for Arla's global production, sales and development of whey proteins and ingredients to the food industry, achieved 10% growth in 2012.
"Overall, the group delivered organic growth of 2.1%, which was primarily driven by the growth markets of Russia, the Middle East and Africa as well as our whey and ingredients business. These three areas have not only shown impressive sales figures, they are also where earnings growth has been greatest," says CFO at Arla Foods, Frederik Lotz.
In 2013, Arla forecasts that it will achieve a turnover of around DKK 72 billion ($12.9 billion) and a profit that is 3% of turnover.