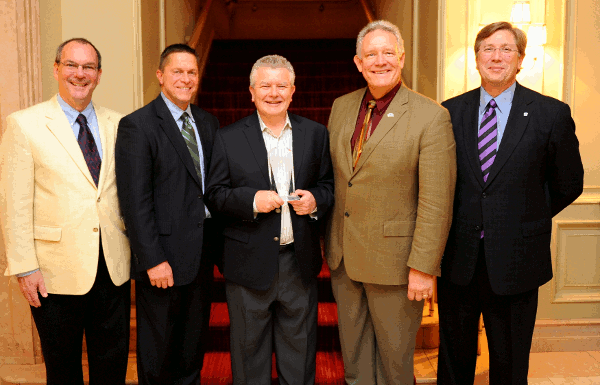 From left: Jim Carper, Dairy Foods; Wilf Costello and Jerry O'Dea, Glanbia; Paul Rovey and Tom Suber, U.S. Dairy Export Council.
Glanbia USA received the Tom Camerlo Exporter of the Year award from Dairy Foods on Oct. 18 during the annual membership meeting of the U.S. Dairy Export Council in Washington, D.C. The award is named for the former chairman of USDEC. Among the reasons for Glanbia's selection are:
• A well-balanced product portfolio of cheeses and dairy ingredients
• Cheese customers in 28 countries and ingredient customers in 45 countries
• Willingness to make what the customer wants
• Yearly growth in export sales
• Offices in each of your key export regions
• Participation in industry forums, including the U.S. Dairy Export Council
The company will be the subject of a feature article in the November issue of Dairy Foods. Glanbia will also receive the award "virtually" at the close of the webinar, " USDEC's Global Dairy Outlook: 2013" on Dec. 4. Marc Beck and Alan Levitt of the U.S. Dairy Export Council will analyze the drivers and dynamics of the global dairy business – and what to expect in the year ahead. Register for the free webinar online.