A new beverage dispensing system for foodservice operators could open up some doors for the sale of liquid and flavored milk on a national and international basis, said Jon Robinson of Robinson/Kirshbaum Industries, Gardena, Calif. Foodservice operators could promote better-for-you beverages (that is, milk) alongside soft drinks and other beverage.
Robinson said his company's SAC 403 Draught Milk Dispensing System approach is suitable for schools, cruise ships, hotels, casinos, healthcare facilities and other volume-feeding operations. The fast-pouring feature of the dispensing systems also can benefit foodservice operators at sporting events and concert venues. SAC is short for sub-arctic chilling.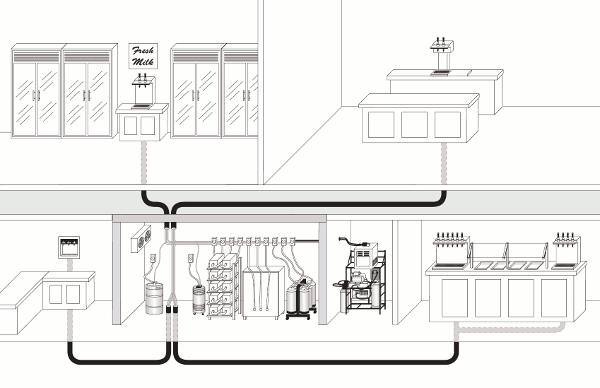 Robinson explained to Dairy Foods how the system works. The milk originates in a refrigerated cooler in bag-in-box (BIB) containers that are connected to milk-certified lines and pumps. Milk is sent down the trunk lines to a dispensing tower to wait until it is poured. The draught system has a refrigerated power pack that circulates a glycol coolant. The specially designed towers comply with the NSF 20 rule of keeping the milk chilled right up to inside the faucet.
"Every stainless steel faucet in the towers has been embedded in a design engineered metal cast cold block ensuring that our circulated glycol coolant keeps the milk/beverages always chilled while sitting inside the faucet bodies point of dispense chambers awaiting to be poured," Robinson said.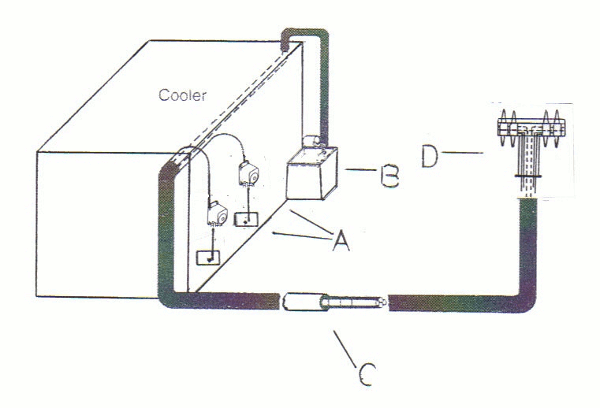 "Our towers can deliver milk as cold as 32 degrees and we can adjust the system's delivery temperature to the meet temperature requirements of different beverages. Even beverages with up to 8% alcohol content can be poured at below-freezing temperatures if you desire."
Robinson cited some of the environmental aspects of the milk dispensing system, including the large-capacity BIB containers. They cut down on packaging, and the large bags reduce the number of weekly deliveries, saving on transportation costs and fleet maintenance.
Beverage pumps can be operated by compressed air rather than gases. Since remote systems use smaller refrigeration units, there is a cost-saving compared to maintaining and displaying beverages in refrigerated cases, he said.
For more information, contact Jon Robinson at 303-215-1908.