Food trucks visit our office complex, offering all manner of delicious lunch alternatives to fast-food burgers and frozen, so-called "healthy" choices to be consumed desk side.
This week a different food truck set up shop in our parking lot. It was selling concepts, like dark chocolate-flavored camel's milk ingredients, super-fruit flavors for beverages and salsa in gel form (a less messy way to use the condiment in wraps or burgers).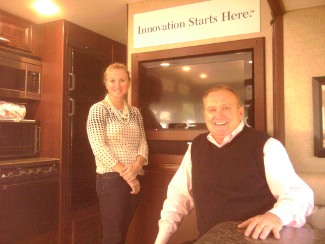 The David Michael Roadshow tour bus was in Deerfield, Ill., one stop in a late-summer tour of the Midwest. After roaming through Illinois, Wisconsin and Minnesota, the bus will turn south and end its journey in Florida in December.
The Philadelphia-based flavor supplier has been putting on an Innovation Roadshow for 10 years. After its latest at a hotel near Philly, the company decided to make the event live up to its name: it took it on the road.
The goal of these roadshows is to "feed" attendees new ideas and provide inspiration and information that will help them develop winning concepts, said President and Chief Operating Officer Skip Rosskam.
VP and Central Region Manager Kevin Stanutz and Account Manager Olivia Klose (photo) met me at the bus. Kevin told me that he sets up appointments with the R&D teams of dairy processors and other customers. Increasingly, the marketing team at these food companies also wants to meet with him.
David Michael isn't presenting turn-key finished products. Rather, it is showing ideas that its flavor scientists spent a year developing. The ideas are grounded in food trends but are full of fanciful ideas. A case in point: the Kulfi-Politan.
Kulfi is a street food in India. The frozen dessert is more dense and creamy than ice cream because it is not whipped. The David Michael team put a Western spin on the dairy dessert by combining the familiar flavor combination of American Neapolitan (strawberry, vanilla and chocolate), with the time-honored eastern techniques and flavors of kulfi to create an original frozen novelty. Their version has the flavors strawberry rose, vanilla cardamom and chocolate curry.
If you didn't attend the IFT Expo this year and missed the Roadshow in Philadelphia, keep an eye out for the Roadshow RV. You might leave with an idea or two for a new flavor or a whole new product.