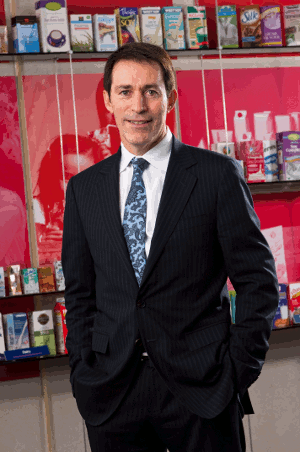 By Michael Zacka, president and CEO, Tetra Pak North America
The Olympics were a chance to celebrate for dozens of athletes.  And for many, winning a medal was the crowning culmination of a lifetime of work. But for some, including swimmer Michael Phelps, gold medals are a byproduct of a larger ambition—to forever change the standing and substance of their sports.
"I wanted to change the sport and take it to another level," Phelps told a New York Times reporter shortly after winning his 22nd medal, and 18th gold, as well as another award for "Greatest Olympian of All Time."
Olga Korbut and Jesse Owens are two other Olympic athletes who were so hard working, dedicated and driven that they shifted the ground on which their sports stood, and in the process became synonymous with groundbreaking change.  Owens fought prejudice by winning four gold medals in the 1936 Olympics in Berlin, forever dispelling the notion that physical characteristics such as color make someone superior. And Korbut was perhaps the first to bring innovation to the Olympics.  The backwards flips and somersaults she pioneered from the beams and parallel bars, and introduced into her routine of her own accord, forever changed gymnastics after she took the top honors.
Also going for the gold, albeit of a different kind, are visionary leaders in the business world, who have been showing that same kind of dedication, drive and pioneering bent as these athletes—which all adds up to its own type of game-changing Olympic spirit. 
This is particularly true in the tech industry, where a growing number of companies are so visionary that they see beyond their competition to create new paradigms.  Some obvious examples include Steve Jobs and his user-friendly computers, iPhones and more; Jeff Bezos, who created the constantly evolving online retailer Amazon.com and the Kindle; and Craig Newmark, founder of a media-slaying site that offers free ads to common folk, craigslist.com.  All have not only redefined their market spaces—they have created entire new industries.
---
Visionary leaders in the business world also go for the gold. They show that same kind of dedication, drive and pioneering bent as Olympic athletes. This is particularly true in the tech industry, where a growing number of companies are so visionary that they see beyond their competition to create new paradigms.
---
But there are some others that might surprise you, because they are more quietly universal, like Alcon, which is now the second largest division in the Swiss-based pharmaceutical giant Novartis.  Two Fort Worth, Texas pharmacists, Robert Alexander and William Conner, founded it in 1945, and the company became known for its contact lenses and solutions, and treatments for glaucoma, eye and ear infections.  But it also holds the patents for most of the products that surgeons use in cataract, retinal or refractive surgery.  It was purchased by Novartis in 2010 for a total of $52 billion, and has since expanded to employ over 24,000 associates in 75 countries.
Another visionary business leader was Ruben Rausing, a Swedish businessman who made it his goal to develop a paper-based package for milk that would be more lightweight, resilient, compact and user-friendly for producers and consumers than breakable bottles and unwieldy canisters.  His quest took him more than 10 years, but the innovative paper carton he introduced in 1952 revolutionized packaging and distribution not just for milk, but liquid foods—especially when he introduced aseptic, or shelf-stable, technology a decade later.  That development allowed milk, juices, broths and soups to remain wholesome and taste fresh for up to a year right off the grocery store shelf.  But more significantly, it eliminated the need for refrigerated distribution, reducing the cost and environmental impact of shipping.
Today the company Rausing founded, Tetra Pak, holds more than 7500 individual patents and patent applications and many innovation awards for technology and design. And with its cartons employed in an ever-increasing variety of liquid foods, today the Swiss-based company's iconic packages can be found in more than 170 countries.  In a news account this past July the New York Timesdescribed their cartons as a "clever idea."  Rausing, like Korbut, Owens and Phelps, was a game-changer. And like many in the Olympic games these past two weeks—he worked, struggled and remained dedicated despite early failures in his carton designs. 
It is no surprise that both of these unassuming but pervasive global pioneers—Alcon and Tetra Laval, the parent company of Tetra Pak--were listed last year on the Thomson Reuters"Top 100 Global Innovators" list for 2011.  As a group, the magazine noted, they added 400,000 new jobs and outperformed the S&P 500 by 5.7 percent in average revenue in the prior year.
Olympians of every ilk offer poignant and valuable lessons for us all. If we are to work our way out of this global slump, it will take Olympic-like efforts from more of the same types of visionaries around the world.