Naturally healthy and organic dairy milks, cheeses, and yogurt continue to resonate in the dairy market as more consumers take a hands-on approach to their own health and well-being. Throughout the world's food system, "traceability" has become a lightning rod for conversations and business activity, particularly as consumers want to know more about their foods' quality and safety. In fact, New York-based Nielsen's report "What's In Our Food and On Our Mind" says that globally, nearly 73% of consumers agree that they feel more positively about companies that are transparent about where and how products were made, raised, or grown. 
As consumers continue to diversify their diets, it will be increasingly important for food brands and retailers to provide trustworthy, transparent information, which leads to peace of mind and, subsequently, more basket rings. A March 2021 report from FMCG Gurus titled "How Has COVID-19 Changed Consumer Behavior" notes that the pandemic caused an accelerated shift in behavior, with 58% of global consumers stating they are more attentive to "locality claims" as a result of COVID-19.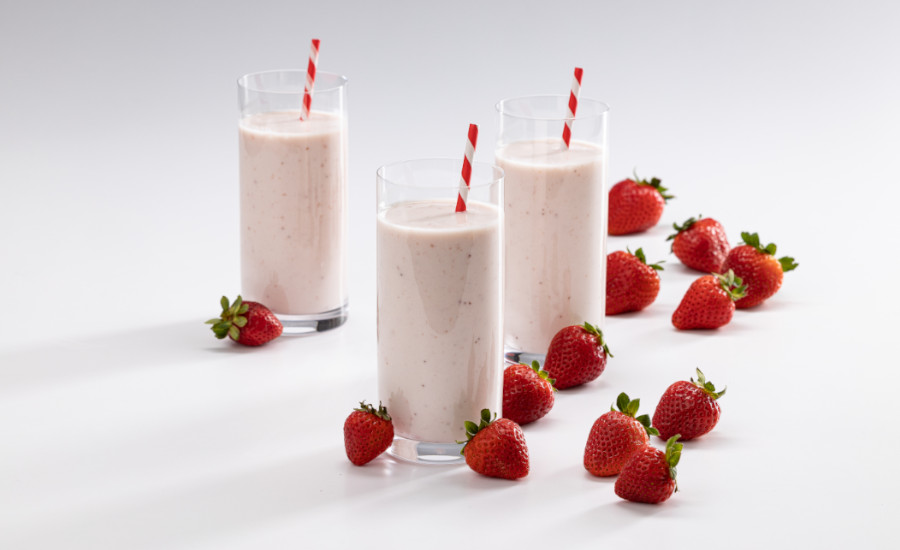 Image courtesy of CP Kelco
Consumers also are keeping up with clean-label trends and "shopping based on their values" across all food and beverage segments, says Michelle French, director, global sustainability programs, ADM, Chicago.
 "Shoppers are drawn to products with multi-faceted attributes that not only benefit themselves, but also their communities and the planet," French explains. "As such, they're placing greater emphasis on learning where their food comes from. … Dairy and dairy alternative brands that are transparent about where ingredients and solutions are raised, grown or sourced will capture [the] attention of consumers perusing the dairy aisle." 
Likewise, Philip Caputo, marketing and consumer insights manager at New York-based Virginia Dare, points out that "consumers [have] become much more inquisitive about the labels, ingredients, and flavors of their dairy products the past several years — starting well before the pandemic."
 Yet, he notes that the pandemic has placed a greater emphasis on clean labels and wellness-oriented ingredients, especially those that promote immune health. 
Image courtesy of Virginia Dare
"We expect that the pandemic has solidified the clean-label trend as a now permanent fixture of the dairy industry," he says.
When it comes to ingredient sourcing, the main requests and questions from dairy manufacturers relate to "responsible sourcing, farming and even processing conditions of the products and ingredients within that are being supplied to them," according to Ivan Gonzales, director of dairy marketing at Ingredion Inc.
The Westchester, Ill.-based ingredients solutions company also is fielding inquires on carbon footprint impact, including the supply chain to source some of these materials. In addition to ingredients, dairy manufacturers are also putting a lot more attention on sustainable packaging materials, Gonzales says. (See Packaging Technologies article in this issue.)
Farm-to-fork traceability
"Every day, we look for ways to collaborate in our supply chains to help growers make better environmental choices on their farms and to celebrate the outstanding work they have already completed."
–
Andrew Utterback, senior manager of sustainability at Ingredion
Given the importance of farm-to-fork traceability, dairy processors want to work with ingredient suppliers to ensure responsible ingredient sourcing. For instance, CP Kelco's Manager of Corporate Sustainability Emily Thomas says her company works with dairy processors to demonstrate "how our nature-based ingredients can help answer consumer trends, enable their products to stand out on the shelves, drive circularity and help reduce their environmental footprint." 
Headquartered in Atlanta, the nature-based ingredient solutions company affirms that its sustainable business practices align directly with four of the United Nations' Sustainable Development Goals and contribute to six more. While this internationally recognized set of targets provides a common framework for processors and suppliers to focus on achieving positive change, Thomas admits that reformulating toward more sustainable products remains challenging, but is a challenge companies can address together, also keeping in mind product performance and affordability. 
Ingredion's Andrew Utterback, senior manager of sustainability, points out the importance of receiving clear guidance on what the dairy processor considers to be "responsible sourcing practices," noting that sustainable/regenerative ag projects can take years to show results. As a result, he suggests longer-term contracts and collaborating with ingredient suppliers can help to incentivize change with growers and allow ingredient suppliers to be more effective in grower outreach.
The company says it has committed to source 100% of its Tier 1 crops (corn, cassava, pulses, stevia, and potato) globally by 2025. As of the end of 2021, Ingredion had sustainably sourced more than 33% of these Tier 1 crops, with a goal of 45% by the end of 2022.
 "Every day, we look for ways to collaborate in our supply chains to help growers make better environmental choices on their farms and to celebrate the outstanding work they have already completed," Utterback explains. "Traceability is for business considerations beyond just sustainability. Ingredion has options available for traceable ingredient supply chains. Traceability could be an option, depending on the commodity and product, but is not a no-cost option to develop."
Regenerative agriculture meets a need 
Ingredient suppliers are helping dairy processors find functional yet nature-based ingredient alternatives to solve formulation challenges and even innovate on new solutions for unmet customer needs. Many companies also are working directly with farmers to ensure not only a traceable supply but also a responsible and sustainable one.
"Regenerative agriculture provides field-level traceability combined with lower-carbon commodities that can be made into feed for dairy cattle or used in plant-based dairy alternatives."
Vanilla, for example, is a flavor used widely in dairy products, including yogurts and ice creams. Understanding where and how natural vanilla ingredients are sourced is important, French notes.
"We're deeply invested in furthering sustainability initiatives in this space, and with nearly 80% of the world's vanilla sourced in Madagascar, we have focused our efforts there," she explains. "Specifically, through SAVAN, our joint venture with Sahanala, we have enabled the first-ever farmer-owned supply chain, which allows for exceptional transparency and traceability while also delivering quality vanilla ingredients.
"Plus, through SAVAN, we have pioneered a large-scale digitally traceable supply, which was crucial in launching our FairTrade Madagascar Vanilla Extract under our Rodelle brand," French continues. "This joint venture also strengthens the local farming communities in Madagascar, fostering leadership and education amongst the farmers and their families."
Vanilla is far from the only natural ingredient being sourced sustainably. Sustainably sourced corn and soy ingredients, stevia, chocolate, and cocoa, as well as RSPO-certified segregated palm oil, are enabling dairy producers to "do more with less and be the best stewards possible of the world's natural resources," notes Gurneesh Bhandal, sustainability lead at Minneapolis-based Cargill.
In fact, last summer, Cargill unveiled a new program in the United States — Cargill RegenConnect — that enables the company to accelerate and scale regenerative agriculture practices specifically for corn and soy ingredients with the intent to scale these efforts, Bhandal says.
The stevia produced by Cargill must pass its industry-leading Stevia Sustainability Agricultural Standard, which was externally verified and benchmarked as a silver-level program by the SAI Platform's Farm Sustainability Assessment 3.0.
Image courtesy of Cargill
"Through RegenConnect, we are building farmer-focused, regenerative agriculture relationships and are actively looking for customers to partner with us on this effort," she says. 
Building on 10 years of experience in the field with cocoa farmers and farmer organizations, Cargill launched the Cargill Cocoa Promise in 2012 as a formal, future-looking, and action-oriented framework for its global sustainability activities. The initiative has grown to five origin countries: Côte d'Ivoire, Ghana, Cameroon, Indonesia, and Brazil.  
 "Through the Cargill Cocoa Promise, we are working to provide long-term solutions that benefit farmers, their communities and natural ecosystems, while increasing transparency in the cocoa supply chain," says Gretchen Hadden, Cargill's marketing communications manager.
The evolution of nature-based, ethically sourced ingredients
Image courtesy of maceofoto via www.gettyimages.com
With traceable, transparent, and sustainable sourcing and practices at the core of several suppliers' missions, companies are expanding their initiatives and commitments, and working with farmers and growers to do the same. 
Soy, palm, wheat, and corn are being responsibly sourced in Brazil, where the preservation of ecosystems is crucial, French notes. 
"Our responsible sourcing initiatives span our ingredient portfolio.  … We use satellite imaging and direct grower relationships to ensure our soy supply chain is deforestation-free," she says. "For palm, we work with our direct suppliers to maintain high visibility to the mill and increase traceability to the farm. In the U.S., we work with growers in our supply chains to gather data about their practices and encourage the adoption of regenerative practices such as cover crops."
 French explains that regenerative agriculture provides field-level traceability combined with lower-carbon commodities that can be made into feed for dairy cattle or used in plant-based dairy alternatives. 
In addition to working with ethically sourced ingredients, dairy producers should look for ingredients backed by third-party certifications or company sustainability programs, as this can help guarantee their integrity, Bhandal advises. She notes that Cargill's industry-leading Stevia Sustainability Agricultural Standard was externally verified and benchmarked as a silver-level program by the SAI Platform's Farm Sustainability Assessment 3.0. 
As part of the company's high standards when it comes to producing stevia, the company meets with growers every spring to review its sustainability standards, while in the fall it uses an independent third party to confirm that those practices are being followed.
 Bhandal notes: "Traceability is built into this system, enabling us to trace back every lot of stevia we produce to the farmers and cooperatives who planted the crop. No other major stevia supplier offers this level of field-to-finished product traceability and peace of mind."